Having converged on Vancouver from points east, west and south and boasting 15 cities of residence between the five of them, the Ruffled Feathers are a local band with an international pedigree and a huge diversity of influences. Their music is often described through references to Beirut, Regina Spektor, and early Arcade Fire; basically, bands that speak to the group's enthusiastic employment of mandolins, ukuleles, trumpets and accordions, in addition to the usual suspects of guitar, keys, drums and bass.
But, as with most descriptions by way of comparison, these references all fall short of encapsulating the Ruffled Feathers sound, which is a serious, yet celebratory, investigation of the human experience. The band has very philosophical tendencies, yet (as a perusal of their blog will reveal) they are also kind of silly and funny as hell. Catching up with the band before a show at The Pit Pub, these complementary contradictions appear to be the result of that perfect kind of alchemy that occurs between switched-on, curious and thoughtful people working together on what they love.
Shortly before they are due to appear onstage, the four male members of the Ruffled Feathers flock together outside The Gallery in UBC's Student Union Building. Minutes later we're joined by Gina Loes (vocals, guitar, ukulele), the lone female Feather, fresh from a ukulele lesson, and we abandon The Gallery where an open mic situation is threatening to launch full-blast.

Once seated someplace quiet with the genial and eager bunch, we delve directly into the matter of their unusual and somewhat protracted album release process. Their first full-length album, Oracles, is due for independent release on April 3. But, since early January the band has pre-released two tracks off the album as a free download every couple of weeks, meaning that eager fans who return regularly to the band's website could potentially get the whole album for free prior to release.
They've even included a countdown clock at theruffledfeathers.com that indicates the days, hours, minutes and seconds until the next pair of songs will be posted to be given away for free.
"It makes the excitement of releasing an album last longer," says Gina. "We put a lot of work into it, and if we did it just one day, one party, here you go, that would be it. [Then] what would we do all spring?"
Besides wanting to prolong the fun of releasing their first full-length album, the Ruffled Feathers also feel an enormous debt of gratitude to their fans and supporters. Last year, after successfully recording the album on their own, they opened a Kickstarter account to raise the funds to pay for mixing Oracles.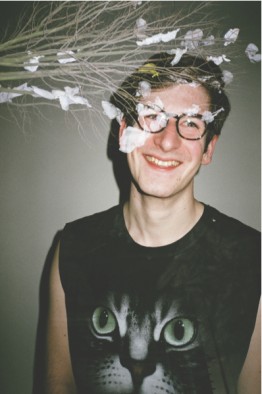 Their goal of $3500 was exceeded by enthusiastic support from 75 backers, and the band is now joyfully giving thanks by sharing their work.
"We really wanted to be able to spread our music out there," says Andrew Lee (trumpet, vocals), "but it's kind of uncomfortable giving everything away for free all at once. Also, we had a lot of success with Kickstarter to fund the album, so it's kind of our way of giving back."
And the giving doesn't end with just the download. The pre-release tracks that the Ruffled Feathers post on their site for free are accompanied by a constellation of complementary artwork, essays, diagrams, videos, comics and more. The additional works, Charley Wu (keys, mandolin, guitar, vocals) points out, are intended to give listeners a greater insight into the music.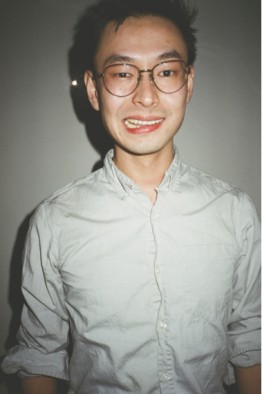 "We're treating each song with its own personality and its own back story," he explains. "It's nice to fill in all those details, to draw these connections. I'm trying to share all my inspirations with people who listen to our music."
This process is also a way for the band to showcase each song in a way that eliminates the hierarchy of the hit single. "I think it's kind of nice to, in a way, force people to listen to every song," Sam MacKinnon (drums) says, reflecting on the common experience of getting to know a new album where a standout track or two will attract the most attention from the listener. For a group who's writing, arranging and recording process is so entirely collaborative, it is hard for them to hold up any one song above the others; in their eyes each one is as considered and complete as the next.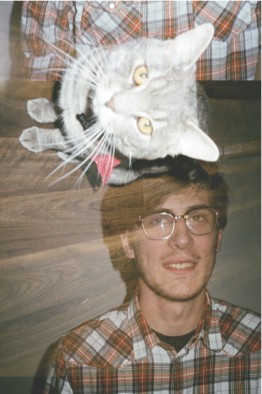 That having been said, there is one song from Oracles that has received the royal treatment in terms of auxiliary creative works. "Blueprints for our Failed Revolution" is an orchestral-pop banger, replete with battle-march drums, triumphant trumpet refrains and a chorus sung tout les ensemble that will get just about any body moving. The band filmed an elaborate music video for the song that is a romantic take off on the American Civil War and Victorian era. "I probably spent four solid months on [the making of the video] and it took a year off my life. That's why I'm going to Siberia!" quips Wu, who is departing the day after the show for a trip from Shanghai to Moscow via Ulaan Baatar on the Trans-Siberian Railway. "But I would do it all again," he adds. Loes also points out that their newest video for the song "Mockingbird" took just one day to film. "That's efficiency!"
Operating without the support of a label or any kind of management, efficiency is a key element for the band.
Each member is continually busy responding to emails, making booking inquiries, planning shows, and making merchandise (from their Kickstarter page: "What other band has handmade mugs and porcelain buttons at their merch table?"). The Ruffled Feathers approach bandhood with an earnest and democratic energy, and with all cylinders firing. They also bring a kind of wisdom and discipline to the business side of things, uncommon in a band so young.
"It's no longer drugs, sex, rock 'n' roll," Charley asserts, "It's sweat, tears and hard work."
"We have done everything ourselves completely," Matty Jeronimo (bass, guitar) adds.
"It's quite the learning curve," Loes says, "but all the information is there, it's all on the Internet. You just have to look."
The band is currently focusing their can-do energy on organizing a 12 city tour of the west coast for this coming June. How are they going to do it? Spreadsheets.
"Andrew is an engineer, and I'm a chemist, so we're all about spreadsheets and documentation and stuff," Jeronimo explains.
"And flow charts," adds Lee. Jeronimo agrees, "we've got high quality flow chart skills."
With flow charts, blueprints and instruments at the ready, the Ruffled Feathers seem poised on the threshold of some big and exciting developments. As the band tumbles out of the SUB and into the night to pose for a photographer, I find myself hoping that Vancouver remains home to this peripatetic bunch for a while yet, if only so we can witness first-hand how it all shakes out.