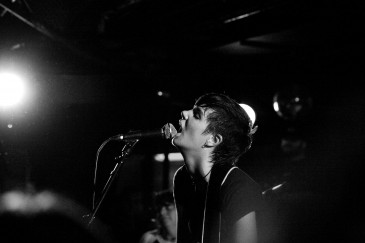 Power rock ruled this Friday night at the Biltmore and it was a full on brow beating of the best kind. The Angry Dragons from Winnipeg opened the proceedings with some straight ahead dirty rock 'n' roll that was played with sass and attitude. This frenetic and electric sex-charged band shook the foundations and set the tone for the dynamic night of music ahead.
Next was Sex With Strangers who managed to twist the vibe up with a wholly different musical beast. This local band has a lot happening within their musical walls. Fronted by a dude who looked like a wild eyed Jack Black, SWS were a new form of kinetic pop. Their highly energetic organ effects and voice driven songs about beavers taking revenge on bears and other strange stuff were an ultimate adrenaline rush and they won the crowd over, getting them excited for the headliner.
Damn, the Pack AD is huge! This night was their release party for the We Kill Computers album and we were so ready for it! The floor was packed and booze was flowing freely when Becky Black and Maya Miller hit the stage. With Black's first brutal guitar riff it became a seething mass of bodies and twisted limbs paying worship to some of the hottest raunchy blues metal. Coupled with Miller pounding on the skins like a modern day warrior you have a band that plays the hell out of their instruments and offers a hell of a show in the process. With a furious and amazing set that spanned all three albums and a full house that hung on every note, it is safe to say that it's only a mater of time before these local gals conquer the world. Catch them while you still can.