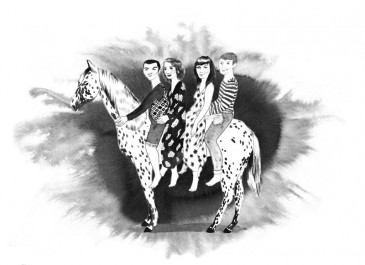 For many of us, high school was an awkward time of life. We crushed on the cutie in math class, ate too much poutine for lunch and listened to bands we'd later label "embarrassing." Pianist Sarah Jickling and ukulele toting guitarist Molly Griffin, the masterminds behind White Rock's the Oh Wells, on the other hand, used this formative time to write songs. Mainly about boys, or lack a thereof.
"It was totally not serious at first," Jickling admits of the group's early days. "We wrote ridiculous songs about ridiculous things."
However silly their songs were, it wasn't soon after recording some demos onto a MacBook and posting them on their MySpace page that the Oh Wells' music started to get them noticed at their school.
"People were stopping us in the halls, saying 'Hey, we really like your band.' We were pretty nerdy, shy girls so that was really big for us," says Jickling, adding that this was how Griffin met their bassist, Dan Roberts. Roberts already knew Jickling from elementary school, but when the girls decided to add bass and drums to the group, they asked him and percussionist Nathan Rice to join. Rice has since left the Oh Wells, leaving the outfit's current line up incomplete.
Despite Jickling and Griffin's tight writing partnership, the group's recently released set The EP That We Love reveals the varying musical tastes between the two girls. "I'm a big fan of Otis Redding and Sam Cooke," explains Griffin. "I wish I was a black man in the sixties." Jickling, however, cites Kate Nash and Beyoncé as her influences. "Powerhouse women," she says with a smile.
"We like a lot of different music," Griffin continues, "but whenever we've tried to be like our favorite bands, it doesn't pan out. The music just comes out of us, so we gave up [trying to force our sound] and now we go with whatever comes out."
Despite their attraction to soul music, the Oh Wells' sound dances somewhere between indie-folk and straight-up pop, not unlike Scottish twee group Camera Obscura. It's a comparison the band understands all too well.
"I've listened to Camera Obscura's newest album, My Maudlin Career, over and over," Griffin admits."We didn't mean to [sound like them]; we wrote all those songs before I got into Camera Obscura. It's probably why I like them, because I can relate."
Musical direction notwithstanding, lyrics are the initial focus of the Oh Wells' songwriting process.
"Usually I have one line in my head when I sit down at the piano. Then it feels like I'm just vomiting the rest out," Jickling explains. "As long as I have an idea and one line I can rhyme with, it all comes out at once. It usually takes me 15 minutes to write a song."
Quirky humour and self-deprecating lyrics adorn tracks like the upbeat, ukulele-driven "Secret Society," while the jangly folk-pop of "Is It Too Late To Apologize" has its share of humorous Harry Potter references.
"We're obsessed," Jickling says with a laugh. "When you're a nerdy high school girl, all you do is stay at home and read Harry Potter."
Griffin agrees with her bandmates' assessment wholeheartedly. "Harry Potter was my best friend in high school until I met Sarah."
The bespectacled boy wizard gets praised in "Is It Too Late To Apologize," where the girls sing: "And yes I am a little lazy / And J.K. Rowling does amaze me / I read those books 'til I went crazy / And you can laugh but it won't faze me."
With such quirkiness in mind, perhaps the biggest draw of the Oh Wells is their sense of humour. For instance, a hilarious online comic (which you can read at theohwellscomic.tumblr.com) depicts the band playing to a Bellingham grocery store. Ladies, was this for real?
"We thought it was some kind of fair when we signed up for the gig and we were freaking out," recalls Griffin. "We had to get across the border at a certain time. Dan couldn't find his passport, so he couldn't come. And we got over there, and it was like, a Choices. They had a little corner for us. We sat down and just started playing, basically to no one. Well, except the employees. We turned it into a funny jam. It's okay, we got Dairy Queen after."
But whether you're laughing or crying, the Oh Wells want you to relate to their music on a deeply personal level. "I would want people to not feel so alone," Jickling hopes of the impact of her band's music. "I love it when you're listening to a song and it's like 'Oh my god, there's somebody who feels the exact same way as me!' It would be great if someone [takes that away] from our music."
Having long outgrown the halls of their high school, the Oh Wells are moving up in the musical world. Considering they just won the grand prize at CiTR's 2010 Shindig competition, they've already proved that their witty lyrics and ukulele skills are a force to be reckoned with.