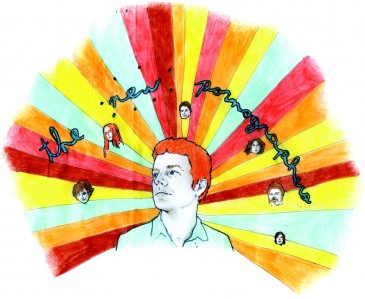 Before Carl Newman was known as the de facto leader of the New Pornographers, one of the most acclaimed indie rock groups of the 21st century, he was a teenager in suburban Vancouver. Before he was touring around the world and making a living by playing music, he was a music fan. And, just as you are now, he was reading Discorder, which first went into publication around the same time that a young Newman began getting into music.
"I remember reading Discorder from the very beginning. I remember reading Discorder when I was 16, which was, like 1984 … It's funny, Discorder's always had this place in … the formative years of me loving music."
On the line from his house in Woodstock, N.Y., where Newman has made his home for the past year or so, the ginger-haired patron saint of Vancouver indie pop discussed reading about local bands that "had, like, one cassette out, that they sold 100 copies of," he laughed. "But maybe they were in the Top 5 in Discorder … and when I was 16 I thought, 'Wow, these guys are really it.' … I look at the bands from that time, and I still don't think of myself as being more famous than they are, even though I guess I know I am."
A few years later, in his early twenties, Newman started playing in bands around Vancouver. "My first-ever band was Superconductor. I think it was 1990 when we first started … I remember getting written up in Discorder and it seemed like such a big deal to me. It was like 'Wow! We made it! We're in Discorder!'" [ed. He said this without being paid any money at all!]
After that, Newman played in Zumpano, then in 1997 formed the New Pornographers, pulling together enough talented people from other Vancouver bands that someone along the way decided that this wasn't just a group—it was a supergroup. In the current lineup, Newman (who has also enjoyed a successful solo career as A.C. Newman) shares the lead vocal duties with Neko Case (of Maow, Cub and her own solo career) and Dan Bejar (of Destroyer). The band also includes Newman's niece Kathryn Calder (also of Immaculate Machine), John Collins (of the Evaporators), Todd Fancey (a solo artist who performs as Fancey), filmmaker Blaine Thurier and Kurt Dahle (of Age of Electric and Limblifter).
Since that time, of course, the New Pornographers have gone on to receive coverage from some publications other than Discorder (actually, pretty much all of the other publications), including spots in Rolling Stone's "Best Albums of the Decade" and Blender's "Best Indie Albums of All Time." Each of the New Pornographers' first four albums of expertly crafted power pop figured prominently on critics' "Best Albums of the Year" lists, and there's no reason to think that their fifth album will be any different, with all of the love that they get from critics and fans at home and abroad, it was no great surprise, then, when the New Pornographers took the top spot as the favourite Vancouver band of the past ten years (2000-2009) in Discorder's own informal poll. No great surprise, maybe, except to Newman. "Really? We beat Black Mountain?" he asked. "Damn. That's really nice of people to say." Pressed to name his favourite Vancouver act of the 2000s, Newman said that although he doesn't really want to pit friends against one another, he would probably have to pick Destroyer.
But with Newman now residing in New York and with Neko Case living in the U.S. since the early years of the band, does that make the New Pornographers more of an international, bi-coastal group? Can we still call them a Vancouver band?
"Of course," Newman replied, without a second's hesitation. "Just because you find yourself going to another city, doesn't mean you're not from where you're from. We're always going to be a Vancouver band … I never claim to be from New York, I don't claim to be from Woodstock. People ask me where I'm from, you know—I'm from Vancouver."
The recording of Together followed the same path as Newman himself, beginning in Vancouver, then moving to upstate New York. Early recording sessions for the new album were in Vancouver at both the Factory and JC/DC, John Collins' studio where earlier New Pornos albums were recorded. Then, the rest of the album was recorded on Newman's property in upstate New York, where the guest cottage was set up as a recording studio. "It was good for me because I had just moved here and I wanted to be here a lot. And it's a nice place—upstate New York in the summer is a very nice place to be. It's just a different kind of recording atmosphere, where when you take a break, you can go out onto the lawn and it's sunny out. I know Todd [Fancey] likes wandering through the woods, he's got that in him. We went on a couple of hikes while we were here."
Recording at the cottage was, according to Newman, like "the typical way we've always recorded, like a little drop-in centre." Each of the eight members were there at one time or another, but :"people weren't always here at the same time, people kind of came and went, and there would be, like, five people here at once."
The Together recording sessions also involved Newman and company reaching out for a little help from their friends and the list of collaborations is pretty impressive; they've got Sharon Jones' Dap Kings on the album (They're pretty much the best horn section you could ask for," Newman claimed.), Okkervil River's Will Sheff singing backup on the opening track "Moves" (Newman's favourite song from the new material), Annie Clark, a.k.a. St. Vincent, contributing guitar to "My Shepherd" ("She's like Hendrix".), and, just because Newman "thought this song needs trumpet," they've got Zach Condon of Beirut blowing on there.
"I've always been a big fan of having as many ideas thrown around as possible and having as many different people play on a record as possible," Newman explained. "People always talk about us being a 'collective' and even though [these other collaborators] are not part of the collective, or whatever you would call it, I always like to have a lot of musical ideas to choose from. And when you have people like that who contribute their musical ideas, it's nice. It's a privilege."
Asked if this sense of musical collaboration and community inspired the title Together, Newman agreed. "I think so. To a certain extent… calling the record Together somehow seemed right. I actually ran it past Dan first. I said, 'Dan I've gotta ask you something, I've been thinking of calling this record Together— what do you think?' And Dan said [in Newman's best whispery Dan Bejar impression] 'I think that's an awesome title.' And I thought, 'That's good enough for me.'"
This idea of togetherness seems to be important here, popping up in Newman's discussion of the album, in a couple of the songs (notably "Your Hands (Together)" the first sample Matador released from the album, as well as the sweeping, epic "We End Up Together," which closes the disc) and in the beautifully written piece that accompanied advance copies of Together. The essay, by American novelist Rick Moody (who wrote The Ice Storm), includes ruminations on the history and purpose of the popular song and considers the New Pornographers' place within that rich tradition. Moody writes that the new album contains "Fewer keyboard flourishes, and fewer things that sound like they necessitated a good computer programmer, and more things that sound like A.C. Newman and the rest of the band playing in a room."
Newman explained further that Together is "one of those generic titles that's been used many times before, but somehow it just seemed very appropriate. It carries on the idea what we've always done through the years, appropriating clichés and just trying to make them your own." This seems to go along with Moody's musings, this idea of appropriating clichés and making them your own; it sounds like a key element in the history of pop music, love songs or any art. And so does Newman's next comment: "It's something that it doesn't matter how many times you say it, it still rings true."