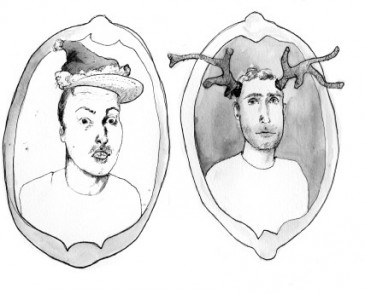 Conor Holler and Cameron Reed, sat outside the CiTR studio last month for their latest project, The Mental Beast, a 12-episode holiday-themed radio and video compilation, which is paired with The Eggnog Experience, a compilation of holiday-themed music from local bands. Mental Beast follows a fictional radio station on the brink of collapse featuring a smattering of bands from across the city.
At first blush, the holiday-themed project seems like a feel-good gathering of Vancouver artists. Unlike many Christmas albums that find their way onto the shelves, from Bob Dylan's Christmas themed album, featuring kitschy celeste in songs from "Do You Hear What I Hear?" to "Must Be Santa," this compilation bears a cozier tradition: the fertile tangle of cultures, communities and artistic ambitions from the local natives of Vancouver. A dozen specimens are compiled on the album with tracks including a traditional middle-eastern song and one with a Ramadan spiced theme.
The sprawling family of Vancouver artists featured on the album include Lightning Dust, Apollo Ghosts, No Kids, Basketball, Dandi Wind, Vancougar, Hard Feelings, Rose Melberg, Machu Picchu and Nardwuar the Human Serviette.
Helped along by Jay Arner, who recorded a number of the tracks for Eggnog Experience, the project instantly garnered a lot of interest among Vancouver artists. "It's a way for bands to get noticed, to draw attention to Vancouver's music scene," said Cam Reed.
Holler is the executive producer, writer and actor in the radio and video collaboration and is partnered with Reed, who shares the role of executive producer. "[The songs] are holiday-themed, but not limited to traditional holiday songs," Holler said.
I met Holler and Reed at CiTR where they were still early in filming for Mental Beast, and you could instantly see the studio was aglow with the romp and raucous of some genuinely good times in the studio. They both care about things like lighthearted cheer and promoting Vancouver artists. Holler is also involved in a number of projects throughout the city including acting as one half of comedic duo Bronx Cheer with Craig Anderson. Bronx Cheer offer a wistful collection of sketches originating in 2008 that can be found at bronxcheercomedy.com. He is also a comedy curator for a number of independent festivals, such as Olio and Music Waste. Reed is also an integral part of Vancouver's creative community as the festival director for Music Waste, a five-day independent music festival in June. [ed. It's the best.]
The unique nature of the project instantly helped the duo get other people involved. For example, the video companies Awkward Moments Productions and The Shots have helped Holler and Reed with filming. "I think that any project that goes outside of the normal music experience is a positive one. I suppose I hope that more people will try to put on bigger, multimedia projects in the future," said Reed.
"Each episode features the characters and the lives of the people working on the show. The radio-drama features 12 episodes alternating between radio and video," said Reed. The first episode will be aired Dec. 7. You'll be able to find it via the project's website mentalbeast.com. Leading up to the first episode they plan to have a series of interviews with the characters of Mental Beast and a prologue for the series was scheduled to have aired already. A new holiday song will be aired at the end of each show.
The Eggnog Experience will have many of the bands involved in the project out at the Biltmore to perform their holiday songs and originals with proceeds going to The Greater Vancouver Food Bank on Dec. 18.
Ultimately, this is a chance for a handful of Vancouver's kindred spirits to come together and share some stories from the heart. A refreshing departure from the mainstream, it lets you get to know a little bit more about some great bands in a magical sandwich of video and radio. And what could bew better than a collection of yuletide tunes to spread a little Christmas cheer? Anyways, in the weeks that lead up to Christmas, why not guide your Internet browser (or satellite radio) to check out this project and get a taste of some beautiful musical offerings, not to mention a hilarious mix of sketches.
[ed. There were some mistakes in the print version of the piece. They are corrected in this article.]