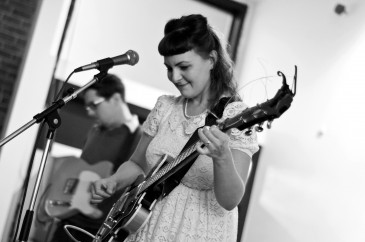 The Lost Lovers Brigade- Lost Lovers
"No one really pays attention to the CiTR booth", a friend told me as I unfolded the table I'd be stationed at, giving away magazines and trying to sell t-shirts for Discorder's Fit To Print art show. Thankfully, this meant I had plenty of time to check out the collection of Discorder contributors' illustrations and photography collected at the Interurban Gallery. The art adorned a small stretch of real estate in the otherwise empty spot, but early birds made the space feel as alive and vibrant as much of the artwork did with pastel colours and collage layouts.

Kellarissa started the musical portion of the evening right on time, just as the flux of Friday night hipsters reached its peak. Though alone on a big stage, Larissa Loyva did her best to fill the tremendous space with lucid synths and airy, transient vocals. Her performance, however, was washed out and lacked definition – each track's steady tempo and unchanging tone melded into the next. I kept myself busy selling records (I'd somehow taken on full merch responsibilities by this point), but every time I tried to be overwhelmed by Loyva's far-reaching and harmonic voice, I got the feeling of deja vu instead.
Shimmering Stars played an equally passable but no more extraordinary set. Jangly surf guitars lent themselves well to what was definitely a dream-pop ensemble, but it was hard to get beyond their innocent '50s doo-wop sound and into something more interesting. Lyrics occasionally hinted at a darker and more cynical bent to their shiny tunes, but it never really expanded into something I could grasp onto.
The Lost Lovers Brigade were the most dynamic band of the evening, with a full-band (including Kellarissa's Loyva back on keys) really making the most of the big stage inside Interurban. Singer Elisha Rembold knows how to write a good pop song, and, with a talented group of musicians at her side, she did her best to keep the crowd guessing who she'd worshiped on her Walkman growing up. While many songs played out with a distinctly country-esque twang, a few whispery tracks conjured up old R&B and put Rembold to work on serious, dang-that-girl-can-sing vocal duty. An endearing a capella encore won the crowd over, but I scrambled to pack up my gear before the DJ sets started.