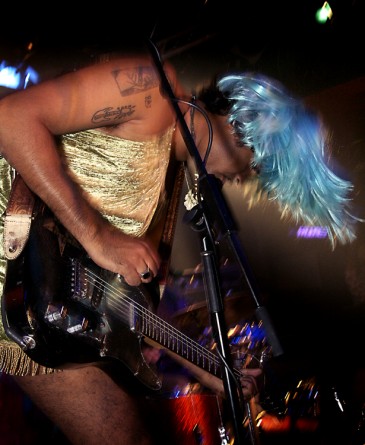 The big news in the world of King Khan recently was his arrest for drug possession during a tour stop in Kentucky. Khan and his tour manager Kristin Klein were arrested for "allegedly possessing hallucinogenic mushrooms," according to the Kentucky New Era. They were forced to cancel a few shows last week and play catch-up. Thankfully, though, they arrived in Vancouver without issue.
Those Darlins got the night started with a catchy mixture of country and garage. Judging from their gritty vocals and references to alcohol the three Tennessee ladies who front the band have seen a lot of cigarettes and whiskey in their time. They kept the crowd engaged and even managed to squeeze in a tampon joke between songs.
The crowd cheered when King Khan took the stage with BBQ. Khan was looking his best in a weird bit of drag that included a blue wig and shiny gold top. BBQ was decked out in a Sultan [ed. Get it? Mark Sultan. Heh.] outfit with a purple robe. The band powered through their set, hands wavin' and booties shakin' the whole time. From the stories I'd read, I expected Khan to pretty much lose his mind during the show. However, though Khan and BBQ sounded great live, but their performance was tame. Getting arrested must have had a calming effect. As the night went on, Khan and BBQ got comfortable and more engaged with the crowd. Before launching into "Tastebuds," Khan said they had just performed the track on CBC Radio earlier that day, and that he was excited about Canada "getting more vulgar!"
The duo cranked up the doo-wop and soul in the last half of their set, visibly enjoying themselves. BBQ sounded like a reincarnation of Sam Cooke, belting out inspired melodies. As the show ended, the band showered the crowd with thanks while lines formed quickly at the merch table for their new album Invisible Girl.