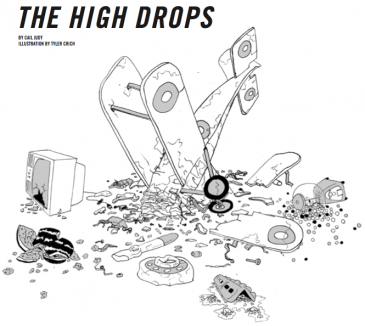 The High Drops – These Kids
It's not often a band captures your heart right out of the gate; but the High Drops will. Born out of a friendship between a couple of skateboarders-turned-musicians, the High Drops are comprised of Mitch Charron (guitar) Alexi Baris (vocals/guitar), Jen Smyth (drums/vocals) and Max Osburn (bass). They are, in this writer's opinion, one of Vancouver's best new bands. Their self-titled EP boasts five songs that are diverse both in sound and scope. "Dying on the Vine" is a hazy, '70s-era jam that builds on a fantastic, slow-burning guitar riff; it's so damn smooth. "Street Girl," meanwhile, grips you by the throat via Baris' Eric Burdon-esque vocals and thundering drums. Discorder recently sat down with Baris, Charron and Smyth at Reno's Café on Main Street to discuss the EP while listening to some classics on the jukebox.
____________________________________________
Discorder: Let's start with the genesis of the High Drops.
Alexi Baris: Well, Mitch and I have been friends for ten years. We used to skateboard downtown and we were roommates. We both bought guitars at the same time.
Mitch Charron: [Our passion for skateboarding] turned into the passion of music.
MC: Eventually we decided we wanted to get electric guitars and write songs on those. And then we convinced Jen to get drums. It was just guitars and drums for four months.
AB: Jen never played drums before. I convinced her to buy a drum kit and that's how we started the band.
Jen Smyth: [laughs] The rhythm section was *makes farting noise* [at first].
D: Alexi, you're the primary singer?
AB: Jen and I sing. We've been incorporating her to sing more than just harmonies [in the new songs we're writing].
D: How would you describe the High Drops' sound?
AB: That's a hard question. For me, it's just rock 'n' roll. It's the only way it makes sense to me.
JS: Our music makes me happy.
MC: When I write a song, I don't want it to sound like the last one I came up with. I want to be genre-less.
D: What bands have influenced your sound?
MC: It's constantly changing.
AB: We all really like the Velvet Underground a lot.
MC: Velvet Underground is one that will never, ever go away. For me, I like Cass McCombs, John Cale, Kevin Ayers…
JS: You don't want to say it but you kind of have to. The "B word"?
D: Beach Boys?
JS: Beatles.
MC gets up and puts on The Hollies' "Just One Look" on the jukebox.
D: What I like about your band is the variance in each song. It's not just straight-up garage-rock.
AB: That's the thing we really enjoy doing, being able to play different kinds of music. We don't stick to one thing.
JS: It's important to play loud and also play quiet. It's important and challenging if you're playing loud [to also] tone things down. You can hear every little thing and you're more conscious of playing well. You can't hide your mistakes.
D: Describe how you guys wrote "Dying On the Vine." That's an amazing song.
MC: We were at my house and we were just playing guitars. All the stuff we do starts out very basic and simple.
AB: That song is about someone that comes from a dysfunctional background and turns to heroin and prostitution for their means to life. That's what the song is really about.
MC: I came up with the lick and wrote the majority of the words. Alexi put "dying on the vine" in there.
AB: It was one of the first songs we wrote.
MC: It's takes a while for [one of our songs] to become what it is, maybe a week from the initial idea to being finished.
D: What's going on with your new EP?
AB: You can download it right now on Bandcamp for free.
MC: We're releasing it on tape in October through Green Burrito.
JS: We've got another album's worth of material ready to go.
D: I have to ask, where did your band name come from?
MC: (grins) Lack of a better name.
AB: That was the hardest thing for us, thinking of a name that wasn't taken. [The High Drops] was the name we all agreed on.
JS: There were a lot of vetoes.
MC: The name doesn't really have any effect on our music. We don't want to show people we're a certain type of band by our name. We're ambiguous.
D: It sticks in your head.
MC: And we didn't hate it.