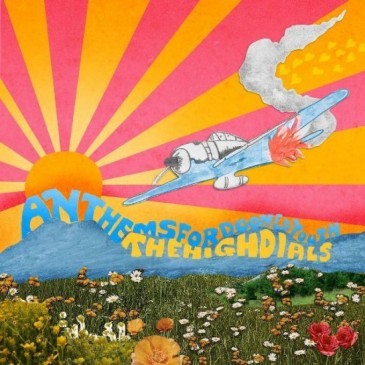 05 Chinese Boxes
A doomed plane, engine on fire, barrels down towards the ground against a cheery backdrop of a strawberry blond sunrise and flowery meadow. Is this the visual depiction of the High Dials' Anthems for Doomed Youth—tales of teenage heartbreak and melancholy set to an indie pop, psychedelic musical landscape—or just a creative and crafty album cover? Listening would point to the former; the album is depressingly moody while still having the High Dials' characteristic '60s style, upbeat psychedelic rock calling card.
This album was apparently recorded in an abandoned and potentially haunted Montreal building formerly owned by the Canadian Navy. The sounds of bewildered ghosts recalling past love affairs are apparent in the classic scratchy style of this album—the old feel of playing in a single room, few microphones and even less sound equipment presents the back shadows of lulling voices and the sleazy haze of sound quality. The band's need to shy away from sound perfection and move towards the realm of feeling and emotion is well met by these creatures of the dark. The disheartening force that is unrequited love is complimented by the popping whispers and eerie flute, like on "The Rich Die Too," and by strained, weary vocals present on "I'm Over You (I Hope It's True)."
Even though the album may be wrought with the casualties of lovelorn, the album still manages to create not only cheery sounding melodies, but it also crafts interesting, new perceptions on the idea of heartache. "Bedroom Shadows" comprises the idea of loneliness and loss with the musicality of tortured and distorted rockabilly/surfer-esque tunes. Garage rock meets New Wave collides on "What You Call Love is a Lie"—think the Walkman meets the Cure. Infectious clapping, a twang guitar line and fuzzy vocals and backup create what may be the standout hit on the album. The song is vocally interesting and each new sound and line seems to be placed at exactly the right spot to keep the song interesting and fresh.
The concept of a broken heart may be well over done, but Anthems for Doomed Youth looks to shroud the fallen in clever pick-me-ups, even if the footsteps of the damned can be heard in the background.