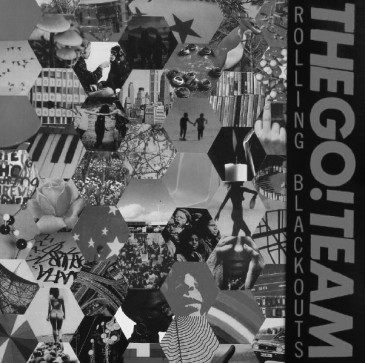 Bust Out Brigade
Just to warn you, this review contains bad sports cliches and a lot of hype. But before we get to the crux, it is important to note that The Go! Team's inspiration continues to sound like an American college football marching band combined with enticing beats, aggressive lyrical tones and textured noise-pop. Considering the group is based in the UK, this combination is somewhat surprising. Rolling Blackouts, The Go! Team's third album, is a totally hyper listening experience, and you can't help but be drawn to the sports motifs, cheerleader chants, break beats and indie pop goodness that it provides.
Now, as with any competitive sporting event, there exists a measure of achievement; therefore, it is only fitting to assess this frenzied soundtrack using a point system. Let us begin: Ten points awarded to the first few seconds of the opening track "T.O.R.N.A.D.O." which will blow your socks off and give you the boost you need to leap over mountains. Fifteen points for being able to completely switch gears and produce beautiful, bouncy, melodic pop in "Secretary Song" and their supremely catchy single "Buy Nothing Day". Five points for having an album cover collage as interesting as the music. Fifteen points for forty minutes of magnificent mayhem with no filler to be found, anywhere. Twenty points for chaotic turntable cuts and breaks placed at just the right moments. Twenty-five points for "Back Like 8 Track," the epic finale which would perfectly score the next Rocky film. This last track is worth the price of admission on its own as it features the most exhilarating crescendo of brass ever to be put down on vinyl. Finally, ten points for sounding like the band had a lot of fun producing the record, as most of the choral incantations sound like they were recorded at a Frat party.
One minor complaint: The album must be played on a good sound system, or at least a quality pair of headphones. The emphasis on the mid-range frequencies from the full complement of sampled instruments, beats and vocals makes for an uncomfortable listening experience on small ear-buds, and at times barely adequate on a good system; for this, I've deducted five points.
Overall, The Go! Team leave it all out on the field as they continue their tradition of creating upbeat, danceable music that sounds like a backdrop to frosh week. Scoring 90 out of a possible 100 points, the UK outfit definitely bring their 'A' game on their third release.