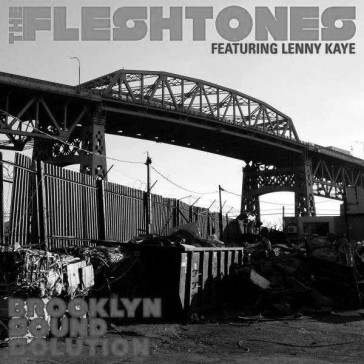 Bite of My Soul
The Fleshtones deserve a break. Seriously. These garage-rock vets started at the legendary CBGB in 1976, and have toured, written and recorded relentlessly since then—without even getting close to the Billboard Top 100. They even maintained a certain anonymity through the New York garage rock revival of the early '00s. Could this album change that?
The Brooklyn Sound Solution features a new element: guitarist Lenny Kaye, best known for writing and playing with Patti Smith. His guitar, which noodles through most of the tracks, seems like it belongs. Most songs are instrumental, with guitar comfortably taking the place of vocals. Of the album's 12 songs, six are covers, including the Beatles' classic "Day Tripper." Covering classics is a risky move: who can do it better than the original? But the Fleshtones tend to pull it off, making the songs seem more like a tribute than a rip-off. Of the originals, "Solution #1," "Solution #2" and "Back Beat #1" seem like instrumental vehicles for Kaye to showcase his guitar talent. Far and away the best track of the album is "Bite Of My Soul," a raucous burst of energy that'll stick in your head.
There's nothing about this album, musically at least, that lets you know it's from 2011. It could have been written and produced 30 years ago. That said, it's not so much that the Fleshtones are living in the past, but they are enjoying a very specific sound they created. Their bouncing beats carry '70s-rock vibes. The vocals, when present, are energetic, with the band shouting together to punctuate key words. Every track is upbeat and infectiously cheerful. The Fleshtones even smile in their promo shot.
The Brooklyn Sound Solution is not a breakthrough, nor is it a huge departure. This is an album from a band that seems very happy with where they're at. Maybe we, the fans, can meet them there and have a good time too.