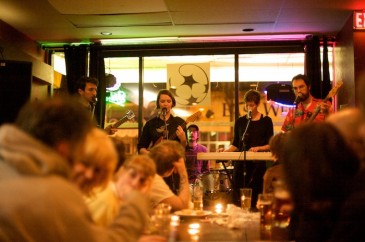 Nyala, at first glance, does not immediately spring to mind as an obvious replacement for its neighbour, the sadly-dormant Little Mountain Gallery. Despite my initial reservations, the tiny stage and demure wrappings provided a perfectly intimate scene to encase a night of modest music and inter-song laughter. By the time strings started plucking, Nyala was filled with both fuzzy familiarity and the warmth of happy strangers.
Unreliable Narrator kept the small space busy with energy. The delicate wind chime voice of Caitlin Gilroy, one half of local drone/folk act Unreliable Narrator, swept across the PA in whimsical fashion atop loop pedal overlays as the gig got underway. Although their musical repertoire includes ambient, drone-inspired art recordings, this night's focus was on beautifully-harmonized vocals and upbeat, if sparse, instrumental accompaniment. Managing to straddle the line between experimental banjo duets and traditional guitar-backed harmonies, their set blew by faster than the "drone" tag might allude to.
Rose Melberg, who co-headlined with Los Angeles group the Finches, has a long history in West Coast music, including phenomenal '90s twee-pop bands Tiger Trap and Go Sailor. With Gilroy of the openers Unreliable Narrator by her side, Melberg laid her soul bare in a combination of songs from her 2009 solo album Homemade Ship and the duo's new project, Brave Irene, which also include musicians Jessica Wilkin and Laura Hatfield of the Vancouver band Collapsing Opposites. While no acoustic guitars were to be had ("It's electric folk!", Melberg joked to the crowd), their tunes were still beyond gentle. Each tune was a whispered look into the velvet-lined clockwork of humble musicians—the girls sometimes sang about the lingering memories of chance encounters in the rain. If any part of this approach left something to be desired, it was in the abruptness with which each tale was cut to length. Together, the pair broke songs up with soft-spoken and deliciously funny banter, more than capable of endearing an entire universe to their earliest works and latest projects.
The Finches started their set with a chilling, ohm-filled, a cappella intro that found all five of the art-folkers humming in harmony. Fronted by the melodious Carolyn Pennypacker Riggs, the Finches' set combined surfy and country-twang-tipped guitars with vaguely haunted sensations of vine-covered vocals and underwater theatre. Riggs explained early on that their set list had been hastily discarded due to border-crossing paranoia, and hearing the singer decipher what track to play next was a tasty porthole into the inner workings of a tight-knit ensemble. Most songs started with a story (including an encore titled "Steve's Song" that required there to be a Steve, somewhere, in the audience), sometimes told with a too-travelled demeanor that made Vancouver sound like a pit-stop—a tendency that extended into a few of the pieces in their hour-long set. Even if slightly self-indulgent, the Finches never failed to entertain with their delicious grins and beautiful crooning vocals.