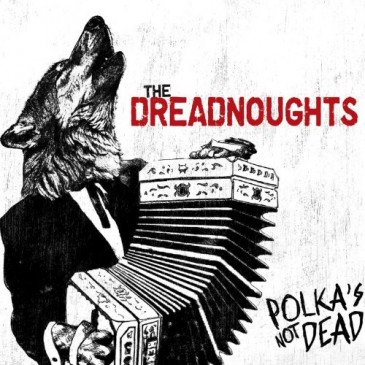 Crossbreeding punk and folk is a bold undertaking that too often results in a mangy, yelping mutt that does little more than chase its tail all day for its own half-witted amusement. Once in a while though, the genealogy blends perfectly and a champion like the Dreadnoughts is born.
Polka's Not Dead, their second Stomp Records release, is a genre-bending masterpiece. Along with the standard lineup of instruments, they throw in accordion, violin, mandolin, whistle, piano, banjo, viola, bouzouki (a Greek version of the mandolin) and tambourines, managing to bring these all together with intelligent musical precision and stalwart punk conviction. They certainly do not limit themselves as they weave street punk with the entire spectrum of European folk music.
With gruff lead vocals, gypsy breakdowns and harmonies reminiscent of Generator-era Bad Religion, the opening track "Cider Road" is a folk punk anthem on par with the Dropkick Murphys' "Shipping Up to Boston." While the title track (and manifesto), "Polka Never Dies," adds a bit of grit to the central European folk tradition without creating a silly, irritating mess. However it is the impressive a capella sea shanty "Randy Dandy-Oh" and the gentle crunch of "Claudia's Waltz" that really demonstrate the band's abilities and their passion for musical traditions. Along with these stand out tracks, Polka's Not Dead offers eight more brilliant songs that prove the Dreadnoughts to be a rare breed in a trendy genre fraught with kitsch and predictability!