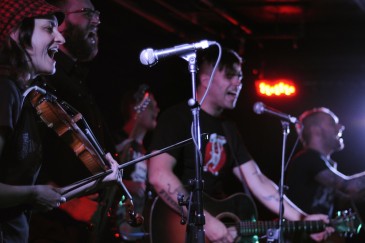 Love Makes The World Go Round
To adherents of the Vancouver music scene, Devon Clifford, departed drummer for local dance punk darlings You Say Party, was an amiable and much-loved figure for many years. His tragic death last year—an onstage collapse during a performance at the Rickshaw, due to a brain hemorrhage—left the Canadian music community cast down and crushed.
In the wake of this shock, Clifford's family created the Devon R.B. Clifford Memorial Foundation. The purpose of this foundation is to provide music education, instruments and programs for financially impeded youth. To benefit this brilliant cause, a sterling line-up of local bands and DJs filled the fashionable Biltmore Cabaret for what was to be an emotional, lively, upbeat and canonizing evening.
The night began with the charming jangle pop of Chains of Love. It was their live debut and the sparkling six-piece's passionate performance—peppered with hand claps and harmonies—showed a lot of promise. Vocalists Nathalia Pizarro and Rebecca Marie Gray Law, delectably dressed as to recall the ravishing pop splendour of Ronnie Spector, added sugar to their set, which was short and sweet.
Between acts, a thick red curtain was drawn across the stage, adding to the theatricality of the evening. When Clifford's parents and sister took the stage next, it was to thank those in attendance and to say a few words in Devon's honour. There wasn't a dry eye in the house after their eloquent and inspiring words. Much to the Clifford's credit, this strengthened the evening, reminding the attentive rabble to be joyful and to rejoice.
Next up was an aggressive acoustic set from East Van garage punk purveyors the Vicious Cycles. Their rowdy show was uplifting and energizing as they tore through Celtic-infused folk punk ditties (think Dropkick Murphys) that were mostly about motorcycles, it seemed. For a rousing and relevant set closer, they led the crowd in a sing-along to Johnny Cash's reworked gospel number, "I'll Fly Away," which was dedicated to Devon.
Then it was Hard Feelings, one of Devon's former bands, turn to give tribute. Playing a breezy and buoyant batch of garage rock tunes,they obviously enjoyed themselves and the fun they were having was contagious. Though their set seemed swift, no one seemed to mind as the Tranzmitors, in their modish suits and gracious smiles, stormed the scene soon after.
It's with good reason that the Tranzmitors are local favourites. Their exuberant performance
overflowed with flair and feeling. It takes considerable cajones to try and cover the Jesus and Mary Chain, for instance, and their punched-up pop version of "Between Planets" delighted in every way. Their brand of boogie down yet raucous punk rock literally begs you to grind it out on the dance floor, and that's exactly what the crowd did.
Those that still had pluck kept shaking it as DJs Slim Roy and Jonny Was laid out some soulful beats, playing the evening out elegantly. The night was also highlighted by a bake sale, commemorative t-shirts, artwork and even knitwear provided by Devon's mom and grandma.
Those wishing to continue cherishing all that Clifford stood for should peruse devonrbclifford.com, keep smiling, and embrace and enshrine the music and musicians in your life. That's what Devon would have wanted and that's what this evening sweetly asserted.