I overheard this conversation at the Piccadilly Pub during New Music West this year:
"Did you manage to see The Cinch? I've never heard of them before but they were amazing."
"Yep. I'm glad I made it here. Everyone told me to check them out."
The two people carrying out that discussion were not from Vancouver; otherwise they would know more about the band they just saw. The Cinch is one of the hardest-working acts in town, playing more shows than just about anybody else, and converting listeners to fans with their fun brand of rock and roll. The band's first big break came when they won CiTR's SHiNDiG! in 2000. Their competition that year included the likes of Operation Makeout, Witness Protection Program, and Trail vs. Russia. Their victory was no small feat.
With a new five-song EP topping the charts at CiTR, I spent a good part of one Friday night chatting with all five members of The Cinch: Kathy Dubé (guitar, vocals), Mark Epp (guitar, vocals), CC Rose (drums), Jennifer Smyth (vocals, percussion, guitar), and Geoff Thompson (bass).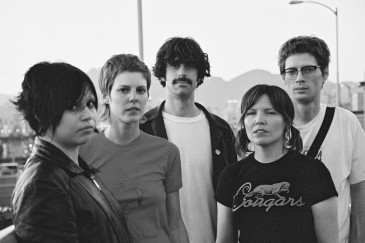 DiSCORDER: Tell me about the history of the band, like how you guys got started.
Mark: How many years ago did it start? Three? Four years ago?
Kathy: [Laughs] It did not!
Jennifer: [To Kathy] How long have you been back?
Kathy: Ah, three years. Three years, yes.
Mark: Me and Jen and Kathy got together acoustically and did a couple of open mics. We always kind of knew we wanted to go electric, so we started looking for people to play with. First we have
Matt from the Nasty On playing bass for us, and a guy named Todd that played in a lot of bands playing drums. And then Matt quit to do Nasty On full time, and then we got Geoff, but before that we got CC on drums. And then we recorded an EP, which sort of came out in May, and this is where we are right now.
You were the grand champion of CiTR's SHiNDiG! in 2000. What did you think of the whole experience?
Kathy: It was really good for us because at the time we just got CC. So all of a sudden we were getting performance experience. And we kept coming back and winning rounds. [Laughs]
Mark: We're just really happy to have a place to play.
Kathy: Yeah, it was awesome.
Jennifer: It was a real shock. We didn't know. We didn't think we were going to win.
Really?
Jennifer: No.
Kathy: We were outside smoking and when they announced the winners we were like, "No."
Jennifer: We didn't believe it. No way.
Kathy: Trail vs. Russia.
Jennifer: They were great.
Mark: They were so good. Great band.
Kathy: And Operation Makeout. And Joel.
Jennifer: They were all amazing.
CC: And we had just got together.
Mark: Yeah, our first SHiNDiG! show was CC's first show.
And your new EP was recorded using the free studio time from winning SHiNDiG!?
Kathy: Yes, at Mushroom Studios.
Mark: We did four songs at Mushroom, and we did one song at the Hive. There're five songs on the EP. It's just a short one.
How did you like recording in a studio?
Mark: It was the first time for us in a studio. We were so overwhelmed at first. It was such a nice room.
Kathy: So fancy, we didn't want to leave.
Jennifer: They have really good video games. Playstation!
Mark: And they were super nice people. All the people at Mushroom were just awesome.
The album came out Stutter Records. Can you tell me about that?
Kathy: It's affiliated with the Nasty On. Jason and Allen created the label called Stutter, and they asked us if we want to be a part of it. We loved their band, and Notes From Underground joined too. And we are kind of sticking together.
Mark: It's a lot of just working together as bands, but Jason and Allen are spearheading a lot of it and doing a lot of stuff to get it going.
You guys play very often around town.
Jennifer: Every couple of weeks.
Is playing so often something that you wanted to do? Are you worried about over-saturation?
Kathy: I think we accept shows when we really want to play with a certain band. And we really love performing. And we learn a lot when we perform. But we are at a point now where I think we're going to choose maybe less shows because we want to play more out of town.
Jennifer: And have time to write new songs.
Have you toured outside of Vancouver?
Mark: Kamloops and Vernon.
Jennifer: It was this warehouse in Kamloops. All-ages. It was the first time we played out of town and our first all-ages show. And the second night we played at a house party in Vernon. It was a lot of fun.
Mark: Kamloops was my sweatiest show to date.
Jennifer: You were wet in every picture.
Mark: It was 35 degrees or something in Kamloops that day. It was just HOT.
Are you going to be touring soon?
Kathy: Probably going to be small little ones.
Mark: At the end of this year.
How far are you going to go?
Kathy: Probably the States, Seattle, we have some contacts there. And Victoria.
Mark: Definitely Edmonton and Calgary. Just sort of do mini-tours for now. We want to do some recording in August with Jay from the Spitfires. We are going to work on our full length and hope to have that out early next year.
You have songs written for your next album already?
Jennifer: Almost.
Mark: On the go. A couple more.
When people talk about your music, they often compare you to the Velvet Underground. Any comments on that?
Jennifer: Thank you. [Everyone laughs]
Kathy: There is definitely an influence for sure. We have a lot of influences.
What kind of influences? Anything in particular that you draw from?
Kathy: I think we listen to a bit of everything; whatever comes out is what it is. We don't try to be anything.
Mark: I think we all sort of bring in different influences. We all like the Velvets, and things like the Stooges, and, you know, the Pixies. There are obvious things that we all like. But then everyone sort of drops in different areas. I come from a lot of the '80s stuff like The Cure and Echo and the Bunnymen that sort of stuff. And then Kathy knows her R&B a lot more, like Tina Turner and just good old R&B stuff. Jen knows the words to every song ever written. She knows every show tune. Any musical that's on TV—she'll sing along.
Jennifer: [Laughs] I don't know how I do that.
Mark: It's incredible. And CC's got the metal edge. She's now actually reading the Mötley Crüe book. Geoff's got the very classic background. He knows his Zeppelin and DC and Motörhead, but he is very indie-spirited. So yeah, I guess it all sort of comes together. We don't fight too much over the stereo.
When not doing interviews with DiSCORDER magazine, what do you usually do on a Friday night?
Kathy and Jennifer: Practice.
CC: Maybe catch a show after that.
Kathy: And maybe drink a beer.
Okay. That was not the exciting answer that I was looking for.
Kathy: [Laughs] Oh, we got nothing.
CC: Parachuting?
Jennifer: Yeah, we go parachuting and bungee jumping. [Laughs]
Let's try this then: If the Cinch did not exist, what would you be doing?
Jennifer: I'd probably be in front of a mirror at home with my hairbrush singing into it.
CC: I'd probably be a one-man band. I'd probably have a drums tour. Just go solo.
Geoff: I'd like to work with children. [Everyone laughs]
Kathy: I knew he was going to make something up like that.
Mark: I'd still just be doing four-track stuff and things like that.
Kathy: Lonely. I'd be lonely.
CC: Kathy would be sitting at home drinking beer. Crying in her beer.
Kathy: Saying, "Why can't I be with a band?"
Is there anything that you want to tell our readers?
CC: Come see us live.
Jennifer: Yeah.
Mark: Yeah, and you can dance to us. It's okay. •