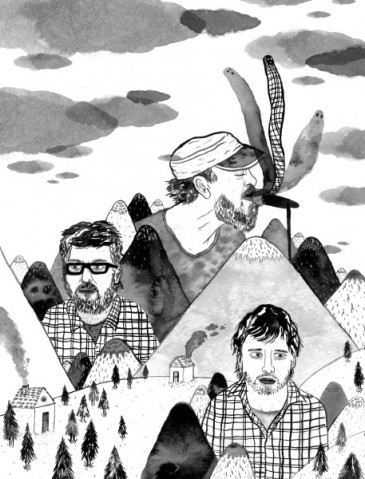 Seattle's the Cave Singers have crafted hypntoic folk sounds since forming over four years ago, but the band got louder and more raucous for their third studio album, No Witch. Although the Cave Singers are currently in the middle of an extensive tour, Discorder tracked down guitarist Derek Fudesco by phone in L.A. as the band, which includes vocalist Peter Quirk and drummer Marty Lund, were preparing for a southbound drive to their next show in San Diego. We intruded on some of their precious time together for a talk about touring, rice wine and Paul Simon.
Discorder: So how has your live show been shaping up since the release of No Witch?
Derek Fudesco: What's going on with the live show?
Peter Quirk: (in the background) Excitement!
DF: Excitement?
PQ: Explosives.
DF: Pyrotechnics (laughs)! Wigs, cocaine on stage, Jack Daniels … I just keep a bottle of Jack right on my amp now. You know all that kind of stuff … we're gonna keep it strong.
D: Well, really looking forward to seeing all that happening here in April.
DF: I love Vancouver man, let's just get that out there right now: we are big fans of Vancouver and we have a lot of friends there and we wish that we could live there.
D: I heard you guys are friends with the folks in Black Mountain and Randall Dunn, who's been producing their albums and did No Witch too.
DF: Yeah, they're all super bros. We're trying to get a bunch of them to marry a bunch of us and even marry our girlfriends so we could all just live there.
D: Alright, incestuous family plans aside, how would you describe working with Randall Dunn?
DF: It was different. Like, we made our first two records with Colin Stewart, who lives in Vancouver, and both of those were amazing, and this new one we were like, "oh, let's just try something different for the third record." Steve McBean [of Black Mountain], I actually ran into him in LA, and he was like, "oh, we just did some stuff with this guy Randall and you would love him. You should give him a shot." It was awesome. It was totally different. He has a studio in his basement in his house in West Seattle, so we recorded the whole thing there. He was pretty hands on. He was like, "I have a friend that plays flute and I want him to come down and play that guitar line on flute, or I have a friend that plays fiddle," you know? He really was just throwing out a lot of ideas and he had a lot of buddies that played different things that came down. We wanted to have backup singers on almost every record—it just never [worked out].
D: Yeah, you're getting a lot of comparisons to the Beggar's Banquet-era Stones with all those backup vocals.
DF: We just wanted to have true gospel singers and he had worked with some phenomenal gospel singers in Seattle, so he had this woman Joy Jones come down. She had her sister and two other people from the choir come and just built these parts and it was a really neat experience.
D: It definitely seems like you captured more of your live sound on this record.
DF: That's actually what we were trying to do, because even when we made that last record, we played those songs way harder [live] than what they sound like in their recorded versions. I mean, they're a lot more electrified and amped and we play 'em faster. Harder. Songs like "Swim Club" on this new one, it's the same thing, but we wanted to record it the way we'd be playing it live. It's just to be more conscious of it.
D: I'm really curious, what's the story behind the mystical shot of Pete on the cover of the album?
DF: (laughs) that picture was taken in… I believe it was… Chongqing, or… Shanghai? It was taken on our tour in China, and we had been drinking this rice wine and everyone was really, really fucked up and we'd been over there for two weeks and there was just kind of a little bit of culture shock—going a little bit crazy, and the television shows over there are really awesome, really musical and crazy, so there was actually a TV on in the shot playing some Chinese traditional… I don't even know what kind of music
D: Some Chinese opera, perhaps?
DF: It was very sort of…jumping music. But he just got on the table and started dancing and I took pictures. And then when we were talking about record cover photos, we were going through pictures and that one just kind of jumped out. It's funny because the colours…those were the colours. It wasn't doctored at all, just this kind of dingy dark weird brown room.
D: So how was touring China for you?
DF: That was amazing. It was one of the best things I have been able to do. It was just so crazy. We played in a town square where they said it was the first time they had ever had a show. It was like a free concert in the middle of a town square and it was just us and this Finnish band. It was so surreal. We showed up, and then they take us to this massive feast and then we came out and played and that was it. Like, everyone was gone. That was it. The whole experience was incredible.
D: How did the audiences there take to your music?
DF: It was kind of different everywhere. Shanghai was most like one of our shows here: it was really rowdy. You know, there are a lot of expats that live there. And then we played a festival, I think it might have been a metal music festival in Changsha, and that was awesome. It was probably like 2,000 to 3,000 people. People seemed to get into it, I mean, we played right after a full-on metal band, so that was a little bit weird. It was the biggest stage we've been on, and it was awesome. Most of the time it just seemed like people were trying to figure out where to put us; just kind of going 'cause there was a western band playing, and you know, just to see what it's like.
D: Back to your tour now, may I ask what's been playing in the van so far?
DF: We've got a copy of the new Paul Simon record [So Beautiful of So What] and it's so killer. I'm not sure if we're supposed to tell anyone that, but we did get a copy of it. It comes out next month, but we've got a copy of it, and it's…it's a monster. We've also been listening to [Simon's 1990 disc] Rhythm of the Saints, [Van Morrison's]Astral Weeks. We have an iPod, so there's always something on, but that Paul Simon record's the one that's been played the most.
D: So has that been the soundtrack to your tour?
DF: It's the best soundtrack music. We took the 101 down through Arcata, California to get to San Francisco, and then we went to Big Sur after that. So just listening to this super positive music driving through the Redwoods and the coastline… It actually doesn't feel like we're on tour yet. After tomorrow it will start to feel like tour, when we have to drive 16 hours to Austin, Texas.
D: Speaking of Austin, what are your thoughts about South by Southwest?
DF: Well it's more just that we haven't toured in a long time, so we're just looking forward to being on tour, just playing. South by Southwest is fun, but you know, it's just fun to play in Austin.
D: With all this touring ahead, what are you looking forward to the most this year?
DF: I'm just happy to be alive, man (laughs). I'm just excited to be on tour with my bros.
The Cave Singers play the Biltmore Cabaret, April 21.