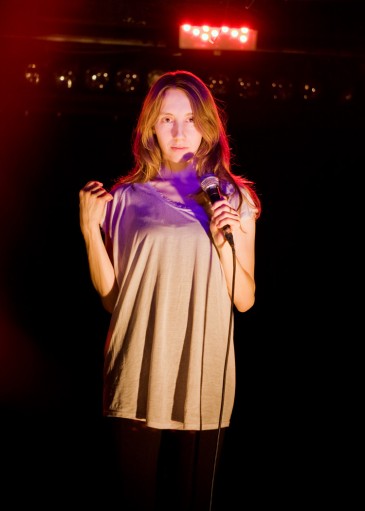 It was nice to see the crowd of bearded, plaid-clad hipsters already filling the shabby-chic basement backdrop of the Biltmore when openers Sonny & the Sunsets took the stage. Early shows can be erratic and unreliable—I once saw Of Montreal do an early gig at the Starfish Room where there were more people on stage then in the rabble. Uh, awkward.
Sonny Smith warmed the crowd with his methodically shambolic pop. Like a junior Jonathan Richman, his stage banter and idiosyncratic songs were a gift of garage-y goodness. "Death Cream" and "Too Young to Burn" were particularly fun-filled, but not everyone was as appreciative of Smith's wry sense of humour. When he amiably told the room in a dead pan that he would "remain frosty and removed because only sadness can come from sharing," the crowd stood silent.
By the time New York performance/pop artist Khaela Maricich, aka the Blow, breezed in with a surprising a capella cover of the Eagles' "Peaceful Easy Feeling," the Biltmore was a-boppin'. While the charmingly funny Marichich was full of good humour and anecdotal asides, her minimalist, lo-fi electronic pop melodies seemed to wear thin at times. Luckily, her limitations as a musical muse were dashed by her confidence and candour.
Marichich's set was highlighted with theatrics and witty tangents, but if she'd done more ditties like promenade promising "Parenthesis" or catchy set closer "True Affection," she might have left a bigger impression, especially since she seemed to merely underscore sonic statements already made by more lilting performers like the X-Ray Spex and Bratmobile.
Most of the assemblage didn't seem to mind, however, and found it cute how she spent a lot of time talking about a recent, unnamed collaborator whilst fussing with her lengthy locks.
"The thing about the hair," Maricich shared with a knowing wink, "is you gotta be strong enough to control it, otherwise it's gonna control you."
Clearly the Blow was in control at the Biltmore, though, as she amassed an often amused and appreciative throng on this elated evening.