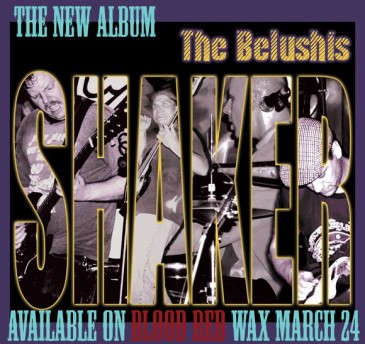 The Belushis could drive a man to drink, fight and screw. Although they'd probably also drive you to make friends with whomever you dirtied knuckles with, for the sake of good fun. Not ones to pretty-up their image, The Belushis come from the world of beer stained jeans, hard work and hard play, and the drunk, sweaty and totally shameless Vancouver-based four piece hold nothing back on their latest release, Shaker.

Guitarist Gerry Clipperton's riffs are sometimes reminiscent of Angus Young, if he had been bullied in the schoolyard by Turbonegro, while vocalist/rhythm guitarist Kirk Macdonald evens-out the edges, while helping to maintain the intensity of the unit as a whole.
The themes of working, drinking and good times are favored heavily on Shaker, and that's just fine, because it works. "Bang Your Drink Down," one of my favorites, is a rousing call to stop messing around and get to partying, and bassist Ferdinand Belland does an excellent job of tapping into his inner Lemmy.
What makes the Belushi's good, is their unrelenting raw energy. Listening to Shaker from start to finish is almost as exhausting as watching their riotous, sweat-drenched live shows, and in an evolving world of music that is seeming to veer closer to alienation through electronics, it is good to know there are still some purists out there who just want to rock the fuck out!