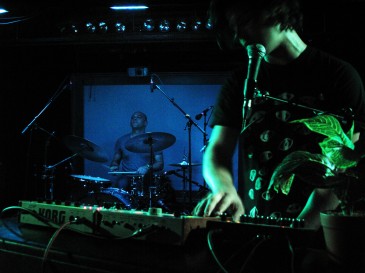 The combination of glitz and grime decoration makes the Biltmore a very ambiguous concert venue. One night there can be a burlesque show, the next night could be a night of mayhem. It is this ambiguity that definitely contributed to the large success of the Antlers concert on May 4.
Opening the show was the psych-pop duo Phantogram. The Saratoga Springs, NY rockers built their musical foundation with sample-heavy hip-hop beats, and layered their distinguished sound with guitar loops and various keyboard effects. Maybe it was their high octane energy in their opening song that made Phantogram enjoyable, maybe it was the combination of screen projections and strobe lights, or maybe it was the fact that keyboardist Sarah Barthel is a beautiful vixen with a swooning voice. Whatever the case, both Barthel and guitarist Josh Carter both made admirable contributions to the vocals, as well as their respective instruments, and although some songs were difficult to dance to, the overall product was very dance-friendly. Phantogram will be back in Vancouver shortly when they open for Metric. The concert is happening on Jul. 11. My advice to you is to see this band because under the direction of Barsuk Records, I have no doubt that these sample rockers are only going to get bigger and better!
After a brief intermission and two more of the Biltmore's tasty pale ales on tap for this reviewer, the Antlers took the stage to play their inaugural Vancouver concert. Opening with "Kettering," the Antlers successfully recreated the sound of beautiful darkness that made "Kettering" so bloody good on their concept album Hospice. Drummer Michael Lerner led the tempo on the fan favourite "Sylvia." With heavy crash symbols, tremors of keys and guitars flooded the room as Peter Silberman's voice matched the intensity as he belted out to the audience. Playing primarily from Hospice, they gave the audience an exceptional performance of "Wake" as Silberman screamed, "Don't ever let anyone tell you you deserve that" over rat-a-tat drums and dreamy synthesizers. The Antlers were consistent in layering their music into epic endings that truly let the audience witness how personal their music is to the Antlers, especially to Silberman. A ridiculously good-looking woman said, "His voice reminds me of Antony from Antony & the Johnsons." A very true observation, and if anything, a compliment to Silberman because Antony Hegarty's voice makes it cool to listen to gothic cabaret, which is a tall, tall order.
Both bands brought a high level of endurance and delivered their musical messages to a responsive and grateful audience that in my opinion, went home musically full and satisfied.