A reasonably-sized crowd gathered at the Media Club for a group of relative unknowns. The Answer hail from Northern Ireland and are mostly known as the band supporting AC/DC on their North American tour. The fact that they are opening for one of the biggest rock bands on the planet means they have a lot to live up to. Given the look and sound of the Answer, it was easy to label them as a Led Zeppelin rip-off, but onstage they proved themselves to be a formidable force in their own right.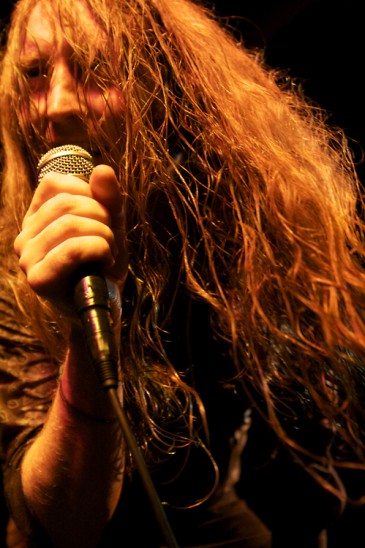 Playing bluesy rock and roll, they poured themselves into every song. Singer Cormac Neeson's stage presence made it hard to ignore the band. He swung his long blond hair around like it was on fire, threw himself around the tiny stage and into the audience. His bandmates, in particular bass player Micky Waters, didn't shrink into the background, and gave Neeson a run for his money in the head-banging stakes.
The crowd lapped up everything the Answer was giving out. They clearly love being on stage, and the audience fed off their enthusiasm. Playing songs off their latest album Demon Days they appeared determined to rock harder to prove they deserved to be there. The show was loud, hot and fevered. They played each song harder and faster than the last, only slowing down for the heartfelt "Comfort Zone." They picked it back up by launching into "Under The Sky" and got the crowd going again with the "Belfast Blues-off."
Preaching to a receptive audience, Neeson had the whole crowd smiling and yelling in appreciation. It felt like we were all in on a secret gig, witnessing something that has the potential to be brilliant. Although a lot of people may have turned up to see if they could spot a member or two of AC/DC, the Answer proved they could hold their own, and then some. The only downside was that I forgot my ear plugs. I think the Media Club is still shaking.