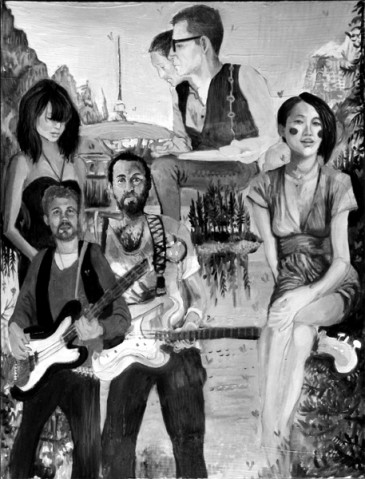 The Wake
OK
The Albertans are a project pooling the collective and creative consciousness of five talented musicians who actually live outside the majestic province of Alberta. The band formed in Vancouver just over three years ago from the ashes of vocalist/guitarist Joel Bravo and bassist Ian Everall's former band, Sex with an Angel, a New York based collective whose material was eventually released as the Albertans' first EP, also called Sex with an Angel. They've since solidified their lineup to include drummer Curtis Mclean and keyboardists Alison Yip and Krystin Monaghan. The group cut their teeth by touring extensively stateside, which might help explain how they've managed to fly under the local radar before the recent release of their second full-length album, New Age.
The especially enigmatic and egoless Joel Bravo recently spoke with Discorder on a weekend visit to Vancouver from his home-away-from-home of Bowen Island, and answered some questions about the band and their new album.
Early into the conversation, the singer/guitarist confirmed suspicions that naming the group after the country-loving province of Alberta might cause some misguided listening expectations. The Albertans play a particularly sweet brand of indie rock that doesn't rely as heavily on distortion as it does on simple and clean guitar parts, punchy bass lines and well timed keyboard flourishes. New Age's title track features a group chorus which brings Arcade Fire and Akron/Family to mind. Despite this, their first tour was booked by their agent with an alt-country band that they should not have been sharing the stage with. "People just didn't know what to do with us," Bravo said.
The musician also explained that there is more than meets the ear at first listen to the new album. The album's lyrics contain the obvious references to New Age spirituality, but really, the majority of the tracks were written from the perspective of a 14-year-old, juxtaposing New Age with coming-of-age.
"New Age refers mainly to that weird time at the very beginning of adolescence when everything is changing and you have this raw emotional intensity that's kind of unparalleled. You could fall in love like you never could before… paralleling that with New Age religions and thinking about how the two play off each other," Bravo explains. He notes, however, that he doesn't necessarily share the feelings of the fictional characters he writes about.
A top priority of Bravo's is making sure the Albertans' records are on par with their live show, which is no easy task given their dynamic range and stage presence. Most of their tracks are danceable and keep you on your toes. They've got their set-list on speed dial, progressively working the crowd up as the night goes on. It's also pretty obvious that they're genuinely happy to be there, which makes watching them all the more enjoyable.
Bravo suggested that for the next album, more time in the recording studio and dedicated songwriting will even out some of the swings that work well on stage, but might not translate on record. He also made it clear that the collaborative spirit of the Albertans is something that will remain very important to future efforts, pointing out that the first single from New Age, "The Wake," was written from scratch as a group effort. It also features a video made by the band using vintage film footage that is an uncanny fit for the track.
Despite having just released a new album, the Albertans are currently on a short hiatus while Yip, an accomplished painter, attends a residency in Germany and Everall records with a side-project called Deadbeat Darling in England. Geographical constraints don't worry Bravo, though. He likened his commitment to the band to a long-term relationship. "It's like being in love with someone," he explains, and right now the relationship feels very enriching and stable. Having found bandmates that share his sentiments has allowed Bravo to relax and focus on other things, like The Secret of Sugarloaf, a musical he's directing that was created by the middle school kids at Island Pacific School on Bowen Island. Aside from that, Bravo and the other Albertans are eagerly awaiting Yip and Everall's return to Canada this summer so they can hit the road once again.