Discorder's Editor, Jordie Yow, is sucking up all the Sled Island he can. Check discorder.ca everyday of the Festival (June 30-July 3) for his latest updates.
After flying into Calgary that afternoon, we (We is whoever I happened to be with at the time. It's a pretty interchangeable group and applies to a lot of different people throughout the festival. I don't want to bog you down with names.) quickly picked up our passes. While getting ready for the multitude of shows we would see that night, we were greeted with a swirl of rumours such as, how King Khan had left all his bands (true, there will be no King Khan at this Sled Island and a number of other acts are filling in for him) and that Peace and Tristan Orchard of Winnie Cooper and No More Strangers had gotten into a car accident on the way to Calgary (not true it turned out, they just missed the turnoff for the Coquihala). Lacking a bike to get around, I was lucky enough to have met a kind man (Craig from Cousins) who offered me a barely functional cycle that he'd found behind a dumpster. I dubbed it "Eeyore" and proceeded to ride it around leaning it against piles of locked bikes in the hopes that no one would notice it and steal it. This mostly worked.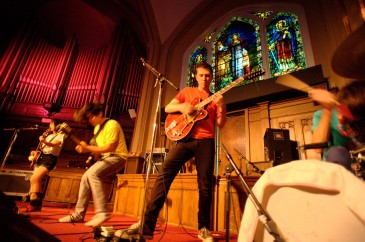 Deerhoof @ Central United
Riding Eeyore with his non-functional rust coated gears was an adventure to see the first band of the night, Deerhoof, the San Francisco based weird pop quintet. The venue was a large church that had great acoustics. They didn't really do anything out of the ordinary, but fans of the cutesy surrealist pop left satisfied, and those unhappy with their stylistic choices didn't change their opinions based on this performance.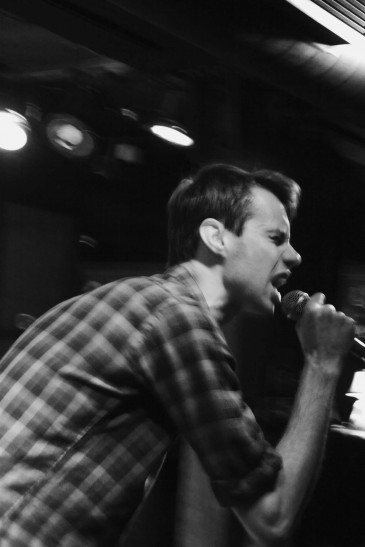 B-Lines @ Broken City
Despite being from the same city as B-Lines, shockingly this was the the first time I managed to catch the bus punkers live. Their short and dirty punk songs went over well with the audience and they interspersed their set with lots of banter—amongst which singer Ryan Dyck pointed out that despite being billed on the posters outside as the headliner they were actually the opening band at the bar.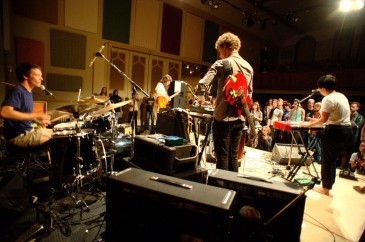 Braids @ Arrata Opera Centre
Braids could not have picked a better venue to perform in; Arrata has beautiful acoustics and plenty of space to move around and see the four piece play. The band was the highlight of the first night with their songs filling with slow builds of organic sounds like their voices and percussion, mixed with the alien sounds of processed music. Their music had a full shoegazey feel to it that powerfully washed over the whole audience, while simultaneously seeming vulnerable and emotionally charged. If you get the chance to see this band, do it, they were wonderful.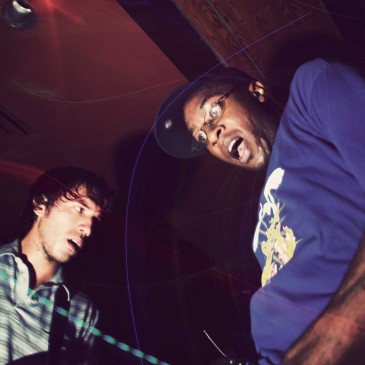 Boogie Monster @ Bamboo
The Vancouver thrash-noise duo closed the night at Bamboo to a small but loving audience, who thrashed around with them and called for an encore when the band wrapped up their set. This hardworking duo never fails to please and we're excited that they've got an album in the works. Keep an eye out for that in the future.
The Almighty Defenders @ Legion Downstairs
If you've never been to this venue before then you don't know that this is a huge Legion. I've never seen one of this size. It's like the Commodore, but with all the trappings of a Legion—old bar servers and decor remembering the various soldiers and units who served. The Almighty Defenders however lacked much punch in this space. Lacking King Khan they failed to hold our attention and we decided to go upstairs.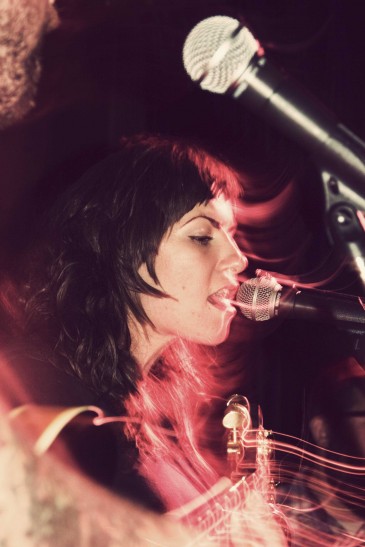 The Dutchess & the Duke @ Legion Upstairs
This would have been a lovely end to someone's evening. The country-folk tinged two part harmonies of this Seattle duo (joined by a drummer) was clean and sweet. Their music into cleaner territory than the grungey garage rock that is popular these days and was soft, quiet and relaxing. Too bad they were playing in a back corner and no one but those right up front could see them, but hearing them was enough.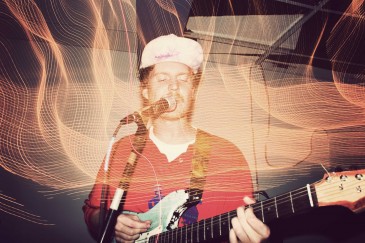 The Beatroute after-party
Though ending the night with the Dutchess & the Duke would have been enough, who can resist an after-party? [ed. Especially one that lets us spy on the competition… er, I mean, our colleagues.] This one seemed tailored to Vancouverites visiting the city desiring a bit of the familiar to rap things up. The night was DJed by Tristan Orchard of No More Strangers and featured Walter TV and B-Lines kicking things off (Myelin Sheaths, Sharp Ends and Ty Segall were also scheduled to play). It seemed to work as the basement office space was crammed with familiar faces from our rainy city and it was hard to take a step without bumping into another person you knew. Walter TV played a good set, but by the time the B-Lines got on, we were starting to fade and decided to try and catch the bands some other time in the festival. Eeyore the Bicycle was stolen at this point, but it was by Shena from Mint Records so I will probably manage to recover him soon, if he doesn't break down first. Tune in tomorrow for more Sled Island coverage!