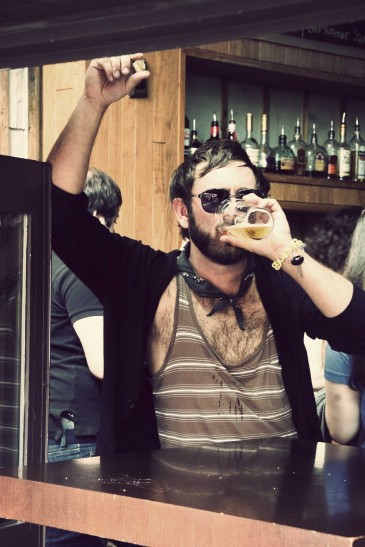 Here it was, the final day of Sled Island. Our bodies beaten and complaining from the trudging through the sun, the steady flow of alcohol, the dehydration, the late nights and not enough late mornings. We set out to get the last that Sled Island had to offer.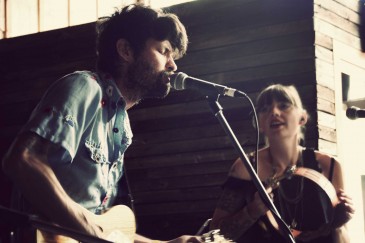 Hard Drugs @ Local 510
Slinking into the bar and ordering a Caesar, I managed to make it just in time for Hard Drugs. I finally got a chance to see them play their country inspired rock in a live setting. The tale of a hooker and a junkie trying to extricate themselves from their hard lives was a beautiful relaxed start to my day and the perfect background to a hangover.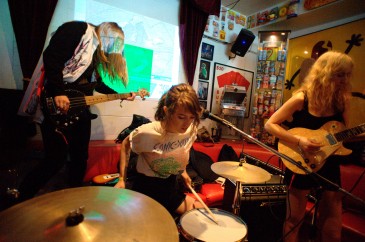 Puberty @ Tubby Dog
The place was packed for this show. So packed that the band couldn't even set up properly before the crowd had packed in so tight that they could barely move. The place was so busy it was basically a sauna. This prompted Jenn Pube who drums for Puberty (and occasionally Makeout Videotape) to note that she "finally [understood] why Japandroids have a giant fan" before the set. Their set was plagued with technical difficulties: a mic that refused to work, constant feedback and the bass cut out for a second. I'd be willing to give this all-girl punk trio a second chance, but this set didn't go their way.
The Melvins @ Olympic Plaza
Unwilling to sit through another show packed tightly into the sweat bath that was Tubby Dog, we made our way to see the Melvins. The band that may as well have invented grunge music were in fine form. They haven't lost it after all these years and they've been a band longer than some members of the audience have been alive. Any fan of grunge needed to be here and fans of dark sludgey metal enjoyed themselves as well.
Hot Water Music @ Olympic Plaza
I didn't stick around for their set, but their primary lead singer, Chuck Ragan, had something nice to say before they started: "I want you all to take a moment to thank the hardworking men and women who put this festival together. The ones that aren't on this stage, without them none of this would happen." Amen.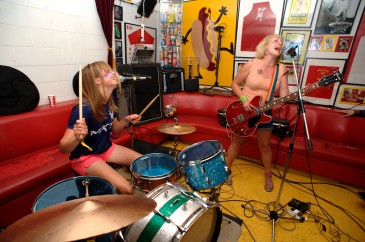 Bash Bros. @ Tubby Dog
The Nanaimo punk duo drew me back to Tubby Dog. Luckily the crowd had thinned out a bit during the dinner break. The girls had given themselves blue and red warpaint under their eyes and were playing loud crunchy screaming punk that was first and foremost fun. I couldn't stay for their whole set, but check out their MySpace (LINK HERE: https://www.myspace.com/bashbashbash) for a taste. I like "Part Hat."
Slam Dunk @ Dicken's
Slam Dunk took to the stage in Dicken's with holes still in the roof from the previous night's (!!!) set. The band (currently on the cover of Discorder) played a bit of garage, a bit of blues and a bit of down south folk jams; their raucous performance managed to re-energize me with the help of a vodka-Red Bull to push me through the rest of the night. They got a mini-mosh pit going as the crowd gradually filled in to see Les Savy Fav play after them, but what I was most impressed with was the song they whispered over their drummers loud beat.
No Age @ the Legion Downstairs
Choosing to see No Age over the Apollo Ghosts at Arrata was the hardest decision I made all festival and one that looked like a huge mistake when I saw the insane lineup at the at capacity giant Legion. Luckily, using some music journalism magic, I found myself inside in time to see the Los Angeles noise punk trio (I know they're usually a duo, but they picked a new member up somewhere) kick off their set. Playing music that falls somewhere between '80s punk and M83, they played Calgary some punk rock with a a heavy dose of fuzz and distortion, that could have been a very satisfying end to the festival except that I couldn't leave when the GZA was about to go on.
The GZA @ the Legion Downstairs
The last act of the festival I saw was the GZA. It was delayed. The artist disappeared and a rumour swirled around the Legion that he'd gone missing and the organizers didn't know what to do! The audience chanted for him to come on and 45 minutes after his scheduled set time (this was notable as everything else was almost precisely on time) the GZA came out after complaining through his mic about the lights, his levels, and that his DJ was having trouble with his beats. Despite being a bit of a prima donna (all of these problems could likely have been fixed with minimal fuss if he'd just been on time), the GZA a.k.a. the Genius, (who is well past his prime) could still show how he'd earned his rep. This performance could have used someone aside from his DJ/hypeman to play off of. Just one rapper with a single turntable doesn't offer for a lot of variety, but fans of the Wu were in attendance and enjoyed it. That was the end of Sled Island for me (though not of Sled Island itself: Fucked Up hadn't played again yet, there was an afterparty or two and Sunday boasted a daytime show/pig roast). The festival left me with warm feelings and a desire to come back.