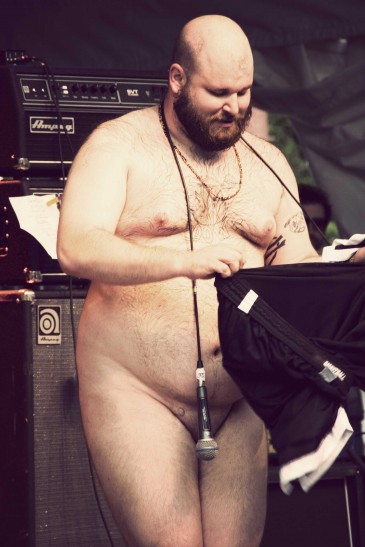 Before I get into what bands I saw on Day 3 of Sled Island, I would like to take a moment to talk to you about the best thing about Calgary: all the bars in Calgary have awesome hand dryers. No messing around with paper towels after you've washed your hands, just stick your soggy hands under high powered heated air and let them dry. In some places they even have two right next to each other and you can give each of your hands a blast of heated air without having to share. It's something Vancouver could learn from.
Anyhow, so Friday was not a stat holiday which meant most people went to work and the bands took the day off, which allowed us to take a bit of a breather before heading out. The Olympic Plaza main site still got going around 4:30 p.m. just in time for anyone who worked downtown to rush to the venue.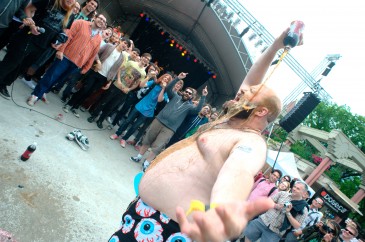 Fucked Up @ Olympic Plaza
I'd never seen the Polaris Prize winning hardcore group, but I must say they were one of the best spectacles in existence. In addition to playing a tight set of some of the best hardcore in the world, this band has Pink Eyes as a lead singer, who is a sight to behold. He's fat and willing to take off his clothes. He got things started by taking off his shirt and joining the crowd for a gigantic group hug, which was one of the most heartwarming and positive things that I've ever encountered at a punk rock show. He would spend about half the set screaming his lyrics from the audience and while down there would pour two Dr. Pepper's on himself, spit some more Dr. Pepper on our photographer Steve Louie (he seemed ok with it), pinch cheeks, blow bellies and gradually strip down to nothing. He was like a fat court jester regaling everyone with funny stories between songs and acting generally ridiculous.
Why? @ Olympic Plaza
Why? played a pretty similar set to what they'd played the night before at Dicken's. The audience seemed a bit calmer (or perhaps simply more sober). Their proggy elements showed through a bit clearer in the stadium, but they didn't really do much different. They're not the most exciting band on stage, focusing most of their energy on their music, and since I'd seen them the night before, I decided to join friends in the beer garden instead.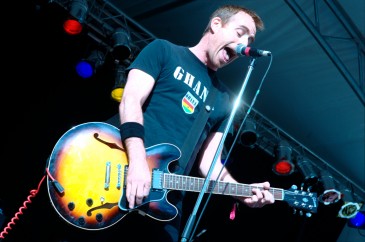 Ted Leo & the Pharmacists @ Olympic Plaza
The sun finally came out for a bit to warm the audience and shine in the eyes of Ted Leo & the Pharmacists as they played to the crowd. Sporting a Ghana shirt, Ted Leo may have been a bit disappointed by their earlier World Cup loss to Uruguay, but he seemed to be in good spirits. They drew heavily from new material, which was a bit disappointing for me, but they did treat us to a nice rendition of "Where Have All the Rude Boys Gone?"
Dinner break @ Falafel King
We went to a place called Falafel King on 7 Ave. for dinner and if you do get the chance to go there when you're next in Calgary, make sure you get the baklava for dessert. It was delicate layers of filo and absolutely dripping with honey.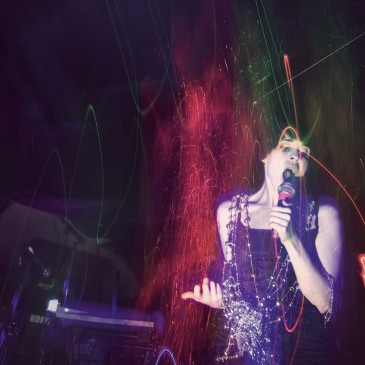 Myths @ Dicken's
Vancouver's noisiest dance duo took to the stage a little bit late due to getting lost on the streets of Calgary. Despite some technical difficulties, the girls treated Calgary to an assault of screaming and shrieking over top of cold mechanical beats. The organizers allowed them to play a few extra songs which was good as the audience was into the weirdly dressed tiny girls who were assaulting their eardrums with a dance assault.
Woodhands @ Dicken's
Dan Werb (vox/keytar/keyboards) and Paul Banwatt (drums/rapping) took to the stage of Dicken's and proved why this dance band is primarily a live band. Despite having solid recordings, their live sets are not done justice on record. The band seems to consistently find new ways to improve upon their songs on the road. They primarily played their more practiced live material off of Heart Attack, but dipped into some newer songs as Werb moaned, grunted and "uh-huhed" in between lines. Werb plays up a ridiculous figure, bordering into chachi territory, but the band brings a lot of party and the audience was into it.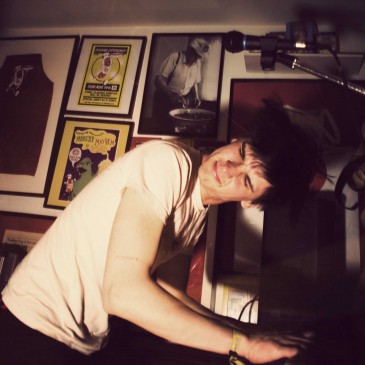 SSRIs @ Tubby Dog
The post-thrash/hard/whatever-core quartet brought a lot of noise to Calgary's amazing little hot dog restaurant. They played a hard fast set that was loud enough that it made me wish I had some earplugs to put in (I'm told they have to play loud or else their drummer will just overwhelm their sound). The brief bursts of melody in their songs were followed up by thrashy freak outs and the band seemed to be enjoying themselves a lot as they waved their bangs around. Too bad this was their only set at the festival, but they're launching a tour soon, so most of Canada will get a chance to see them.
Turbo Fruits @ the Distillery
I wasn't sure what to expect from Turbo Fruits since I'd never listened to their music, but they played a fun set of surfer rock. They were loose and laid back as the four-piece delivered ear pleasing harmonies and treated those visiting Exclaim's showcase to a relaxing set of rock and roll. They closed up with a drawn out cover of Johnny Kidd & the Pirates' "Shakin' All Over" which brought the house down.
Les Savy Fav @ the Distillery
I wish I'd seen these guys with a lot of distance between their set and Fucked Up's because if you're going to see a fat guy act ridiculous while a band plays hardcore(ish) music you'd be better served by Fucked Up. The band's lead singer Tim Harrington brought out a lot of antics, running through the audience, crowd surfing and throwing vegetables into the audience, but the band fell short in comparison. Luckily, it seemed like most of the audience hadn't caught the early set by Fucked Up at Olympic Plaza and enjoyed the performance immensely.
!!! @ Dicken's
Left Les Savy Fav a bit early and got down to Dicken's just in time to catch the end of !!!'s set. These dance-punk heroes brought the house down and made me wish that I was twice as drunk so that I could have fit in with the crowd. They played a sweaty performance that made everyone realize just why they are at the forefront of their genre. !!! played every song they could and brought a lot of cowbell to the crazy audience who were almost as into it as the band. They were especially nice at the end though, when they could play no more, they tracked down someone's hat that they'd stolen during the set and tossed into the audience. There didn't seem to be any after parties worth going to tonight so we crept home and into our beds to get ready for the last day of Sled Island.