Canada Day, the second day of Sled Island, resulted in plenty of day parties with bands playing them. Many of them were free to non-pass holders so a lot of people came out. As a result, we got started early.
Hot Panda @ Broken City
Kicking off the Mint Records party was Edmonton's Hot Panda. The band has just recorded a new album, and even though it's not due out until the fall, they drew heavily from it. I'm glad they were, their new stuff is a departure from their first record Volcano… Bloody Volcano!. Heavier and with bursts of screaming, Hot Panda has changed their sound up and it's a good thing.
The Pack A.D. @ Broken City
In between sets Mint Records plied the audience with free nachos and Pocky that was eaten up by a ravenous crowd. When the Pack A.D. took to the stage the place was packed (haha) with fans of the blues-garage duo and an occasional Canada Day reveler who'd straggled in to see what all the commotion was about. The Pack A.D. delivered what their audience wanted which was a heavy dose of swampy blues rock. With the SSRIs who I started playing a drinking game in which we drank every time Becky Black wailed incoherently. Four tall boys of Pilsner each later we made our way to Republik to catch Chain & the Gang.
Chain & the Gang @ Republik
Ian Svenonius was in fine form leading Chain & the Gang as they put on a spectacular show in the Republik Nightclub to an audience of daytime showgoers. With Svenonius playing the part of James Brown to the sardonic backing by his female counterpart (whose name we sadly do not know) Svenonius sang with passion to her dry cynicism which worked well on tracks like the sarcastic "Trash Talk." If you want to hear '60s inspired rock about politics, you're not going to do any better than this. These guys are quite simply amazing.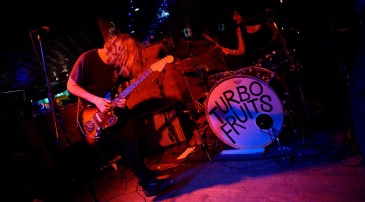 Ty Segall @ Republik
Ty Segall launched right into a cover of Neil Young's "Down by the River." After a minute in, they stopped to admit that they didn't actually know the song. Their lead singer stopped between the three-piece's tight rock songs to point out that "it's not fair to play after Chain & the Gang" and I have to agree with him. Though I was left with positive feelings for Ty Segall, they did not have the emotional punch of their opener.
Mount Analogue @ Tubby Dog
Mount Analogue played a dirty punk set at this gourmet hot dog landmark. They had a saxophone in their ensemble to distinguish themselves from other punk bands, but didn't really blow me away. The audience closer to the front seemed to be enjoying themselves a lot more, perhaps because they could see everything that was going on.
Tubby Dog itself is a wonderful place though, filled with delicious gourmet hot dogs and beer. The walls are covered with a clutter of show posters, hot dog pictures and vintage memorabilia. The band played in front of a projection of Rocky & Bullwinkle provided by the venue. I ordered a Harlo (bacon, cheese, mustard and relish) and did not feel the pangs of hunger for the rest of the night. That was a huge dog.
We bumped into Shena from Mint only to discover that, sadly, Eeyore the Bicycle had been stolen from outside her hotel. We don't know what became of that bike, but I hope it is in good hands.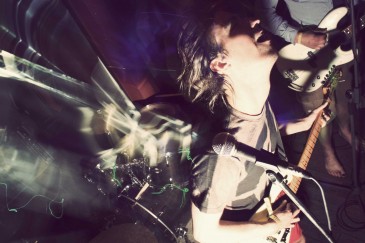 Brazilian Money @ Bamboo
Brazilian Money played to an at capacity crowd in the tiny backroom of the Drum & Monkey, Bamboo. The band played an energetic performance and had two drummers—though I couldn't work out why they needed both of them; they seemed to be playing identical beats (admittedly I didn't see the whole set, so this might not have been the case the whole time). The crowd didn't seem to be bothered by this and responded enthusiastically to the Edmonton band's set. I'd like to see more of them after this taste.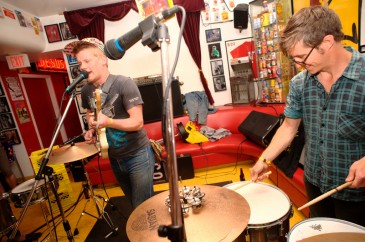 Cousins @ Tubby Dog
Cousins also had two drummers but they did it with much more style with each drummer standing up next to an incomplete kit playing off each other to create fun polyrythms. The band's front man hails from Halifax and was backed by two local percussionists who backed his garagey guitar sounds. The drummers sported the band's merch, which prompted this loud dialogue from the audience:
Fan 1: "Wearing your own bands shirt—faux pas man!"
Fan 2: "Led Zeppelin did it!"
Fan 3: "He's got a point."
They weren't much like Led Zeppelin but sounded like Unfamiliar Record's Makeout Videotape, only louder and faster. They were brilliantly talented performers and if you get a chance to see them I would suggest doing it.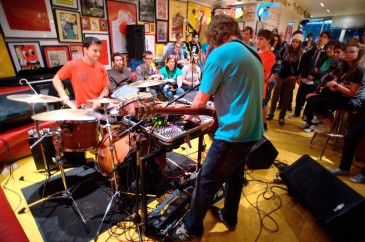 Nice Nice @ Tubby Dog
This duo from Portland is signed to experimental electronic label Warp Records, and you could see why. Their sound is very innovative, blending natural drumming with processed vocals, a melodica, touch pads, looping pedals, bells, a kazoo and a seemingly endless stream of soundmakers loooped to produce an eccentric cacophony of noises held together by a tight beat. The duo's sound was complex, but glorious and it provided the perfect soundtrack to a screening of Barbarella that was projected by the employees of Tubby Dog throughout their set.
Why? @ Dickens
Why? played to a surprisingly rowdy Calgary crowd who moshed and crowd surfed to the avante garde Anticon artists whose work is more inspired by beat poetry and thoughtful hip-hop than anything riotous. Though the crowd didn't fit what we (or the band) seemed to expect, they were definitely fans, singing along and dancing to everything Yoni Wolf & Co. dished out. The place was packed, which was surprising given that the show was a steep $40 for fans without a festival pass. After the band played we decided to try and catch Bison B.C. instead of sticking it out for Ted Leo & the Pharmacists.
Bison B.C. @ the Ship & Anchor
Holy! This place was packed and had a lineup of about 50 people out the door. We decided that it wasn't worth it to wait, but kudos to the band for packing the place like that.
The Posies @ Republik
This washed up band sound like the '90s, but after a couple songs that bored me to tears I spent the rest of their set trying to figure out why they were considered relevant enough to play Sled Island. The best we could come up with was that they were on Sub Pop in it's heyday, but still… well I guess not every band is going to be amazing, but this was a weak end to the night. Tomorrow is another day though!