Tucked away in Studio C at CiTR, I meet with Melanie Woods for a quick chat about her show, Into the Woods, a weekly exploration of music by women and LGBTQ+ artists, Tuesdays on CiTR 101.9FM. We chat about her wild schedule and her passion for community radio — before she runs off to another meeting, of course.
Despite the busy day ahead of her, Woods is collected and relaxed. She sports a denim jacket plastered with vintage CBC Radio pins and buttons. One bright yellow button reads "CBC Radio Can"  — this optimistic quote is reflective of Woods' attitude towards leading a busy life. "I like to be able to do as much as I can, and contribute as much as I can, where I can," she says, "That's one of the reasons why I really throw myself into community radio. I have skills! I want to use them."
I've come to know Woods through the Gender Empowerment Collective at CiTR. In addition to her role as collective coordinator, Woods is many things: a full-time UBC journalism student, a freelance writer, the host of Into the Woods, and a server at Yuk Yuk's Comedy Club. What she is not, is an amateur at work-life-radio balance. Hearing Woods describe the many roles she juggles, I think someone needs to get her a button that reads, "Melanie Woods Can."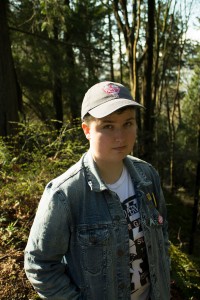 Reflecting on her secret to maintaining balance in her life, Woods' explains that it centres around one principle, "I've learned a lot of management mechanisms over the years, of how not to make everything the end of the world."
As much as Woods pushes to make things happen, there are certain aspects of her life she will not sacrifice: "I will always prioritize sleep. I love all the different things that I do, but I need an average of seven to eight hours a night and if I'm not getting that, then that's bad," she asserts.   
In this precarious balancing act between radio, work and school, sleep is not the only thing Woods prioritizes. "I prioritize social stuff too. I do consciously make an effort to prioritize things outside of work-related things because I know it's important," she says.
While Woods has crafted some tried-and-true balancing mechanisms for her life, she is no stranger to the challenges of leading a bustling lifestyle. "I like to do stuff and be busy and have fun — sometimes to my own detriment and I need to learn to balance things out better, but so far so good," says Woods, laughing. "I haven't broken yet. Come close. But not yet."
Not every moment of Woods' busy life is glamorous. Much of what she does enables her to continue surviving in Vancouver. "The jobs are a big part of that. I don't think I would work at Yuk Yuk's purely for the passion. No disgrace to Yuk Yuk's, but it helps me pay my rent," she admits, chuckling as she continues, "Vancouver is not the cheapest place in the world to live, and going to grad school is not the cheapest activity in the world, so that's a big factor of it."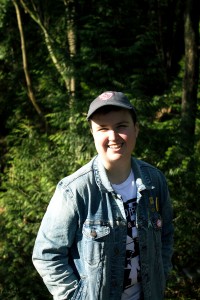 Busy schedule considered, there is one thing that Woods consistently makes room in her life for. "Community radio for me has always been a place of intense warmth and community and love. I think that's a really important environment to prioritize having in your life. Whether it was back in Calgary and now here, it's a warm place to come to," she says.
When asked about what community radio means to her, she explains how her passion grew during her time at CJSW 90.9FM — the University of Calgary's independent radio station. "I knew it would always be — not necessarily an escape — because I don't want to say that my schoolwork and my work-work is something I need to escape from because I really enjoy it, but something that is just a different vibe, and a tone, and a community. Community radio is important. Tattoo that on my face," Woods jokes.
Woods is a fountain of wisdom and one-liners. She speaks at a pace as fast as she moves through the world. And as our brief conversation comes to a close, she offers some advice to those who also lead busy lives: "Doing what's fun is important. Just because something is fun, doesn't mean it's not useful."
X
Into The Woods airs Tuesdays 3-4PM on CiTR 101.9FM or citr.ca. Archived episodes are available at citr.ca/radio/into-the-woods. To listen to the Gender Empowerment Collective's show, Intersections, tune in early, airing Tuesdays 2-3PM. You can also follow Melanie Woods on Twitter @intothemelwoods