On the night of April 28, Lucky's Comics will be transformed from a cozy book shop to a theatre for the second instalment of the Symphony of Fire music video festival. Symphony of Fire might just be one of the most inclusive festivals ever. The event is free, and everyone is invited to attend (and participate).
Here's what makes Symphony of Fire so special: every video submitted gets projected to the audience. Home-produced videos with pals, family, pets, etc. are all greatly encouraged. The Facebook event page encourages participants to "go wild." This festival is meant to showcase what a few people, a camera of some sort, and a great (or, not great) song can achieve. The deadline for submission is midnight on April 27, the day before the screenings.
In addition to free popcorn, there will also be special presentations between screenings by Andrea Lukic, event coordinator. Andrea will be lecturing on Phil Thomas Katt, a prolific filmmaker who has produced around 100 music videos, having done most of the editing, filming and music by himself. He has been making videos since the '70s, and has uploaded many to YouTube. His YouTube channel exists not to make money or further his career, but for people who enjoy watching music videos and seeing how one person made his own dreams happen.
The sincerity and intention behind Katt's craft is exactly what The Symphony of Fire would like to see in their video submissions. The festival was created to combat, as Andrea puts it, "the selective, curated gallery show."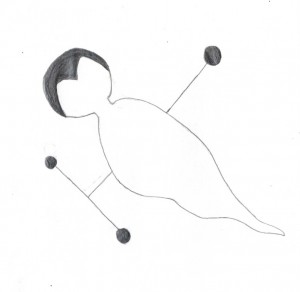 Another interesting characteristic of the festival that Andrea hopes is repeated this time around, is that many past entries were international. It was exciting to get these entries, but also a bit upsetting that so little Vancouver talent was represented. "Vancouver needs to step up," Andrea said.
In a city perceived as embracing minimalism and professionalism, Andrea worries that local artists are intimidated by the "festival" title. Symphony of Fire, however, is starkly different from VIFF or Vancouver Shorts Festival. It is relaxed, with the authenticity of the videos you used to make as a kid.
When asked what Andrea would be submitting herself, she responded that she will be using music from an old band of hers called Heavy Chains. Her vision for the video is "someone crawling on the sidewalk with slime."
For those looking to create a music video but not knowing where to start, Andrea recommends visiting the Inspiration Lab at the downtown Vancouver Public Library. It supplies many online guides to filming, editing and photography. There is also soft and hardware that converts any format to digital.
As for music, pretty much anything goes. Big name musicians are all fair game, but the festival does request that you reach out to any of the local musicians whose music you might want to use. This is to encourage collaboration and fair use.
It should be noted that the videos are not viewed beforehand or censored for content. Despite this, all the videos at the last screening in December were non-offensive. There is the caveat that anything deemed inappropriate will be subject to Q+A from the audience, but, again, they haven't had to apply that ruling yet.
The bottom line of this festival is to have fun and enjoy making art. So get a buddy, get a camera, choose some music you like, and make a video. You have until April 27 to make your D.I.Y. filmmaker dreams come true.
X
Symphony of Fire screenings will happen at Lucky's Comics at 3972 Main Street April 28 at 7:30pm. If you wish to submit a music video, you have until midnight April 27. More information and submission guidelines on the Facebook page.