"I think a lot about images. I think about how images are consumed, how Indigenous bodies are consumed by different public." Jeneen Frei Njootli is an artist and member of the Gwich'in nation. This statement, borderline stream of consciousness, seems to connect the various projects and passions she has been involved in lately.
Frei Njootli has just recently come back from Washington, D.C., where she was advocating for the protection of an area occupied by the Bering Ground Caribou herd. The land is called Iizhik Gwats'an Gwandaii Goodlit, or The Sacred Place Where Life Begins, named because it is where many caribou give birth. Frei Njootli explains that Gwich'in nation has had an interdependent relationship with caribou that spans 20 thousand years (according to scientists, though the nations themselves see time as immemorial). Unfortunately, this same area is also rich in fossil fuels and currently under threat of industry development. As Frei Njootli describes it: "If [the caribou's] calving ground gets disrupted, that means their migration routes get disrupted, which means that they die, and we die."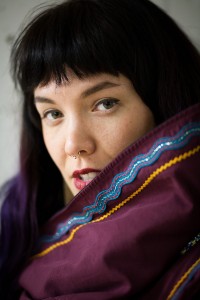 The Gwich'in nation is one of the few nations that spans the U.S.-Canada border that still depends on hunting as a primary food source. Caribou is crucial to their diet, as much culturally as physically. Old Crow, a northern community just 130 kilometres north of the Arctic Circle, is a boat or fly-in area. This makes transportation of all goods and supplies exorbitantly expensive. However, the Gwich'in nation operates a food co-op, which centres much around caribou. If governments and industry develop the Bering Ground Caribou's migration locations near the border, the herd thins. This thinning would result in less caribou migrating north, directly cutting off the Gwich'in caribou. Not protecting these lands won't just impact Gwich'in culture, it will lead to starvation.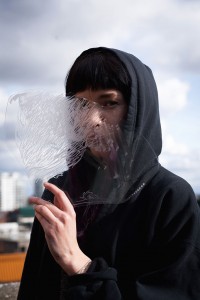 Caribou, being such an integral part of her culture and sustenance, is often a theme in Frei Njootli's art. Her most recent performance piece Through the Body. Where is the work? g'ashondai'kwa is part of the Ambivalent Pleasures exhibition at the Vancouver Art Gallery. 'G'ashondai'kwa' translates to 'I don't know,' described by a footnote next to the display. The intention of the note is to lead the curious viewer to see their response reflected back at them. Playing with the perceptions and assumptions of the audience is not uncharacteristic of Frei Njootli's art practice.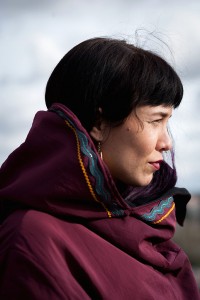 In Through the Body. Where is the work? g'ashondai'kwa, Frei Njootli turns a caribou antler into a microphone, into which she sings. It is also dragged across the floor, activating the microphone with sound. The audio feeds into a distortion pedal and a loop pedal, which are then fed through a subwoofer and guitar amp. Frei Njootli attempts to harmonize her voice with the other sounds generated by the pedals, creating a weave of complex sonic landscape.
During the performance, Frei Njootli wears an industry grade respirator and black parka she has made herself; the audience is also provided ear plugs and respiratory masks. Of this she says, "I want people to wonder why their protection looks different than my own." Frei Njootli then uses an angle grinder on the antler, filling the space with dust and the smell of burning antler. The only form of documentation of this performance is the dust that falls to the floor by the end of it.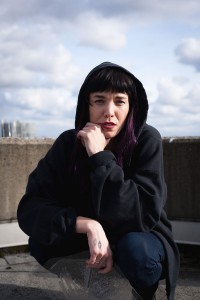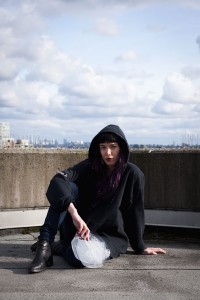 In addition to her performance practice, Frei Njootli is also a founding member of ReMatriate. ReMatriate aims to disrupt the narrative often assigned to Indigenous people from the media and, as Frei Njootli puts it, "assert a positive Indigenous presence." The collective presents content that show the strength and vitality of women and female-identified artists in Indigenous communities, and share the true experiences of entrepreneurs and creatives.
The name, ReMatriate is based on repatriation, a term used to describe a restoration of a culture with their homeland. However, repatriation, with the latin root 'pater' meaning father, is still a perpetuation of patriarchal colonialism. The term continues the idea of the 'fatherland,' as if the home is necessarily 'of the father.' Frei Njootli suggested the more fitting term 'ReMatriate' to subvert traditional colonial language. She thought of it as she pondered what exactly was being taken from Indigenous folk.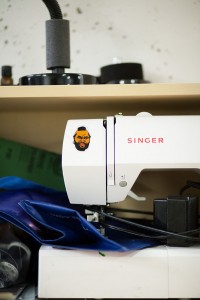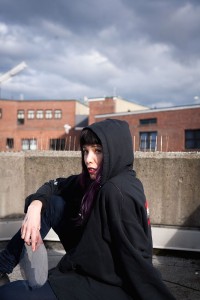 "A lot of the things being profited from illegitimately by companies and designers is Indigenous women's labor," she explains. "Who tanned those skins? It was women who tanned those skins. Who sewed that together? It was women who sewed that together. Who carried that knowledge?"
When companies steal designs and patterns from Indigenous artists, it strips them of their voice and culture. It's as if to imply that the companies were inspired by a relic, or else came up with the designs on their own. Frei Njootli explains, "When [companies reproduce designs], it erases us, because it gives the statement that we're not here."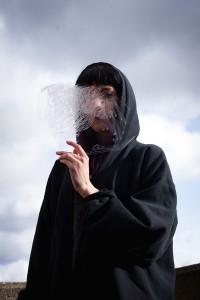 Frei Njootli and the rest of ReMatriate are working to change that narrative. They use social media platforms such as Facebook and Instagram to show that their cultures are very much alive and active. ReMatriate makes an effort to post photographs, biographies and updates from Indigenous artists of various descents. In so doing, ReMatriate seeks to visually interrupt the colonialist narrative to reclaim their own images. The posts allow Indigenous women to tell their own, actual stories.
This movement also disrupts the misleading and ultimately violent depiction of Indigenous people in the media. Frei Njootli says, "We want to advocate for lateral kidness, lateral love, and the sovereignty over our image and culture." ReMatriate shifts the focus away from harmful portrayals of Indigenous peoples to more accurate representations of their individual realities, accomplishments and creative expressions.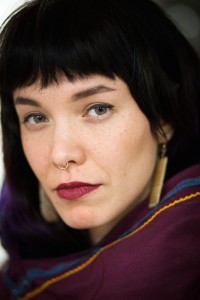 Frei Njootli's own art, activism, and involvement with ReMatriate centre around (mis)representation and power: questioning who controls the representation of individuals and groups, the harmful power of those representations, and what can be done to change it. Through her work, Frei Njootli considers the potency of the images we see, and how they come to define society's understanding of culture and heritage. In so doing, Frei Njootli challenges the complexity of contemporary colonial narratives, and compels her audiences to do the same.
X
Ambivalent Pleasures featuring the remnants of Jeneen Frei Njootli's performance is on display at the Vancouver Art Gallery until April 17. To learn more about ReMatriate, follow them on Facebook or on Instagram @rematriate_.
April 14, 2017
EDITOR'S NOTE:
It was brought to our attention that the illustration for the interview with Jeneen Frei Njootli in the April issue is a direct reference to a design by Anishinaabekwe artist Quill Christie. The image of the hand with a stitched wrist was appropriated and altered without consent by Christie or Frei Njootli. The illustrator, Amy Brereton, did not draw her image with the intention of inflicting harm or infringing on creative copyright, but she now understands how she did both.
The unauthorized use of Indigenous artwork perpetuates colonial violence and significantly undercuts Indigenous self-determination. As a magazine published and distributed on unceded territory, Discorder takes full responsibility for the publication of this work, and for failing to provide Amy with the appropriate artistic direction and context.
Brereton's illustration accompanies a very strong interview with Frei Njootli. In this interview the artist discussed, amongst other things, the theft of Indigenous art. We are very sorry to have inflicted our own act of appropriation in this piece. Discorder is working to create discussions around image, identity, and cultural appropriation in future workshops. We are also incorporating training that teaches new and aspiring journalists, photographers, and illustrators to actively work against the systemic and individual acts of colonialism that are so often perpetrated by media organizations.