Harley Small is an experimental noise and pop musician based out of Vancouver. He is known, among other things, for incorporating digital technology and vivid imagery into his performances, hinted at through his new music video for the track, "What Could Go Wrong??" premiered below.
Discorder caught up with Harley to discuss process and gaze. Keep reading for our short Q+A…
.
.
.
Discorder Magazine: How was the video for "What Could Go Wrong?" made?
Harley Small: It was based on specific visuals, made with a plugin by NUGEN called Visualizer2. [Sydney Thorne and I] ran the visuals through a projector, and then filmed it all through different prisms.
DM: While the visuals are the predominant visuals of the video, you are also featured, still or whirling in visual effects. This focus on the artist is characteristic of a lot of music videos, obviously. But I wonder — as one of the filmmakers as well — are you comfortable being the subject of your own gaze?
HS: I'm not really comfortable being the subject of my own gaze. Being on camera mostly comes from a place of practicality. I'm comfortable being secondary to another more interesting visual component.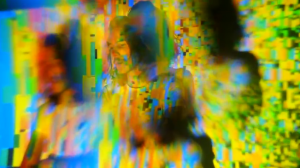 DM: With music streaming services like Soundcloud or Spotify making singles go viral without accompanying visuals, why make a music video nowadays?
HS: I made a video just because I wanted to. I enjoy photography, film and strange video effects. I also wanted to set a precedent for any of my future work, that people can expect visual content from me as well as sound.
DM: What could go wrong?
HS: Ultimately everything could go wrong, every choice in your life could be a mistake.
x
Listen to more Harley Small here.