When I sit down with Francesca Belcourt and Brittney Rand, the forces behind electro-pop duo Mu, they are both exhausted. The weeks following the release of their second EP, II (February 12), have been something of a whirlwind. Given how much has already been written about their music, Mu's growing success is clear. The release of their video for "Debauchery" supports the strength of their recent release, demonstrating Mu's special talent for working with both sound and visuals.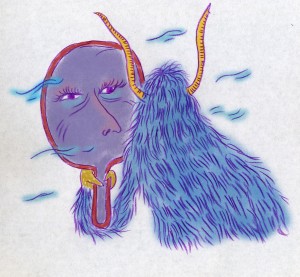 II is undeniably beautiful. Rand and Belcourt agree that II is a continuation of what was present on their first, self-titled EP, but "a bit more meditated." This likely comes from an adjustment to their writing process; rather than writing the songs together, verse-by-verse, as they did on their first EP, Rand and Belcourt wrote songs individually, coming together only near the end of the process. "We're both bedroom producers," Rand says. "A lot of that stuff comes from being alone and being meditative."
Whether or not they're working individually, Mu is quick to stress that their music is written and produced entirely by themselves. "When we do music, it's just us," Belcourt says. "When we mix and master everything, that's the one time we'll bring someone else in on it. But we produce everything by ourselves."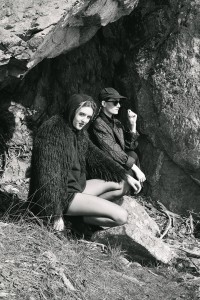 While Mu's music is the centre-point of their creative output, they clearly put a great deal of care into their visual aesthetic as well. Go to their website and you'll find beautifully curated photos, often featuring the two band members in elegant, slightly surreal outfits and poses. On their Bandcamp, you'll find silk-screened T-shirts for sale (made by Belcourt's parents on Cortez Island). They feature an image and text from the Brothers Grimm fairytale "Goose Girl" — something Belcourt felt captured the theme of the EP.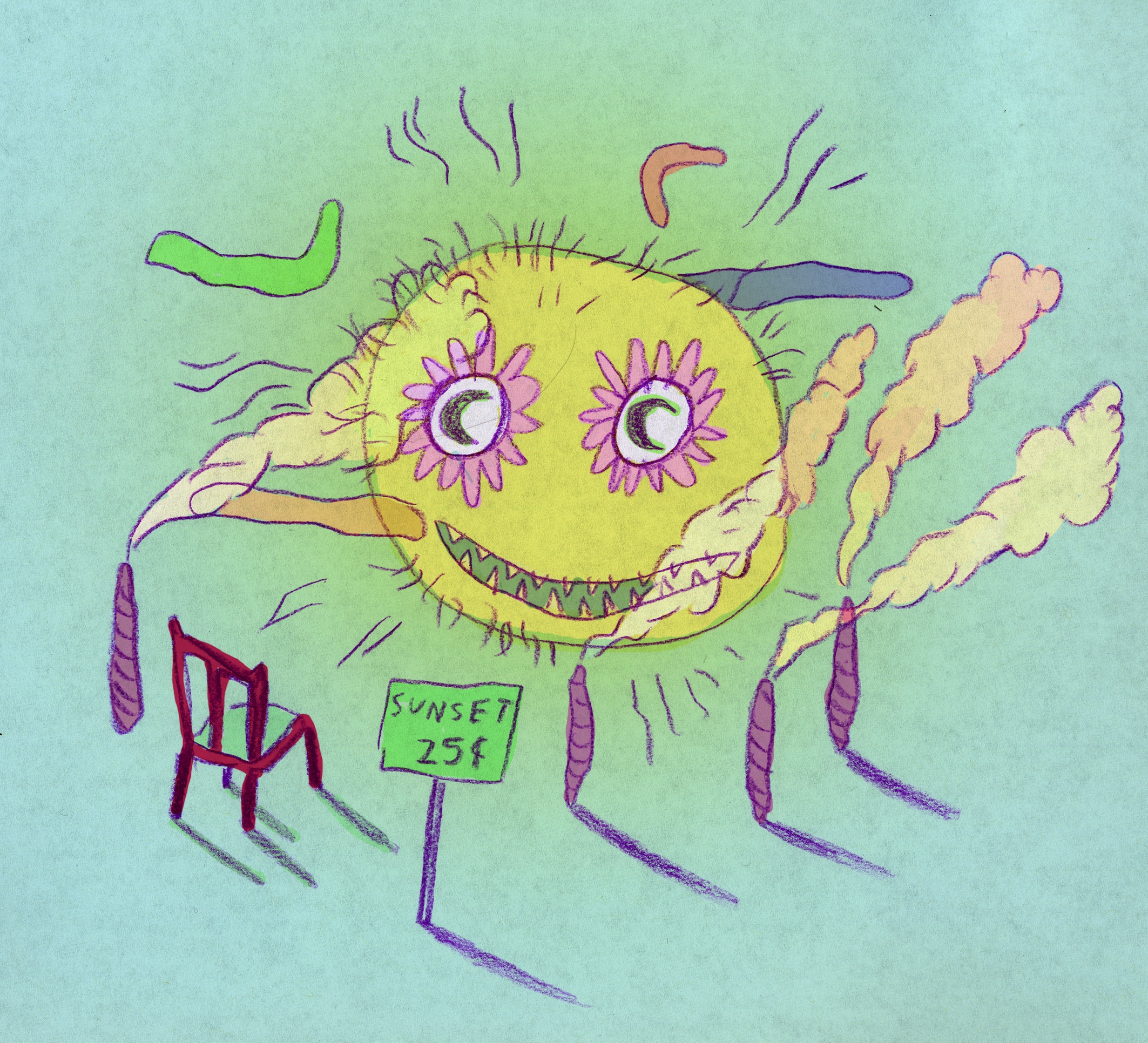 "I think aesthetic is very significant for us," says Rand. "So much of what we do is mythology-building and character-building. It feels really safe sometimes to be in [our] character and in [our] mythology, whatever that ends up being album by album, because [we] are being so vulnerable by writing the songs …  And it's also like, what character can I play with? There are so many different parts of myself — like, I don't need to be myself when I'm being my public self. I can reserve some of that for me, and then do as I wish as I'm performing. And I think that your image is still a performance."
When I suggest a connection to developing an online aesthetic, Belcourt agrees vehemently. "That's totally the same thing. That's kind of what the idea of ["Debauchery"] comes from — that concept of having an internet identity, and how people can shroud their real identities." Rand adds, "For the better, or for the worse." Belcourt mirrors back, "For love, or for anti-love."
An emphasis on visuals comes naturally to Mu. "We're both visual artists as well," Belcourt explains. "Brittney is a painter. I like to illustrate. We are both are inspired by film. We like all aspects of the creative process that that you get to dive into [with music]."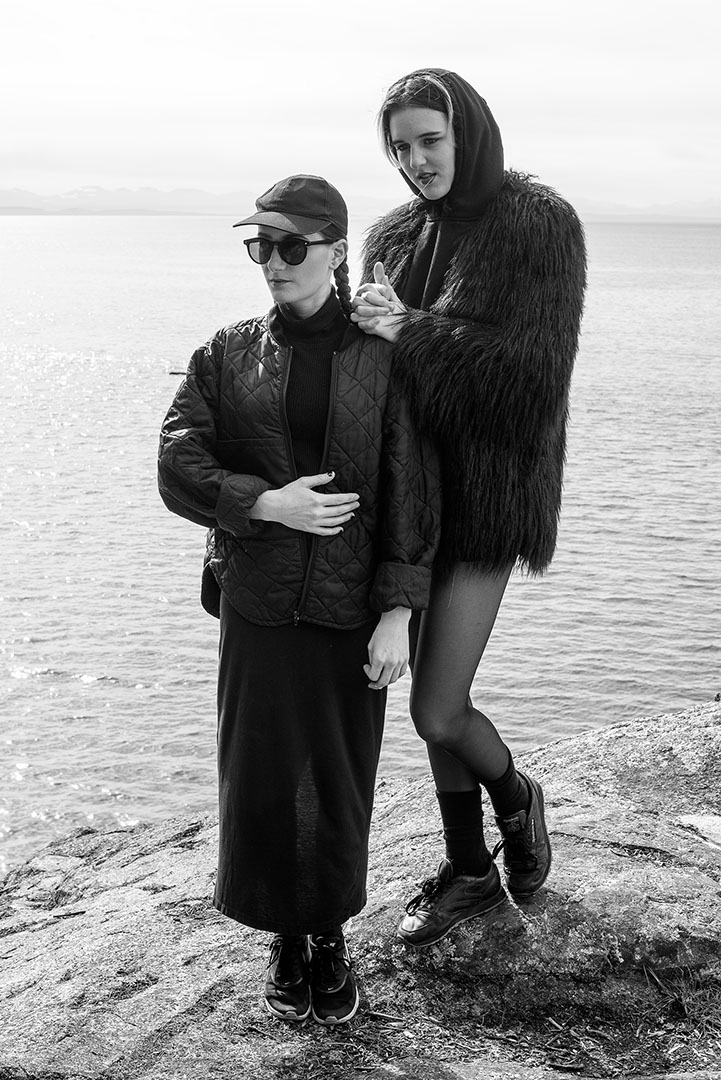 Rand continues, "The amount of opportunities that you get through music is especially something that is quite unique … You can play with design. We direct our photos, we style ourselves, we can play with fashion, all of that — it's so nice to be able to do all of that."
The video for "Debauchery," directed by Vancouver-based photographer / filmmaker Mandy-Lyn, is a dark and glittery free-for-all. Shot on a RED camera and processed though VHS (a creative choice of Mandy-Lyn's), the video's nostalgic fuzziness contrasts Mu's typically clean and minimalistic aesthetic. The video was filmed in an industrial area of East Vancouver, near where Rand used to live. "We wanted to do this very Mu, very glam kind of big performance in a really shitty, grungy area that we wanted to claim back," Rand explains. "It can be really dangerous to be a woman down there — it's not somewhere we can really walk around that easily at night by ourselves. It was cool to just be like 'No, this is ours.'"
The dancers (and outfits) you see in the video will also be included in Mu's live show, part of an effort to make more of an experience out of their live set. Occupying a somewhat ambiguous space between DJ, producer and band, Mu finds that people at their shows are often unsure how to act. They're hoping the dancers will get people actively involved in the show.
"A big part of stuff with us right now is developing the stage design for live performance," says Rand. "We're gonna be curating our environment," Belcourt explains. "We're collaborating with someone doing visuals, and building a big prop, and doing all our own lighting for the show … It's gonna be sick!"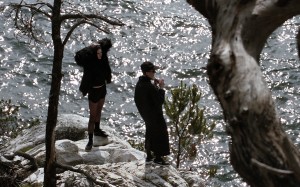 The care Mu puts into both their sound and visuals is easy to see. At a time when the image-saturated internet acts so much as our access point to music, Mu's visual aesthetic is especially significant. Through sight and sound, Mu is creating something that is both beautiful and accurate.
X
Mu played an album release party at the Fox Cabaret March 31. Check out the music video for "Debauchery" on Mu's YouTube channel. II is released on Boompa Records, and cassettes can be purchased at soundsofmu.bandcamp.com.