A tall man in a Mötley Crüe t-shirt is beside us. I didn't see him slide into our space but now he appears rooted there. His proximity to me suggests I am part of the conversation, but he is talking directly to Discorder photographer Sara Baar. In honour of the occasion, he reaches into the past for a story, telling how he once went on tour with his band. Upon his return he learned that his brother (who had never even sang in the shower) had taken a job as a karaoke host.
I trap this tale of karaoke-bewitching in the pages of my notebook. It's Tuesday night — 'ThreeFortyoke' karaoke night at Pub 340. My goal for the evening is to become immersed, to study the magic of karaoke, and to understand the secret world inside these storied walls.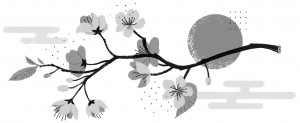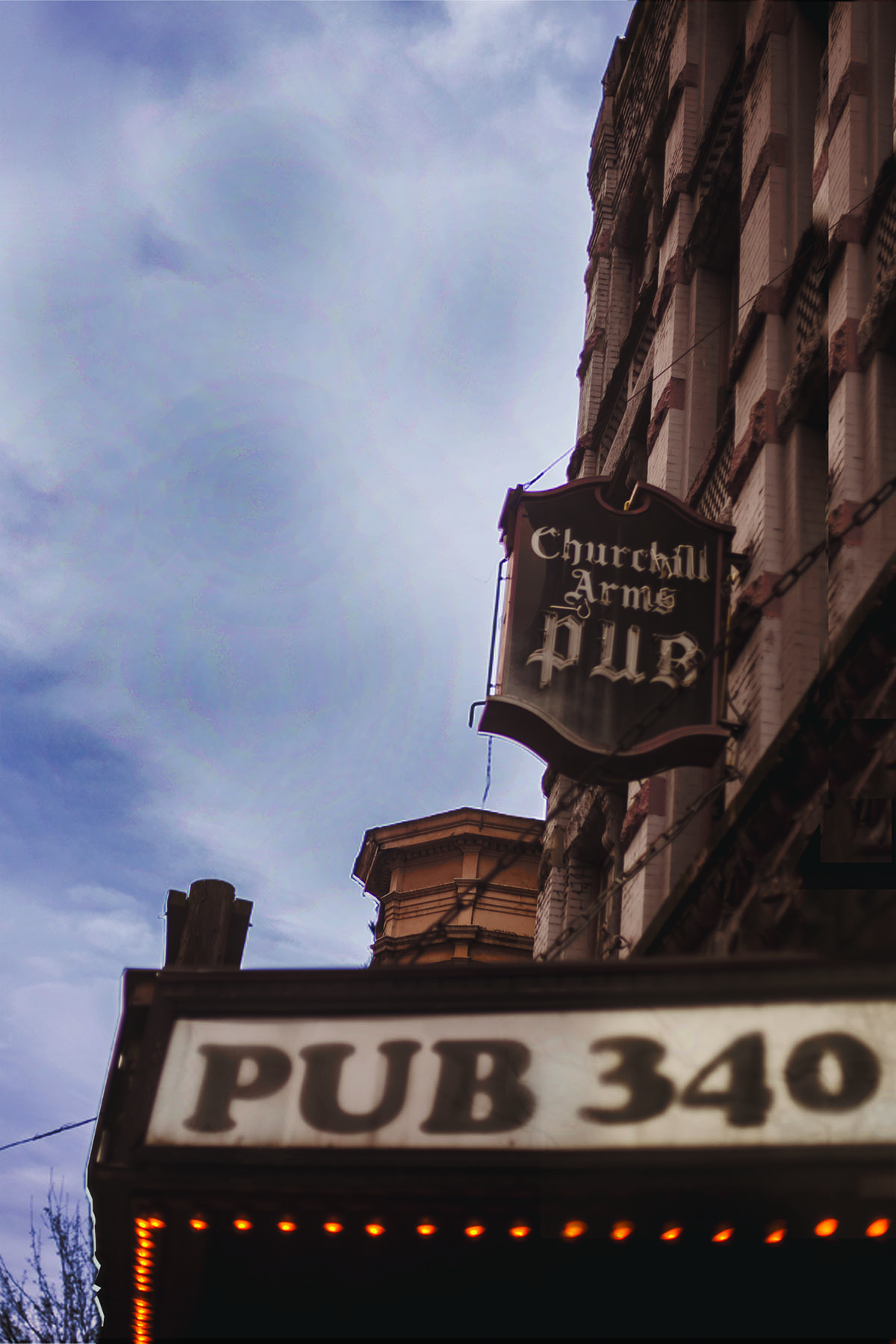 Though its name and owners have changed many times, Pub 340 is 120-years-old. It sits modestly near the intersection at Hastings and Cambie, kitty-corner from where the city's old courthouse once perched (now Victory Square Park). The building originally operated as a middle-class hotel and beer parlour, and has cloaked many mysterious and clandestine activities over the years — let's just say there were rumors of a prohibition-era cock-fighting ring in its basement.
When I came to Pub 340 roughly two weeks earlier, it wasn't to learn about the bar's long history. I came to talk karaoke with one of the city's most beloved hosts, Hez – an enthusiast and expert in the field.
That night, we sat at a high table in the dim bar. As I watched her speak, the Spanish-style banister on the bar's mezzanine level rested like an awkward crown on her head. Hez's title as karaoke queen, however, fit exactly.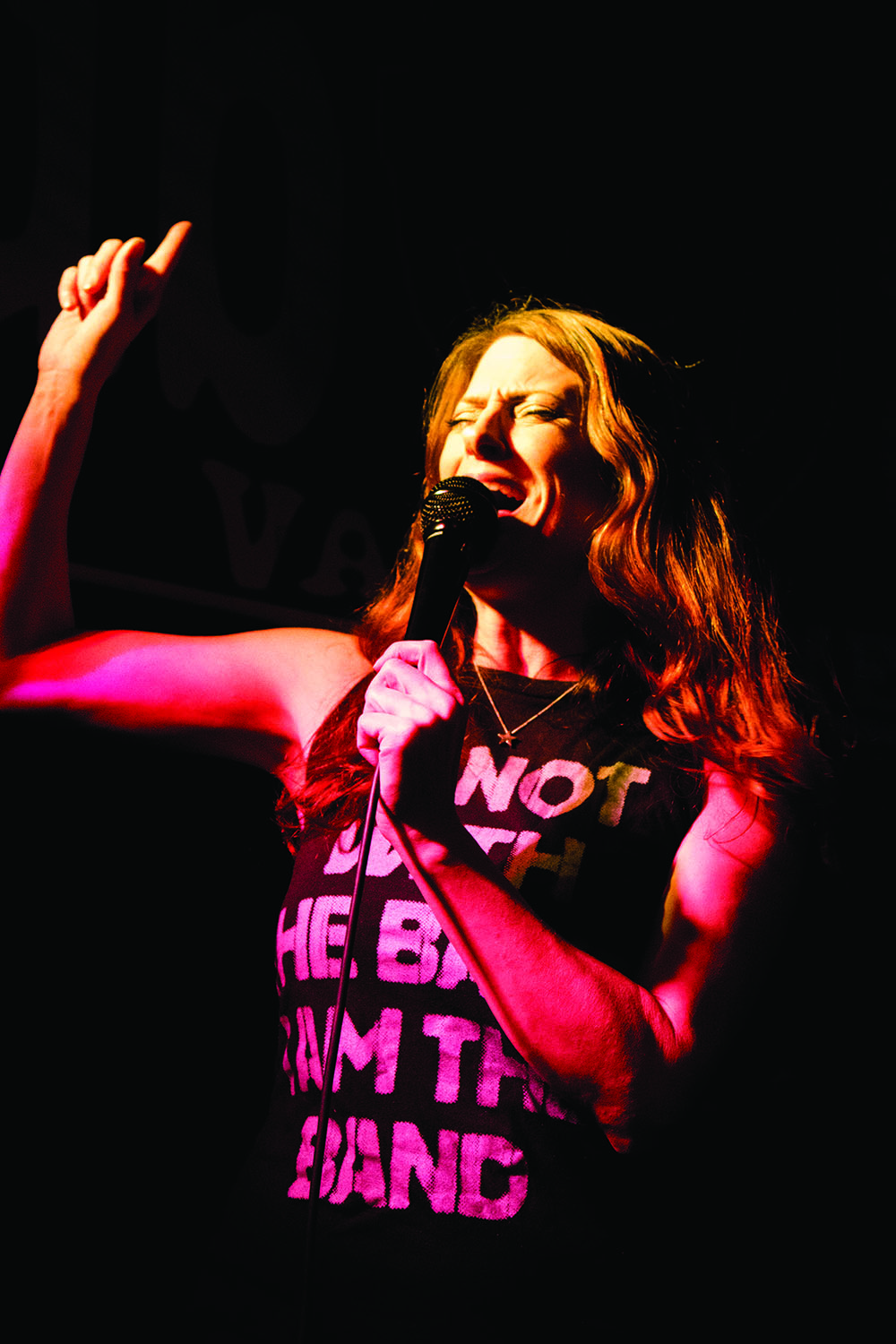 The "th" in Heather is hard for Japanese people to pronounce, so Heather Watson has gone by Hez ever since she spent three years teaching English in Japan. After completing her B.A. at UBC, she moved to a town called Funabashi, pronounced "fun-a-bash-ee." Prophetically named, Hez did indeed have fun: "In my final year they built a fancy karaoke box right across the street from my house, and I lost my mind."
One of Hez's favourite memories from her three years in Japan is the cherry blossom season. She describes how the sides of rivers were laced with cherry blossom trees, and I imagine pastel scenery. There is a word in Japanese which means to go and look at flowers, Hez tells me. It's called "hanami." A contemplative, sweet smelling activity, but only before the karaoke machines roll out.
Integrated into cherry blossom season, karaoke has turned the tradition of hanami into a "little impromptu festival," Hez says. She paints me a picture: work colleagues gather – pink petals fall lightly as snow – a wasted salary man sings into a mic, his neck-tie around his head. "They all sit there and do karaoke, looking up at the cherry trees –  and they all get shit faced."
It's a striking image: a ravel of the serene and the debaucherous. Hez explains, "They don't really stigmatize those kind of drunken shenanigans [in Japan] as much as we would." Instead of being offended, Japanese people appreciate the levity alcohol provides. A levity that karaoke is a perfect partner for. And as Hez says, "that really shows you how much you can create a culture that has karaoke inside it, in really meaningful ways."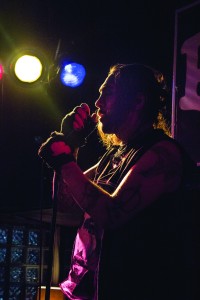 After leaving Japan, Hez says, "I knew that [karaoke] was a thing I was going to do in my life as a recreation, but I didn't know I would have the singular joy of creating it as an occupation!"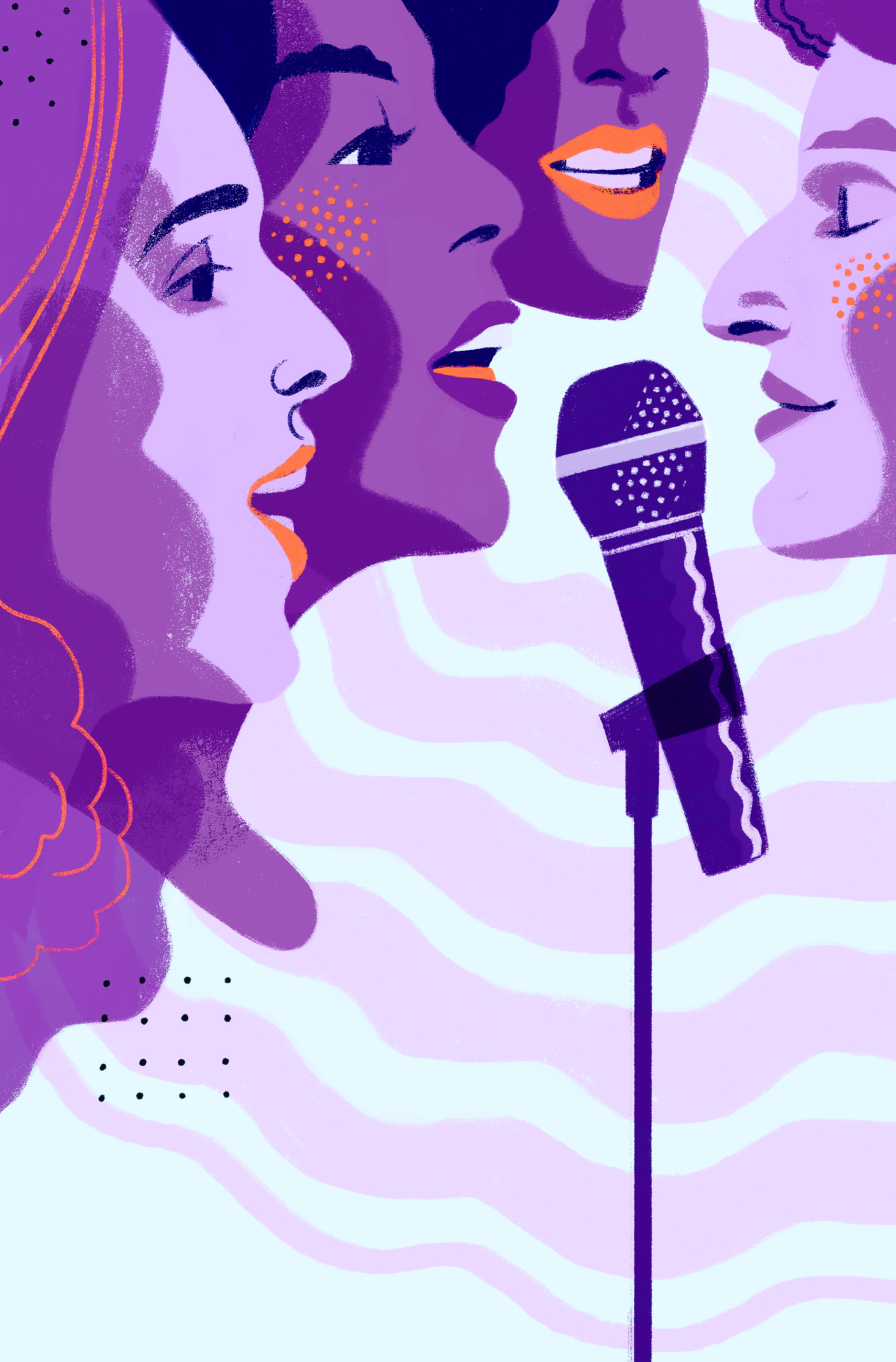 Lucky for Hez, four years ago, her enthusiasm evolved into a job – she became the official host of Pub 340's bi-weekly karaoke night.
Located in the Downtown Eastside, Pub 340 is a far cry from Japan's sunny cherry blossom festivals – and possibly an even greater distance from Japan's liberal perspectives on alcohol consumption. Regardless, Hez remains committed to offering patrons of Pub 340 an experience as pleasant and impactful as the one she had in Japan. Her insights make Hez both an exceptional entertainer and an authority on the innate and complicated rhythms of karaoke psychology.
"The reasons why people are singing stuff is incredibly personal," Hez tells me. She references her own tendency to sing show-tunes in honour of her mother who passed away in 2007. Many people, in contrast, put on boisterous, cheesy performances. These tend to be very popular at Pub 340 – as does somber talent. Both approaches are cathartic in their own right.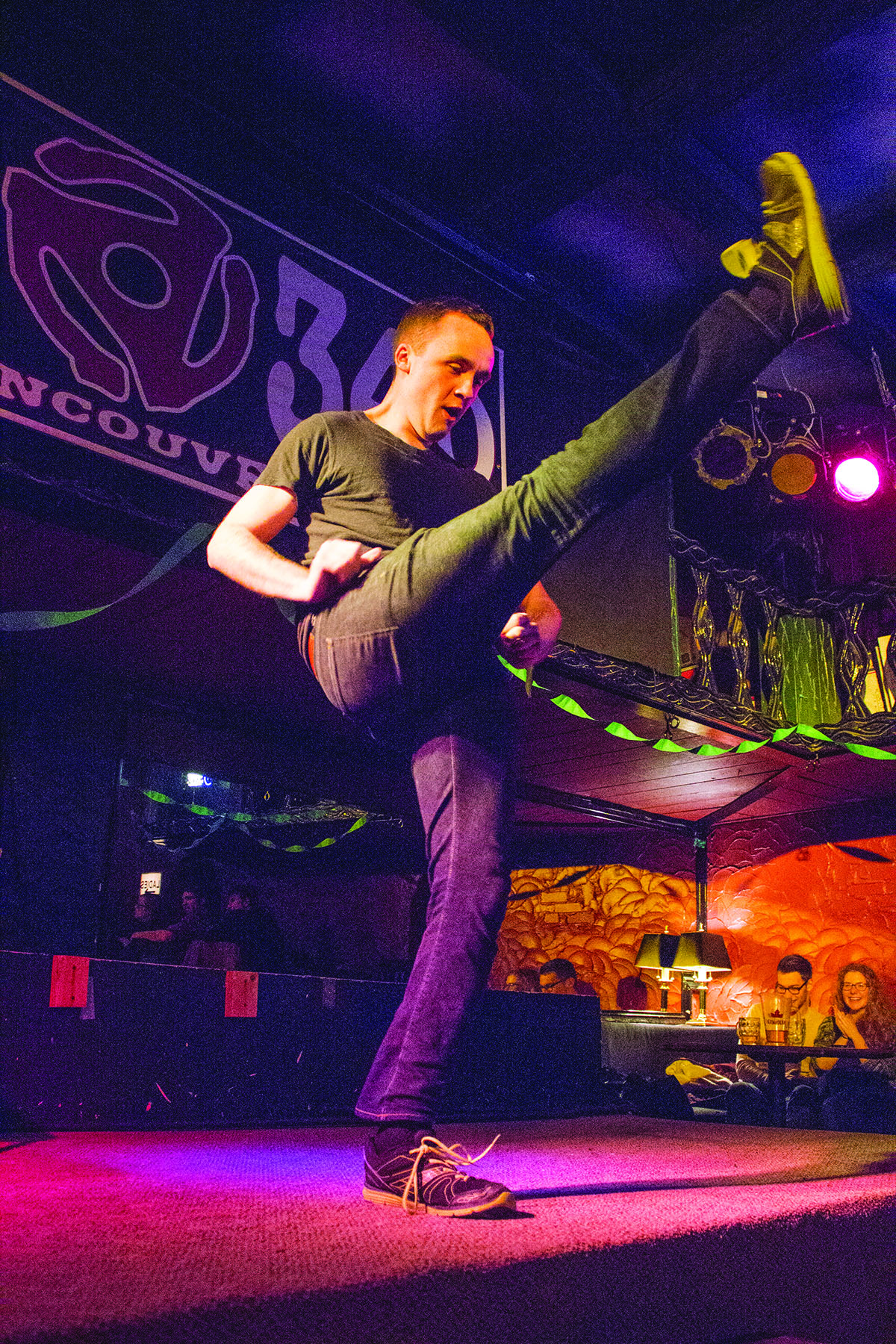 No matter the motivation behind someone's karaoke style, Hez makes connecting with that performer a priority. She's even gotten into the habit of wearing tap shoes during karaoke performances. She says that people feel more at ease when she is engaging with them – be it dancing along to the tune, shaking a maraca, or putting on a lightshow. "I'm a puppet-master in some respects. I jokingly call myself a karaoke therapist."
From her years of puppet-mastering, Hez has decided that "karaoke has little to do with cool at the best of times. It's really about the exuberance and the connect." People sometimes get hung up on being "good," she explains, and then they find themselves distracted by the community surrounding them.
As I sit in the bar with a group of friends, a guy on stage high-kicks frantically between lyrics. A couple hours ago, Hez began the night by singing an impressive rendition of Amy Winehouse's "You Know I'm No Good." My friend tells me he likes when people sign him up for songs, and I think about how much I would hate that. Another friend confesses that karaoke gives him that slice of attention he sometimes craves.
Hez does a segment on show-tunes around 11pm and I wonder if she is singing for her mom. Around that time I chat with the guy who was recently high-kicking and learn his name is Nick, and he studied musical theatre – he offers me a critique of the performance currently taking place. It's a tune from Fiddler on the Roof, he informs me. I assume everyone is holding a mug of beer, though I don't count clinks.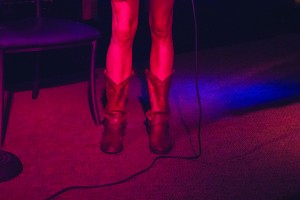 Like Hez says, people sing karaoke, or just come here and listen, for many different reasons. Pub 340 welcomes them all. It's a secret world carved into the rings of a 120-year-old building – an enchanted space where people can be creative, find community and enjoy some boozy levity as it all unfolds.
X
Hez hosts ThreeFortyoke at Pub 340 (340 Cambie Street) every Tuesday and Thursday from 9pm-2am. Check out the ThreeFortyoke Facebook page for more details.