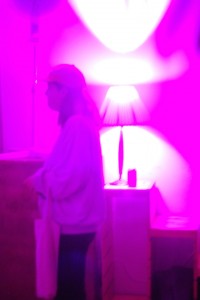 It takes a friend, who knows a friend, who knows where they're going to find Sweetpup, and that's the way the organizers like it. The venue is above an unassuming shop in Chinatown, identifiable this night because of a guy standing outside the venue smoking a cigarette looking very cool. His presence seemed out of place on the quiet street, and I knew I was at the right location.
The venue itself had a silky ambiance. The djs were backlit with blue and purple in the main area. A more intimate room off to the side glowed fuchsia, and included natural smoke effects.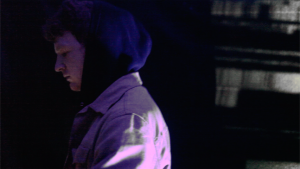 The show had started by the time I arrived, with Tacoma's Conduit giving early attendees a strong and consistent beat, but that's it. The set was an endurance of the same beat with little variety or creativity. However, like any rhythm in a willing room, it populated the floor. But the levels were kept low, allowing for conversations and mingling.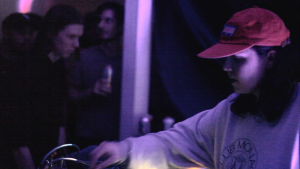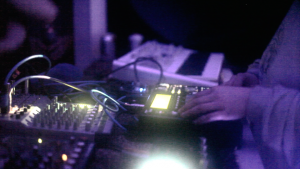 The transition between Conduit and D. Tiffany featured The Delivery Boys, whose short set was spicy and energized. It was the perfect usher for D. Tiffany, who packed the floor with preemptive applause.
Tiffany's set was a balance of beat and tease. She introduced sudden breaks, false drops and transitions, building the audience to a delirium. The music was atmospheric and mesmerizing. Any conversations disappeared into jumping and swaying, and the floor boards bounced beneath the weight.
There was an awkward pause in the beat before Brooklyn's J. Albert, a full few seconds of silence, but he redeemed this taboo with a contagious energy. He started dancing to his own set immediately, jumping and punching the air from behind the table, and the audience followed by example. Though more structured and less ambient than D. Tiffany's set, J. Albert's beats were still intuitive. He read his audience, and matched their moves with music that felt inspired by genres of dance spanning from the Caribbean to India, and some playful '90s transitions thrown in. The set was unusually short, however, leaving the audience blue balled.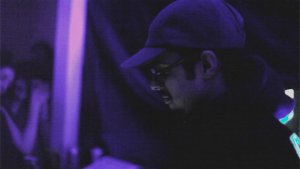 With the option to either stay until sunrise or spill onto the streets, most of the crowd split, while the night continued for the few who remained.