The crowd that filled the Cobalt to see Japan's Acid Mothers Temple & the Melting Paraiso U.F.O was an animal I don't often see at shows in Vancouver. Absent was the restless, nervous energy that permeates through audiences as they wait for the headliner to take stage. In its place was a more tame beast. One which instead waited patiently for a familiar musical tempest to wreak its havoc.
The unusually subdued atmosphere was likely generated by the long-time super fans who compiled most of the audience. An older man in a Hawaiian shirt slapped his hand against my back and told me that this was going to be his sixteenth time seeing the band. Before I could inquire about his experiences, the Cobalt was brought alive by cheering as Acid Mothers Temple took to the stage-exactly one minute before their expected start time.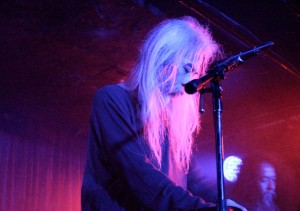 The band dove straight into their set without any introductions. In seconds, Acid Mothers Temple managed to generate a dizzying cloud of sound that seemed far too expansive to come from the five piece band that stood on stage. The bass lines were strong and melodic, providing balance and stability within the chaos. The set-list, though short, showcased the band's eclectic influences. As soon as keyboardist, Higashi Hiroshi played the first few notes of his harmonica I knew that I was in for a Black Sabbath-soaked treat. Acid Mothers Temple's cover of "The Wizard" managed to pay homage to Sabbath while driving the familiar, heavy riffs into a fresh realm of psychedelic ecstasy.
The last two songs of their set, however, involved more meandering. After about seven minutes of experimental, musical exploration mixed with spaceship inspired synths, I felt bored. But, then without warning I realized the music had snuck up slowly and was now engulfing the audience like some sort of intoxicating cloud of smoke.
Have you ever fallen asleep on a road trip and, upon waking up, felt awash with disorientation due to your new surroundings? In what felt like a few seconds of unconsciousness, you find that you have been transported to a new place and a new time. Acid Mothers Temple managed to achieve the same experience with their music. The slow and steady buildup made Kawabata Makoto's heavy guitar shredding feel like the first sip of water after living in drought.
After finishing twenty minutes early, Acid Mothers Temple took to the floor to sell their own merchandise. Excited fans presented their posters to the band to be signed while gushing their praises of the performance. I was impressed not only by the band's musical performance but by their promptness, professionalism, and down to earth approach.
Soon after the set ended, a different crowd of people entered the Cobalt looking to party. The rapid change of pace felt irreverent somehow; like these strangers were violating something indescribably sacred that had been created by Acid Mothers Temple just fifteen minutes prior.