As the sun dips below the brick buildings of Gastown, I stand with Kevin Doherty, guitarist and founding member of Vancouver's premiere 'sludge-fuzz rock' band Weed, at the base of the iconic Hotel Europe. Cars plod across the cobbled streets as bassist Hugo Noriega joins us; the band is assembling. After driving by a few times in search of an elusive parking spot, Will Anderson, the third and final band member arrives, ready to answer "anything hard-hitting. We'll talk shit."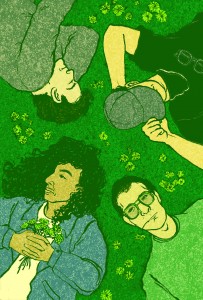 Moving across the street to Hot Pie Pizza, a hidden gem of Vancouver's dollar-slice pizza joints, I opt to get the basics out of the way first: "How would you describe your sound?"
While the listener might circle around words like loud, melodic, or aggressive to characterize their sound, and while one might try to pin them down as rock, grunge, or punk, Weed themselves see their music in a different manner. Between mouthfuls of fresh pizza, Doherty explains that Weed has "no fixed genre. There's a new one every night."
That's a lot of genres, considering how often they find themselves playing shows and touring. "Usually as soon as we get back from a tour," Anderson explains, "we start planning the next one … It works out to about three per year."
As it stands, the band is about to embark on yet another tour, this time down from New York to Florida, in support of their newest full-length record, Running Back, out April 7 on Lefse Records. In their markedly DIY style, Weed does all their own booking, which leads them to a wide variety of venues across the continent. "Coffee shops are always awkward," remarks Doherty, "but basements are usually the most successful."
Despite their strict self-prescribed all-ages policy to their shows, they find they can make the most out of all the venues they play. "We play a lot of cool spaces overall," notes Noriega. "Unconventional places that aren't necessarily made for music."
When asked why they refuse to play anything but universally accessible shows, Anderson says, "It's important for kids to see shows," and leaves it at that.
Despite a new record label, a studio change, and having been done for over a year, Running Back is far from a radical departure of their previous releases. Drenched in intensity and distortion, guitar lines still force their way through the noise into clear melodic structures; Anderson's subdued vocals still float across the songs before exploding into throat bursting screams; the band's pop sensibility still shines through the fuzz, the sludge, and the volume.
Unlike their previous effort, 2013's Deserve — which was recorded and mixed by Seattle native Dylan Wall — Weed decided to work with someone new to record Running Back. "We just heard some really great things about the recording process with Jordan [Koop]," Anderson remarks.
I might add that Koop runs the Noise Floor recording studio, out of his converted boathouse on scenic Gabriola Island, and just got back from a one week internship with the legendary underground recording engineer Steve Albini in France. With that sort of resumé, you'd think working with him would be a dream come true.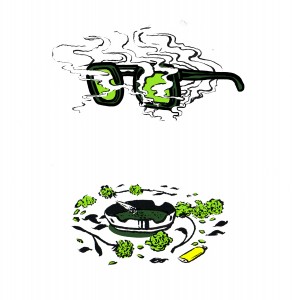 "We loved doing it," says Anderson, "but we didn't like the way the recordings turned out. That's why we went back to Dylan [Wall] and we re-recorded a lot of stuff." The band is quick to add, however, that they feel no ill will towards Koop. "That's no slight to Jordan at all. We just felt the way our band was captured was better with Dylan."
With two full-length releases under their belt, and a slew of EPs and seven-inches, it comes as a surprise that Weed is still in need of a drummer. "Our last drummer — our drummer on the records — left to pursue another career," remarks Anderson. Yet with their near-constant touring, somehow Weed manages to get by. Along with a list of drummers they can ask to play, Anderson explains that "Graeme [McDonald] is our local dude. He plays with Dead Soft, but he's pretty busy with that band."
So for all you drummers out there, looking to play with the 'sentimental dream-grunge' kings of Vancouver, Weed is in need. "They have to be really good at drums," notes Noriega, "and really cool."
While the band finishes their slice of pizza, the topic of musical influences comes up.
Like their genre, it's hard to pick out clear artistic influences from their music. While I suggest Dinosaur Jr, or Built To Spill as having some impact on their music, all three members of Weed move in a completely different direction. "I'd say we rarely listen to music," notes Noriega. "Our influences include a dash of Smash Mouth," adds Doherty. "Macklemore," says Anderson, "but collectively, Limp Bizkit."
As our conversation drifts into dark would-you-rather questions, the cinematic merit of Dunston Checks In, and their favourite Drake albums ( it's a toss up between Nothing Was The Same and Take Care, for those of you wondering ) I sit back and take note of who I'm sitting with. This is Weed: the finest foolish-sludge rockers in Vancouver — if not the world.