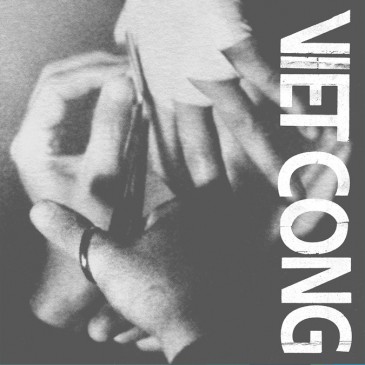 Rising from the ashes of esteemed lo-fi psych-rock group Women — which was tragically cut short by the death of frontman Christopher Reimer — Calgary post-punk outfit Viet Cong have a lot to live up to, and their debut self-titled album does just that.
Running a quick 37 minutes from beginning to end, the record shifts between the comfort of commercial indie rock and the confused paranoia of experimental noise. With their lead single "Continental Shelf" — easily their most accessible and poppy track — nestled right in the middle of the album, the song's catchy vocal melody and shimmering guitar lines prove that Viet Cong can produce a radio hit without compromising their distinct, industrial sound.
However, they are quick to go after more challenging musical concepts. Starting with the album's opener, "Newspaper Spoons," the band introduces themselves with a pummelling, static filled drum beat followed by an almost cult-like chant. As the song drones on, distant electronic distortion builds, rising slowly into cacophony, only to fade out into warm, angelic synth sounds. And that's just the first song.
The rest of the album skirts between dissonance and euphony, aggression and ease, white noise and whatever the opposite of white noise is.
On "March of Progress" — their most radical and most rewarding track —  there are nearly three minutes of drums pounding in an elusive time signature resound, overtop a droning synth. As the song grinds on, pushing closer and closer to near-fatal monotony, it switches into an arpeggiated and bright verse, punctuated by a steady kick drum and an Eno-esque vocal melody. Then, it bursts into something new all over again. A lively, spacious, poly-rhythmic guitar line takes over, with vocalist Matt Flegel crooning out words that defy every aspect of the song in which they inhabit: "Tell me, tell me, tell it to me, tell it straight."
The sonic diversity on "March of Progress," much like the rest of Viet Cong, is staggering — especially given that, in all its multiplicity, it sounds so cohesive. Songs range from three to eleven minutes long; traditional song structures are both embraced and abandoned; harsh noise merges with clean tones. While the album navigates carefully between experimentation and commercial appeal, the balance and poise with which Viet Cong move is enough to prove that their debut full-length is worthy of attention.