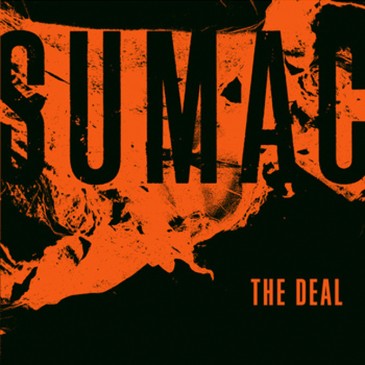 There are few recent innovators of heavy music as accomplished as Sumac's guitarist/vocalist Aaron Turner. His impressive output is revered within the heavy metal pantheon and includes, but is not limited to, pioneering work with the now defunct post metal outfit Isis and the eccentric doom entity Old Man Gloom.
The Deal sees Turner team up with drummer Nick Yacyshyn of Vancouver's Baptists and  bassist Brian Cook of Russian Circles, with the expressed goal of making some of the heaviest music Turner has ever been involved in. While this has clearly been fulfilled by way of Turner's lurching, menacing riffs, and distinct bellowed vocals, the album's heaviness is only part of what makes it so intoxicatingly thrilling to listen to; The Deal is staggering avant garde metal. Although notably more minimalistic than either Isis or Old Man Gloom, Sumac's peculiar personality lies somewhere between the ethos of both projects. The former's focus on scope, repetition, and nonlinear song evolution is balanced with the latter's tendencies towards suffocating heaviness, playful experimentalism, and bizarrely infectious riffs.
Like many of the great sludge/stoner/doom metal bands, Sumac understands the power of a riff being so captivating that it merits repetition. However, this is not conducive to the record's hooks being repeated ad nauseum. Vacyshyn's intricate drumming carries the songs through some of the more unabated passages on the album, and allows them to evolve from creeping sludge to frenzied hardcore in a way that seems organic rather than disjointed.
This sophisticated approach to structure allows feverish thrash, monumental riffs, and weirdly groovy passages to arise amidst the album's brooding, sinister landscape, and illustrates Turner's capacity as a truly original and important songwriter. Although perhaps not as game changing as his work with Isis, The Deal is an example of how metal — now in its fifth or sixth decade of existence — can still be exhilarating, exploratory, and relevant.