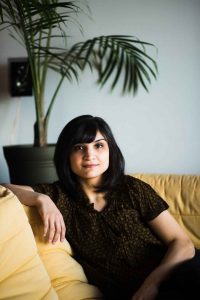 "It feels like if you were listening to a song, and just paused it at one second and took whatever frequency or texture and drew it out and listened to individual sounds," Sarah Davachi tells me. "It's a way of slowing down music and focusing on specific things you don't normally hear." Describing her music, Davachi describes stasis.
Only settling in Vancouver two years back, there's a disjunct between this stasis and the past half-decade of Davachi's life, which has been defined by transience and movement.
Since earning an MFA from Mills College in 2012, Davachi has been composing, writing, performing, and working. She has sat as an artist-in-residence in Rotterdam, Amsterdam, and Banff. It goes on. When I ask about this dislocation, Davachi is, as always, thoughtful — speaking frankly but without didacticism. She imagines an eventual coherence to her trajectory.
Barons Court, Davachi's full-length debut, is rich with drones which explore textural expansion while also expressing an interest in acoustic instrumentation and the analog thrum of classic synthesizer equipment. She stresses that there's no hermeneutic puzzle to be unlocked in the album, or any of her music: "I have noticed I need to be more careful about how to title things. People read into titles."
If not a literal narrative, the music offers a worthwhile outlook towards sound and elsewhere: stabilization informs the music and emerges from it. Davachi compares it to meditation: "Tuning out for a bit, regaining your stability, and then you can go back out and do crazy things." It sheds light without being allegorical: "Even though there's a lot of [me] moving around, it feels like a singular trajectory. [The music] is similar conceptually in that it feels like a singular event coming together over a long period of time."
This isn't about thundering teleology. It's a sensing out of things, down-to-earth in multiple senses. "I'm not trying to evoke anything, I'm not trying to take you on a journey somewhere;" she points, with a jocular voice, towards the cosmic connotations of her genre. Davachi's work is more Solaris than 2001, always returning to the human element. Escapism based in "escaping from the external to go inwards."
Davachi also defers analog elitism. That her work is informed by that kind of gear is more pragmatic than fetish: "I have an interest in obsolete technologies … it's not a historical thing … I use them because they work really well for the type of music that I do." In one of the few times during our conversation, Davachi becomes technical, espousing the exploration of psychoacoustic variance and combination tones only available when using analog discrepancy.
Back to trajectory; Davachi is currently in a position to stabilize. She's grown into Vancouver. Her work as an archivist for the National Music Centre can be done a province away. Barons Court has just been released.
But things are moving faster: this is the first year she's had to defer offers due to their abundance.
"My problem has always been that I'm interested in too many things."
Though Davachi began playing piano at 6, she gave it up for much of her teenage years, only to re-engage with music in college. But the 20th century electronic music Davachi was studying was stifling, implying an "unspoken pressure" to make music sounding similar. It wasn't until the flexibility of Mills College that the sound/music demarcation became obsolete. Now things can be awkward. "People often tiptoe around it — 'oh, you're [making] noise stuff' — you can call it music, it's ok!"
She recalls when music became the obvious route: "The reason I picked music … I took a calligraphy class and it was so messy. I was always washing my hands, had to wear my bad clothes, I had to wear a ventilator mask — I hated it … I just loved how clean music was." She also mentions an appreciation for electronic being performed in total darkness, or dislocations of artist and stage — methods that emphasize the sound over the performer. There seems to be a distilled focus and freedom from obstruction that Davachi possesses in music.
When I press the subject of possible conceptual directions in the future, Davachi returns to her preference for sensation. "It would be on an aesthetic level rather than this will represent that idea. I think about it in terms of colours … It's always relating to something, just not in a literal way."
The training that does inform Davachi's music, returns to sensitivity towards sound as an open space rather than a podium: "Music's always subjective, it's an experience … But I try to be as responsive to the neutral aspect: frequency relationships or textures that allow people to feel something — I don't care what they feel … but I'm trying to use sound to make people look inwards."
Currently serving as a VFS guest lecturer, a percolating interest in soundtrack composition came up during our conversation. Additionally, Davachi will at some point return to school and pursue a PhD. More albums are coming, too.
Vancouver has been receptive. Since her arrival she has played in Music Waste, Big Joy, and done multiple shows with close collaborator Richard Smith. The debut of Davachi/Smith was the first set of the first show of New Forms 2014, the festival's first year at the Science World: a nice inaugural moment in that Expo 86 signifier of Vancouver.
When Vancouver comes up, Davachi expresses the hope that she'll be able to do what she's doing here for as long as it is feasible. That said, until Davachi is called elsewhere, and so long as she continues to do what she wants to do given the circumstances — performing, writing, composing, in a word: exploration — we can likely expect a growing source of knowledge and contemplation.