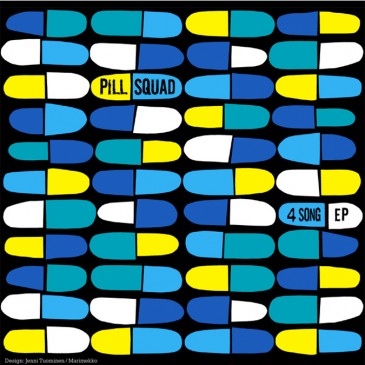 This ain't no baby Aspirin. Pill Squad's debut release is a punk master class for everyone who wishes they were there when…take this!
Their rock family tree is extensive. Tracy Brooks is the distinctive lead singer in earlier Vancouver bands, the Hip Type and Infrädig. As a songwriter and singer, she is one of my favourites, and has a voice most easily compared to Debbie Harry's. With an appreciation of film kitsch plus her Finnish sense of humour, Brooks' stage personality comes off as entertaining and enthralling. Next, take drummer Scott Beadle, also from the Hip Type, add Tim Chan formerly of Victoria's 64 Funny Cars and his bandmate Gord Berry of China Syndrome; stir, shake, and you have the effervescent concoction that is Pill Squad.
The four exciting songs on their debut EP give the listener a short, sharp taste of who they are. Recorded by Adam Payne at Vancouver's "House of Payne," Pill Squad's selection of covers and originals showcase their range and talent. When was the last time you heard anyone do a Girls at Our Best song? Not since Vancouver's late great Debutantes (who included "Pleasure" and "Fast Boyfriends" in their early '80s sets). Pill Squad lay down an exhilarating version of "Getting Nowhere Fast." Next is their take on Big Audio Dynamite's "I Turned Out a Punk" which is (to my ear) even better than the original and an ideal manifesto for Pill Squad's musical credo.
I love the third track, "He'll Look Better (When He's Dead)." This perfect punk-pop tune's clever lyrics are Brooks' paean to The Damned's Dave Vanian. She wrote and first performed this song with the Hip Type, and its incarnation on this EP coincides serendipitously with the inclusion of a Hip Type CiTR live performanceversion of the song on this year's 15 song CiTR Fundrive cassette.
This irresistible first release from Pill Squad wraps up nicely with an excellent cover of China Syndrome's "Cantopop." It won me over by virtue of the hand claps alone (all my favourite songs seem to include hand claps!). The catchy chorus and sharp lyrical commentary all wrapped up in the candy coating of Brooks' voice make this sweet pop confection delicious.
For some high-altitude-attitude and that extra thrill that only a band with wit, style, and great pop-punk sensibilities can deliver, this album is the perfect intro. Pill Squad are BOSS!