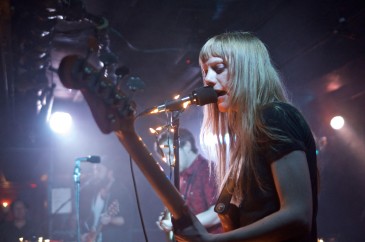 It was 8 p.m. and the sky was still spackled with rays of light from the setting sun, and a light rain signalling the arrival of spring — a time of rebirth and renewal. A renewal of sorts was taking place inside the Biltmore as well, where Vancouver based alt-rock act Limblifter was set to launch their new album Pacific Milk, their first release in nearly a decade. 
Once inside the venue, the atmosphere was relaxed with a hint of pleasant anticipation. The crowd was composed of a diversity of age groups wearing a delightfully eccentric assortment of berets, patterned leggings, and skull embellished sweaters.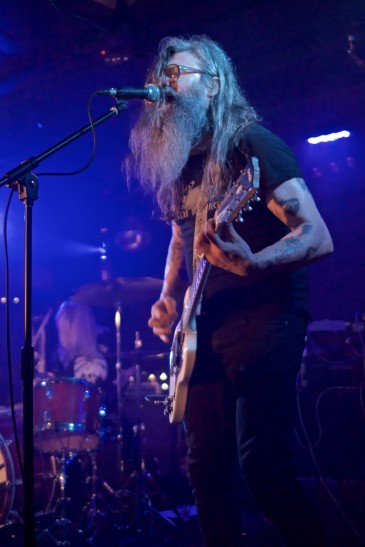 Illuminated by coloured spotlights, the first act Invisible Ray perched their beers on the stage modestly and started their set with an energetic, garage punk sound. Vocalist Bernie Pleskach's long grey hair, which mysteriously obscured his face for a wide portion of the set, was redolent of a medieval wizard. Though those in my party expressed dismay that the sound system wasn't equipped to properly convey Pleskach's vocals, I found the lyrical incoherence to be well suited to the powerful instrumentals and head banging flair. Invisible Ray hopped from songs about candy to those about protesting without losing any conviction or eccentricity. 
Next up was Vancouver-based The Passenger who took the stage with no warning. He captivated the audience with his haunting spacey synth punctuated by the tones of tribal drums and ethereal wind chimes. As the set progressed, new layers of instrumentals were added, cloaking the sound in ever deeper layers of complexity.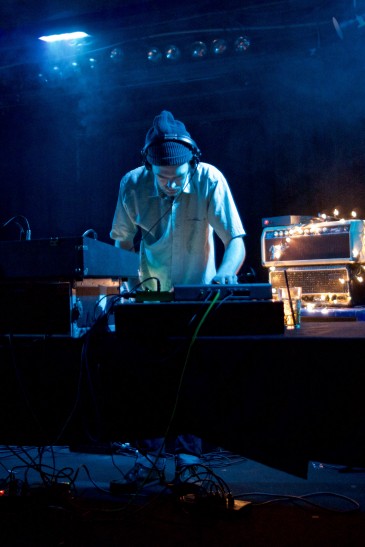 Wisps of smoke lent an enchanting visual to The Passenger's dynamic aural spectacle. I was profoundly immersed in the sound until the curtains closed and he departed the stage as mysteriously as he had arrived, shocking me out of my reverie.
Though both openers were strong performers I found the choice of placing a synth-heavy chillout act between two alternative rock acts to be a strange progression and not necessarily conducive to maintaining crowd energy or fluidity between the performances.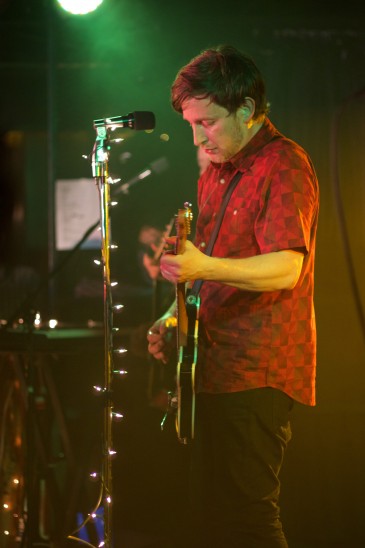 The curtains opened and the clock inched towards 11 when Limblifter grabbed their instruments and greeted the raucous, frenzied crowd — now significantly larger and packed near the stage. A convivial energy permeated the space. Having had a string of radio successes in the late nineties, Limblifter drew quite a crowd this evening. Some attendees I talked with were enthusiastic about hearing their fresh material while some were anxious to get down to some good ol' '90s alt-rock; Limblifter delivered both.
Limblifter, composed of Ryan Dahle, Megan Bradfield, Gregory Macdonald, and Brent Follett, didn't disappoint with their catchy guitar riffs and lyrics tinged with life experience and a decidedly eclectic imagination. Nineties favourite "Tinfoil" sent the crowd into a collective recollection of days past with its evocation of slacker afternoons and evenings spent jamming in the parents' basement.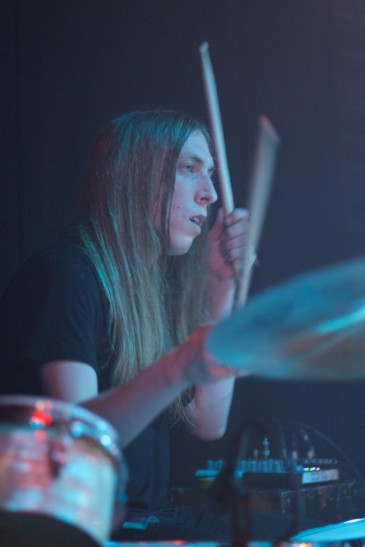 My personal favorite was "In/Out," a track with composed, steady drum beats and moody vocals that resonated off the Biltmore's walls. Vocalist Ryan Dahle derived a melancholy pleasure from his angsty, speculative lyrics: "It's gonna work out / I tell myself it's about time / This is about the inability / To commit against instinct and good reason." 
What left as strong an impression as their music was the tangible enthusiasm and earnestness that Limblifter displayed towards the crowd; they were completely engaged and it lent the performance a distinct authenticity. I left the venue that night with a fond reminiscence over Limblifter's earlier hits and an eager anticipation towards the band's future with the release of Pacific Milk on April 7.