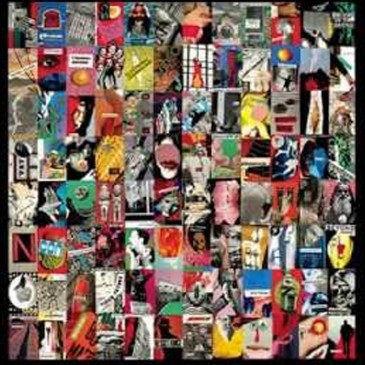 The first time I stumbled across Victoria's Freak Heat Waves, I was browsing through the "suggested" section of Red Cat Records. The flashy album artwork of Bonnie's State of Mind drew my attention immediately, along with a sticky note on the album reading: "for the post-punk looking for a good time."
After listening to the album I realized that each song on Bonnie's State of Mind sounds unique. As a result, the record listens like a compilation. Despite its retro post punk feel, the futuristic beats add a new groove to the genre. Red Cat nailed their description of this record; if you are looking for a good time, you'll find it in Bonnie's State of Mind.
Freak Heat Waves use timing to draw you into the record. The first two tracks – "Plastic-Coated Dancers," followed by "Bonnie's State of Mind" – listen as one, chill intro. The swirling synths are neat but forgettable until they cut off suddenly, as the tone switches into the pulsing beat of the third track, "Design of Success."  Steven Lind's monotone vocals are very soothing, like he is whispering something alien just below the surface of the guitar riff. In "Dig a Hole," Lind's vocals are just audible, cooing: "It's just a uniform / No pride of industry / Guaranteed to make you want money for your time." Although this is the closest song on the record to a single,  the collective scrappiness of these songs has an appeal of cohesive diversity.
The diversity of this record was inspired largely by mixtapes. The three band members – Steven Lind (guitar/vocals), Thomas Di Ninno (drums), and James Twiddy (bass) – were all extensively involved in the production process and are prone to instrument swapping which solidifies the compilation/mixtape sound of the record. The retro guitar riffs tied in with futuristic beats and elusive vocals make Bonnie's State of Mind a slick listen from start to finish. Considering their front cover feature in the February edition of Discorder and the fact that they're touring with fellow post-punk success story Viet Cong this spring, Freak Heat Waves is definitely a band to keep an eye out for.