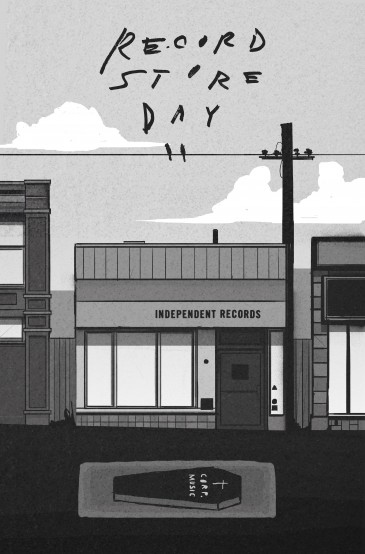 It's that magical time of the year again where the music aficionados of Vancouver get tostorm the city's record stores in search of great deals, live shows, and that golden vinyl that's been evading them for so manyyears. But more importantly, it's a chance to celebrate the great revival: the resurgence ofthe independent record store, and the unique culture that comes with it.
What most vinyl collectors will agree on is the record store atmosphere: music you've never heard spinning off the speakers, walls of pretty album covers that keep you occupied for hours, and a person behind the counter that knows way more about music than you do. In short, walking into these shops and picking up an album is a lot more fun than downloading anything online. And providing this experience is something that many record retailers across the city take pride in. "We're trying to really celebrate the art, the artistic aspect of record collecting," says Daniel Geddes, musician and co-founder of Horses Records, one of Vancouver's newest vinyl shops. "We see records as the best way to listen to and collect music, and that's one facet of our interest in art in general. The store is a celebration of intellect and creativity."
Geddes and his store take the philosophy of Record Store Day and live it each day. But that doesn't prevent him from recognizing the importance of the yearly event, despite his own reservations. "The day is important as a way to remember that stores like us exist. It started out as a good thing, [but] there's a side of it that's become corporate," says Geddes. "There is a side to it that I think is kind of like Black Friday, which I'm a little bit resistant to."
Geddes' concerns come at the heels of the great vinyl resurgence into the mainstream consumer consciousness. And the numbers don't lie: according to the latest Nielsen music data report, in 2014 alone, Canadians purchased over 400,00 vinyl records – a 71 per cent increase from 2013.
Record Store Day is a byproduct of the vinyl resurgence and has literally become a global phenomenon. It started out in the US back in 2008, and has since expanded to become an international event. Cities across the globe participate in the festivities, but for small retailers like Horses, there can be an added stress to keep up with the Joneses. "For a small and new place like us, there's a certain amount of pressure, which feels a little bit weird because [Record Store Day] started to benefit places like us," adds Geddes.
This April will mark Horses' first venture into the annual festivities, but the retailer isn't holding back. They're bringing in a variety of special releases, offering a 20 per cent discount on their records, and showcasing a breadth of local bands, including Geddes' own Peace. Regardless of his reservations, Geddes recognizes the importance of Record Store Day as an opportunity to not only raise awareness for his business, but for the local music scene that he is very much a part of. Catching live shows across the city is perhaps the best aspect the yearly event has to offer. Horses will bring the party to East Hastings, while on Main Street, you can expect the city's heavyweights to be swinging full force.
Neptoon Records will be carrying on its annual legacy of putting on a legitimate music festival. "I think we just go a little crazy," says Ben Frith, owner and manager of Neptoon. "We really try and make it a full day of entertainment and a full day of fun."
"Between us and Red Cat, we're so close to each other people just end up going back and forth all day," adds Frith. "It works outpretty damn well."
People might view Neptoon and Red Cat as rivals, but on Record Store Day they'll be the A and B sides to the same LP: great places to go to catch live music in a city that sometimes gets a bad rap for being no fun. Part of the beauty of Record Store Day is the chance to give live music to the city's youth. "If you're a kid, there's not a lot of music you can go and see, it's kind of sad," adds Frith. "I think it's really cool to have lots of good local music featured that a lot of people wouldn't have the opportunity to see."
With live music in mind, Frith won't be too concerned about sales on April 18. Rather, he'll have his hands full managing the spectacle. In addition to an in-store signing headlined by the legendary Eric Burdon, he'll have upwards of 10 bands performing on his stage. Organizing the event has taken months, and the lead-up will have Frith working well into the night. But one thing's for certain: Frith will be happy when the madness is all over.
Record Store Day is this Saturday, April 18th!