Lots of sweet shit went down around the city on March 7: little cherry blossoms peeking open, some dude getting arrested at the Cobalt Motor Hotel, and, cozied up next door, a prim-and-pretty door girl handing out vouchers for Tim The Mute's seven-inch Dr. Who Cosplay release with your $10 admission at the Cobalt. Tim Clapp himself, the man of the hour, played host for the evening, bustling about and saying hello and grinning and being awesome.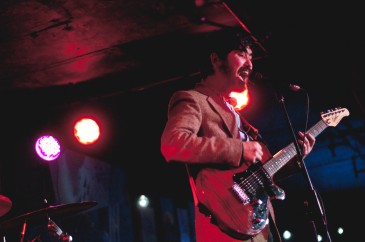 Up first, peachy-faced No, Boy took the stage. The self-proclaimed "really fun losers" barraged through some harmless emo rock, frontman Pavel Ganapolsky tugged off his shirt, and a small pack of emo girls knitted themselves front and centre for the melodic slower stuff. A larger audience may have mirrored the mighty little frontman's stage-punching and mosh-insisting energy, but with what was at hand, it felt a little weird.
Discorder cover dreamboats Dead Soft followed as more party-seekers flowed in from outside. With a fuzzed-out, full and polished consistency, the threesome delivered gem after grunge gem, uttering little more than modest peeps of thanks between songs.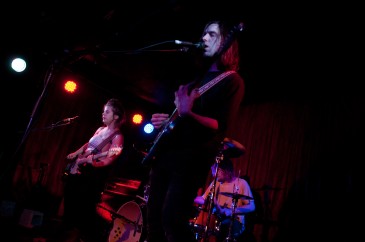 Nathaniel Epp (guitar/vocals) and Keeley Rochon (bass/vocals) harmonized earnestly instead of mechanically, and only in welcomed pepperings. Epp, as comfortable on stage as his big old black tee looked on him, groaned and griped throughout the Pinkerton-esque (i.e. gloomy, danceable, catchy as hell) set, floppy-bunned Rochon dazzled, and Graeme McDonald (drums) bashed it out while avoiding the flashy bullshit.
"We're called Woolworm, sorry for taking so long," Woolworm's frontman Giles Roy offered flatly at the start of their set, but it didn't seem earnest — then again, much of the following set didn't. Technically the band had its shit together, and followed all their self-taught indie-rock/'90s revival/not-quite punk rules that have recently set them up in a Vancouver scene limelight, but I had a hard time connecting.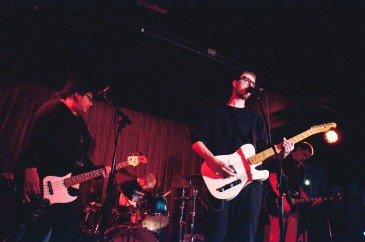 Roy's lackluster utter non-excitement throughout was disconcerting despite his hitchless guitar playing and otherwise solid, though not groundbreaking, songwriting. Heather Black (bass) was undoubtedly the shining star of the set, smiling and rocking out and mutely singing every word; if she can wail – which she looked like she could — I bet she'd make a great frontwoman.
Dapper in his appropriate "11th Doctor" attire, Tim The Mute dawned the stage, his grin a veritable phaser (set to befriend).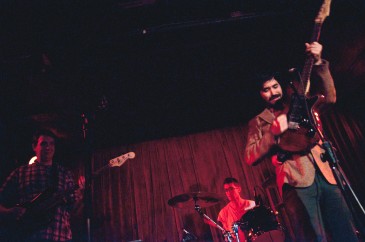 In conversational quips, Tim The Mute enraptured the crowd with janky-folk whims, lo-fi daydreams, and secrets fit to be told in the security of a blanket fort. Celebrating the release of Dr. Who Cosplay may have supplemented the enigmatic frontman with added pulp, but the performance was typical of his jaunty, off-kilter stage persona, and insightfully funny reflections.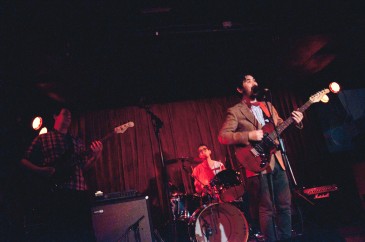 Lines like "You touched yourself for the first time reading Twilight… Why can't I be that to you?" skew pop culture fantasy with diary-entry style observations, the EP's namesake being no exception. He rightfully stole the show.