As witnessed by the Rickshaw's amassing crowd, the Shilohs' psych stylings challenged Tuesday night's turbid disposition. In contrast with the evening's rainy weather, the Vancouver four-piece sounded clean and dry.
Pulling from their recently released LP So Wild, the Shilohs' tunes immediately shone with sincerity. As if from a decades-past summer day, their chords surfaced without even a shadow of reverb.
Initially this gave the impression of a hushed performance, though the only real quiet lay in the spaces between notes, or between groups of notes halting in unison. These line-toeing tempos showcased the band's bouncy, playfulness. Indeed, the antics of stop-start melodies on songs like "The Place Where Nobody Knows I Go," called to mind psych pop acts like the Monkees. By the end of the Shilohs' set, the audience seemed settled in a state of pleasant appreciation.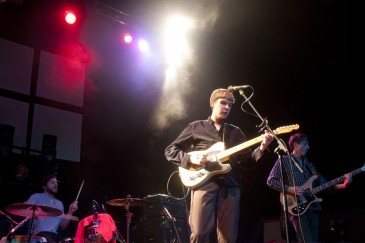 A wordless, scrolling ornamentation, "April's Song," began Real Estate's set. Aglow in warm-blue stage lights, Matt Mondanile's jangly riffs rode over the shapes of houses, light posts, and mailboxes. While his constellating notes silhouetted suburban architecture, the melody behind him biked forward, reiterating the scenery's sameness, even as we passed from one block to the next.
This dreary Tuesday eve happened to be the release date for Real Estate's third LP, Atlas. On the record's cover sits a recreation of the goliath New Jersey art piece, Alexander's Mural. Sectioned into squares, the image's disrupted cohesion is significant. It suggests visually, what Real Estate's set did sonically.
Ever-commenting on capitalism's most famed social experiment, the night's tunes did less to imitate and more to interpret. The band's use of lullaby guitar melodies, subdued reverb, and soft back-drop drumming offered patterned impressions of a dreamy suburban life. Not grey and vacant and endless, but decorative and intricately decaying. From the Rickshaw's stage, they masterfully dismantled and then purposely re-pieced their version of a place where real estate is king.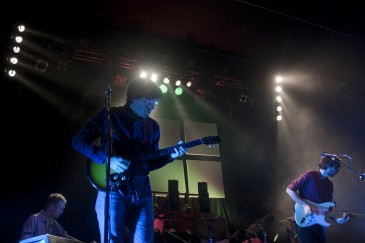 Drawing on songs from all three albums, Atlas was the obvious focus of the night. Martin Courtney's distinctive vocals were well sung and supported by Mondanile's ornate guitar wanderings. Alex Bleeker (bass), Jackson Pollis (drums), and Jonah Maurer (keys) consistently directed melodic motion down the tracks of each song's particular sidewalk.
Tunes like "The Bend" and their final encore performance of "Green Aisles," drew attention to Real Estate's capacity to play with song pace. By commanding tempo changes, Real Estate made obvious their intentionally distorted take on suburban existence. Their strolls through picket-fenced neighbourhoods were really just the projections of light-stained film footage.
From beginning to end, Real Estate's fans were steeped in thick and hospitable swirls of sounds. It was somehow wonderfully cathartic to stand and listen while jangly chords made lovely patterns out of the once-threatening rows and malls of suburban sprawl.