Fantasy Prom are a band with a plan.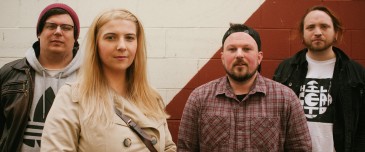 A careful staggering of new music, strategic touring, and a reliance on past band experiences all come together to make Fantasy Prom one of Vancouver's best shoegaze acts currently on the scene. Between rehearsal sessions at their jam space in East Van, I had the chance to chat with three of the four members to discuss the band's formation, their preference for releasing EPs and singles in lieu of albums, and what the future holds for Fantasy Prom.
Missing from our interview is vocalist Amelia Fudalewski, who was too sick to join us. Luckily the rest of the band is in good health as we settle into a makeshift green room: there's guitarist Richie Fudalewski, the man originally behind Fantasy Prom, bassist Denyss McKnight, and drummer Ross LaLonde. While some musicians are known to tiptoe during interviews and avoid delving into the less-glamorized details about being in a band, the three of them are engaged and frank, quick to address things like working with a label and the plights of touring Canada.
On Fantasy Prom's early days, Fudalewski recalls when he lived on Vancouver Island and wrote a batch of shoegaze songs, hoping it would lead to something more. After sending demos to McKnight and Lalonde—who both saw Fantasy Prom as a creative outlet completely different from their previous projects—the band's current lineup came together.
Since all three of the members could draw experience from their previous bands, Fantasy Prom were quick to establish clear goals on releasing music and ensuring the group's longevity.
"It's probably been the easiest band I've ever been in," says Fudalewski. "It's like everyone was sort of hand-picked based on their skill set and the fact that they were drama free."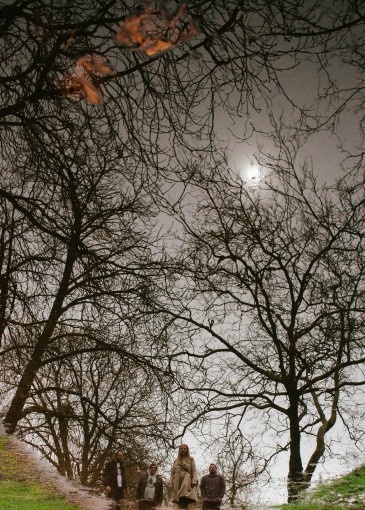 McKnight is quick to add: "We've experienced the ups and downs of being in a start-up band from being younger. We've already done all that in our previous projects so we were able to just elevate to the next level right away."
Since last September, Fantasy Prom have released four singles and two EPs through Fudalewski's own label, Sizzle Teen Records. Their most recent EP, Swirl, is an excellent slice of shoegaze, complete with floating vocals, overdriven guitars, and engrossing soundscapes. While unusual, the staggering of releases is a conscious decision in keeping the attention spans of music fans in mind.
"People don't have the attention span to listen to an album the way they used to," says McKnight. "Industry-wise, it just seems to be the way to go about it. The industry has shifted so it makes sense just to go with that flow because it seems to be working."
"The whole approach is keep it fresh and interesting and every release does better too," adds Fudalewski. "Every release gets more downloads. There's more interest for every release so it actually works. We actually see results."
Towards the end of our interview, the band opens up about the drawbacks of touring Canada and signing with an indie label. As Fudalewski puts it bluntly, "Going across Canada is really a waste of time… there's not enough people in Canada to support tours. It's a proven fact." Citing geographical challenges, population density, and self-interested promoters, Fudalewski and McKnight were not short on examples of why traversing the Great White North can be a treacherous endeavour for young bands.
On avoiding Canada tours, McKnight prefers what he calls "West Coast milk runs," in which a band tours down to San Diego and back on a 10-day/10-show jaunt with an almost-guaranteed audience. Fudalewski connects his reluctance to tour Canada to his past experience under contract with an indie label and the band's desire to ensure Fantasy Prom's longevity.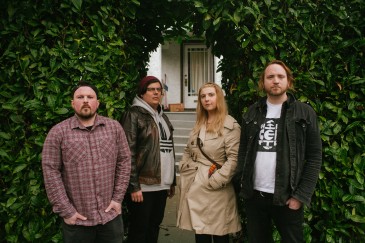 "If you want to be a band for a long time and make records and stuff, don't go on stupid suicide missions," warns Fudalewski. "I used to do these tours because some guy at a label was telling me to do it… I lost sight of how we got there, why we got there, why we started playing in a band together."
"Tour smart, not hard," says McKnight, a mantra Fantasy Prom seem keen to adopt. With plans to partake in a few music festivals this summer—Vancouver's Music Waste, Rifflandia, and possibly Sled Island—as well as continuing to release new music, the band is focused and driven on building themselves up on their own terms.
Sticking to the plan, honing the craft, and, perhaps most important, growing up properly seem to be the keys to Fantasy Prom's longevity and success. Let it swirl, let it bloom.
---
Be sure to catch Fantasy Prom's next show at the Railway Club on April 12, along with local favourites Woolworm, Village, and Other Jesus.