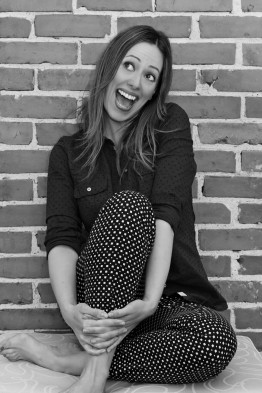 For Vancouver "fun facilitator" Sara Bynoe, comedy and art are D.I.Y. projects. "A lot of my own stuff is me just going, 'Well, no one else is casting me in anything, so I'll just create my own work.'" In the 13 years she's been producing shows, she simply does what she wants, striving for what she describes as verbatim humour. The feeling of openness and emotional honesty a performer reveals on stage is what Bynoe is most interested in.
"When people are earnest, you know, even those moments on stage when a performer is bombing and they don't know what to do? Sometimes that's my favourite part of the show. It's kind of painful and mean, but it's a real moment." While she doesn't consider herself a comedian in a traditional sense, Bynoe acknowledges the comedy she produces, as well as her comedic mindset. "I like to just look at something and go, well, here's Fifty Shades of Grey, and I like to get at the truth of it and highlight its absurdities. [For example] where she's a 21-year-old virgin who's never masturbated. What? And there's this whole thing, in the first two chapters, where she doesn't own a computer. She's a university student in 2011. How the fuck can't she own a computer?"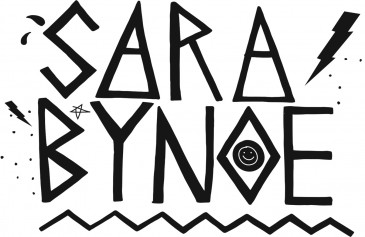 Bynoe, Studio 58 graduate, is perhaps best known for her Teen Angst nights, a performance in which people share their embarrassing writings that include poetry, journals, letters, songs, or anything so long as it was written as a teenager. "I always say that every time someone does a reading, I fall a little bit in love with them," says Bynoe. "It's sort of a slumber party feel. I get a lot of audience interaction at my shows, but it's never mean-spirited. It's just that people are so engaged with what's going on that they have their own punchlines, and I'm totally fine with that." And as Bynoe states, "The more embarrassed you are, the better it is for the audience."
Teen Angst Night began in 2000, when Bynoe was just 19. "It was in Calgary at a restaurant called The Newt in Kensington," she says. "There were maybe 35 to 40 people there and it was friends and friends of friends and we laughed so hard we cried. I was so horrified by what I was reading, and mostly embarrassed within a safe zone, and couldn't believe I wrote it. And it was so funny. One of my friends literally peed herself. You can see it through the audience's eyes the first time you're reading it, and I'll never again experience that sheer embarrassment that was hilarious."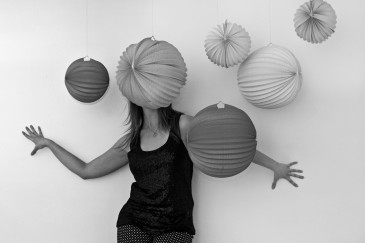 ____________________
On Discovering Her Comedic Mindset
I was a punk rock kid, wore a lot of black for a while, and then as I got older I got into the rave scene, and just thought, 'I want to dance!' Maybe that was the shift, when I started to have more fun with what I did. But the comedy thing kind of came later. I was 19 when I came up with the idea for Teen Angst Night. It was more a way for me to stand out of acting, and I thought, 'Well, this is fun. Let's read bad poetry and it'll be funny.' And I slowly started to realize that it was kind of a stand-up show."
____________________
In a similar vein, Bynoe began Say Wha?! Readings of Deliciously Rotten Writing in 2010, a performance where people take the worst writing they can find and read it on stage, providing it the love and laughter only Tommy Wiseau's The Room can sympathize with. "Everything is covered. Self-published books, self-help books, genre fiction, romance or mystery novels, and celebrity-penned books," says Bynoe. "My favourite titles have included How to Good-bye Depression: If You Constrict Anus 100 Times Everyday, Malarkey? or Effective Way? and a title I read called How To Pick Up Topless Dancers. That was pretty good. Oh, and a book called Wet Goddess: Recollections of a Dolphin Lover, about a man who fucked a dolphin." Performers for the show have included Tig Notaro, Cameron MacLeod, Ivan Decker, Caitlin Howden and Taz Van Rassel of The Sunday Service, as well as Chip Ellis, who deconstructed the oedipal complex in a Caillou book.
On top of these two shows, Bynoe decided to create a weekly dance class called Dance Dance Party Party, where there is no leader or, essentially, structure. "The official trademark is 'No booze. No boys. No judgment.' It's just a dance class for anarchists or a dance class for girls who like to dance, but don't want to go to the club and get hit on." The class reflects a lot of what Bynoe appreciates in terms of humour, the vulnerability of a crowd and its "safe zone" mentality, even fostering Bynoe to adopt the name DJ Haute Couture.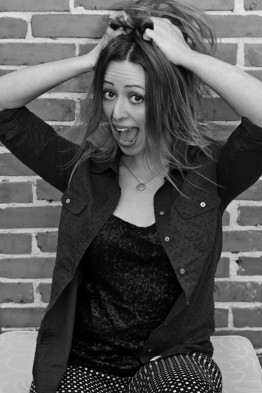 "The moments I enjoy the most in that class are when we have impromptu choreography," says Bynoe. "Girls are going nuts and rapping along with the song, or we're booty shaking and just acting ridiculous. Just being care free and not worrying about anybody judging, and being silly and joyful is what I enjoy the most."
From what it seems, Bynoe has no shame, but she also seems to elude being identified as any particular genre of work. "I straddle high and low art a lot and I still feel not quite part of the comedy scene. There's a lot of times when I'm emailing the Georgia Straight and asking, 'Yeah, can you put this in the comedy listings?' because literary people fucking hate me." But regardless of how Bynoe defines herself, she will continue doing whatever she so pleases, seeing as, ultimately, it works.
______________________
For more information, visit sarabynoe.com. Say Wha?! Readings of Deliciously Rotten Writing is on the third Wednesday of every month at Cottage Bistro, 4470 Main St.
Dance Dance Party Party is on Tuesdays from 8:45 to 9:45 pm at Mount Pleasant Community Centre.