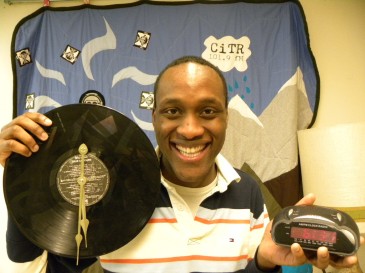 Abraham Sualim hosts Good Morning, My Friends, one of CiTR's newest shows. With its time slot of 6:30 a.m. Monday mornings, the program plays upbeat music to get people going about their day in a positive mood. The always-exuberant Sualim speaks jovially about the ethos of his show and his experience with the team at 101.9.

Discorder: What's the show about?
Abraham Sualim: Pretty much trying to get positive energy through the radio. Not everyone drinks coffee in the morning so they need some other way to get them ready to move for work, school, or whatever they have to do in the morning. So when you listen to my show I do just that. [My show] is another option than just coffee. I play whatever sounds good. If it sounds good you're going to hear it.
How did the show come to be?
I always wanted to be a part of radio. I had a friend who kept on saying, "Go do this radio thing at CiTR." So then I went and met my good friend Robin [Alam, Program Manager], and it just went from then on.
In the program guide it says you play "upbeat music." What would you classify as upbeat music?
Anything that's joyful. Anything that gets you feeling good about yourself. Anything that gets those "feel-good chemicals" flowing through your whole body. It's all about energy. I get phone calls from people saying, "Oh wow, I like that! This is pretty good!" so I have good taste in music [in terms of] stuff people like. I always get phone calls so I'm fortunate with that. I also have a friend who sends me a bunch of songs and I look at it and see which I will pick from there. A phrase I use when I'm on the radio is, "I'm here in your ear. You're listening to a modern mixtape. Old school, but still cool".
What sort of music did you grow up listening to?
I used to listen to a lot of Bob Marley. My mother used to play it … on the weekends. She played it to entertain me while she was cleaning up the house. As I was maturing and got older I started liking a lot of upbeat music with good rhythm.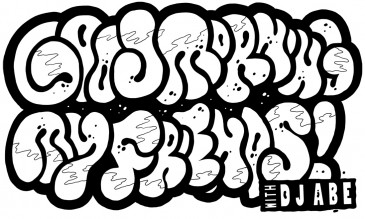 In your collection of music do you have an album that really gets you going?
I like Yukon Blonde. I try to play a lot of the [station's] Playlist stuff. I try to make sure I play as much CiTR stuff as I can, like Femcon and Cancon."
What's your favorite radio show besides your own?
I like all the people here and all the radio shows. They're all unique. They all bring a different blend. Ever get yourself a nice, tasty, wonderful smoothie? You feel really good. But if you're missing say, the banana, it takes away from the goodness experience. It all depends on how you feel that day. I have to say I do like DJ Smiley [from Trancendance]. I appreciate what he does. He really has great passion with his show. He gets me into dancing mode.
You host one of the newest shows at the station. What does the future hold for Good Morning, My Friends!?
Whatever I do, I want to make sure the show continues to be a positive message. I want to make sure it is a positive show for the listeners. If I achieve that then I feel that I've been doing my job. No negativity though. That doesn't happen on my show. In the coming months, I'll be focusing a lot more energy on the show. I'm excited for what the future holds. I can't wait for the end of this year to see how far the show has progressed. That's my biggest joy right now: to see how well the show has progressed.
____________________
Good Morning, My Friends airs every Monday morning, bright and early at 6:30 a.m. on CiTR 101.9 FM.