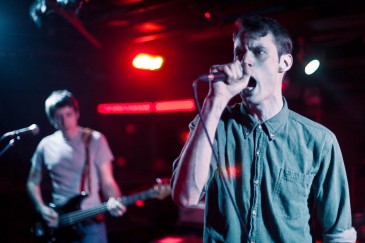 Wednesday was ugly. Serendipitously the tone of a rainy evening, barring too-hip Cascadian apathy synchronized mood with Wednesday's foreign dignitaries: Danish youth, Iceage. Nonetheless, the Biltmore that evening featured a disparate array of punk, from the irrepressible irreverence of B-Lines to the biting turmoil of Spectres.
But like the steady agitation of raindrops outside, or the slow yet inexorable grind of a shifting glacier, all of the night seemed towards Iceage's untenable power; inevitability produced by a band with such dark charisma so as to presuppose the crowd's complete attention before a single song was played.

It's surprising then that the night opened on another note entirely. B-Lines, abusing the stage as their bully pulpit, was conducted by Ryan Dyck's acerbic gesticulations and vocals. Their songs were comic, anthemic ragers: simple, with admitted edge, and the occasional innervating punch of percussive riffage. Their ethos in their own words surmised in a quip: "Thank you. We are Iceage … We are from Daneland."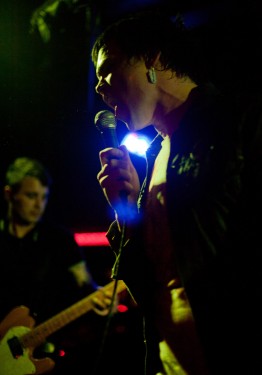 Spectres also moved in another direction. Conjure up a wild eyed frontman, lyrics tinged with discontent for all the world's evils, a Discharge shirt sported onstage, and you're drawing a picture of crust-tinged assault. Yet despite that influence, Spectres operated away from dissonance, often angry but always dancey: electing guitar solos that soar rather than punish.
Regardless, even the most antithetical performance couldn't have dulled the palpable anticipation. And Iceage left no quarter. The set's sole levity came at the beginning when, in a derisive response to allegations of fascist sympathies, Iceage greeted the crowd to the tune of the USSR national anthem. That was the night's single reminder of youth's blithe quality. The entire remainder was youth's Dionysian tumult, summoned by the disimpassioned moaning of frontman, Elias Rønnenfelt.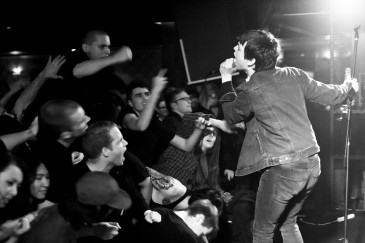 Unlike the clarity that Spectres played with, Iceage's thickness and aggression sounded corporeal — utterly embracing the physical. The band performed with a desperate flight-or-fight urgency, a brashness justified by lyrics alluding to some duress pushed far past bearable. Even "Morals," a song featuring minor delicate instrumentation, was unrestrained; it and other songs reverberated with thunderous chords, the psycho-kinesthetic force of a sledgehammer.
It's a shared experience, an agony and ecstasy perhaps best evidenced by their opener, "Ecstasy." The moment the muddy bass lead began, as the thick drums started pounding, the crowd surged ahead: a disturbing revelation for those upfront not expecting the feral rush of bodies. At that instant, Rønnenfelt's tortured refrain "PRESSURE, PRESSURE, OH GOD NO" could have been a collective ejaculation. This seriousness was tireless, as Rønnenfelt gradually shed guitar and layers of clothing, while his bandmates, ever harrowing, punished their instruments. It was primal.
The rain had cleared when the show got out. Whatever statement Vancouver's miserable weather may often make, it wisely ran its course by the night's end. Iceage had surpassed its primordial mood. What else was there to say?