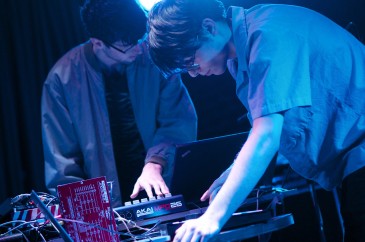 Jonathan Scherk of 80(sun) radiated a thunderous wall of white noise as he sat equably on the stage floor behind his laptop. As the caustic sound began to corrode the place just behind the eyes, an oscillating pulse began to tame the blinding white and carry it in gentle transition to an organic and disorienting atmosphere. The surrounding layers were strangely familiar, but altered; like memories from a dream. Percussive clicks resembling pebbles against slate peppered the dreamy melodies that floated atop an almost tangible blood-trembling bass. As abruptly as he began, the laptop was closed and a "thank you" signaled the close of his set.

BEAMSS, a music project consisting of Sam Beatch and Sebastian Davidson hovered over their equipment like bobbing birds and displayed their unique brand of dreamy minimal-house. Contrasting with 80(sun), BEAMSS' dense atmosphere rested on a more structured and gripping percussion. Instead of getting lost in the music you were gently lead through the parts, as they introduced warm melodic swells atop dark rumbling bass that escalated with a steam generated intensity and dissipate like the rushing of a passing train; exemplified in the banger tracks: "Dirrd up" and "House Juno Eventide".
The tone was paradoxical, both eerie and pleasant and somewhat humorous in its enveloping rich atmosphere, consisting of raw and sharp metallic tones that would dissolve into a sound that resembled chattering robots. In their wake was left the hopeful shouting of "Encore!" from the elated and energetic crowd.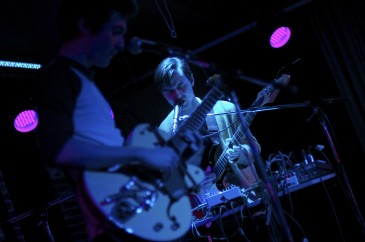 Blind Horses continued the atmospheric thread and built their set around stark juxtaposing elements, from the walking technical bass and rhythm sections of Jack and Will Macdonald, to the sharp choppy foundations of Peki Hajdukovic's supporting guitar. These parts were largely tied together by the honey-dripping voice of lead singer, Danny Majer's heavily manipulated guitar, which would support and influence the individually awkward sections towards intensity.
Such songs as "Veils" or "Hands, Ghost" would start small and simple, beginning with a steady, raw and rhythmic strum from Peki, or ribbons of harmonizing a cappella falsetto. The momentum built with glossy, prattling seabird toned guitar riffs that weaved through the elements and wound them tightly into crescendo. The songs rose and fell like the rolling swells of the sea touched by a breathy storm. With an energetic close to the night they bowed to the audience and were received with adulation. Want more? Find Blind Horses online on Bandcamp and Facebook.