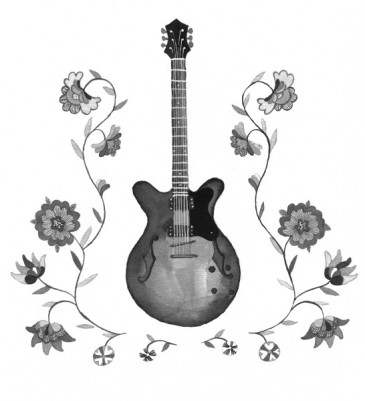 Paper Cup
A few years after leaving Lillix, the pop-rock band she co-founded in Cranbrook with sisters Tasha-Ray and Lacey-Lee Evins at the tender age of 11, Louise Burns found her voice. Much to her surprise, though, she found it by returning to pop music—albeit with a folk-tinged retro vibe.
The now Vancouver-based Burns initially distanced herself from her airwave-friendly past, attempting everything from shoegaze to psych to heavy alternative, but she soon found she was suppressing her natural artistic instincts.
"I was hiding the pop element of myself," she says over coffee at the Gallery Cafe. "I needed to get over that weird stigma I had with pop music for a bit, so I went in the other extreme, but it just wasn't very good. I had some fun and it sounded good, but it just was not what I was supposed to be doing. I started to find a lot of my inspiration comes from getting in touch with the roots of pop music and good pop songs."
Eventually Burns stopped trying to write like artists like the Smiths, who she admires, and her own songwriting style emerged. "You have to find your own voice, as cliché as that sounds," she laughs.
Things grew organically after that. Burns is one of the first crop of artists signed to Light Organ Records, the new alternative-focused imprint run by Jonathan Simkin, who, along with Nickelback's Chad Kroeger, is the co-founder of 604 Records. She describes the new label's way of doing things to be wonderfully hands-off. "They have nothing to do with the creative process at all whatsoever, which is a great thing. Jonathan didn't even come to the studio, because he trusted me. He knew my style and it wasn't about interfering and making hits; it's about good songwriting."
Good songwriting indeed; Mellow Drama is full of sparsely arranged, yet rich-sounding songs that are hard to pin down. The lead-off single "What Do You Wanna Do?" certainly has a retro vibe, with hints of Buddy Holly-esque jangle and Patsy Cline-like lamentations, mixed with the kinds of clear and simple riffs Roy Orbison loved to play. Yet, for all of that, there's a modern edge to the songs, as with the narration of "Drop Names Not Bombs," which describes music industry blowhards trying to puff themselves up at a networking party.
The making Mellow Drama, which was co-produced by Dave "Rave" Ogilvie (Skinny Puppy, Jakalope) and Kevin "Kevvy Mental" Maher (Fake Shark Real Zombie), was just as breezy and effortless as her songs' inception. The hours may have been long, but time in the studio was anything but drudgery.
"It was so fun. We just hung out, Dave would tell us stories like some sort of chief in a tribal meeting. 'Tell us more, Dave, about the time that Blixa [Bargeld of industrial noise pioneers Einstuerzende Neubauten] was here doing ecstasy at Mushroom Studios!'" Burns chuckles.
Burns found that the trio connected easily. "Dave loves all the old soul music that I love and all the old '80s stuff, and he knew how to get that sound if I referred to some weird Roy Orbison B-Side. They were really in touch with it, they got it."
With the album now completed, Burns is focusing on playing loads of shows around town. But despite growing up onstage, she's still getting used to fronting a band, including figuring out what to say to the crowd.
"To be honest, I really hate stage banter," she admits, "it's always the same old trying-to-be-funny mundane nothingness. What I hope to do is reconfigure the arrangement in the band so we can continuously play."
While Vancouver's concert scene is a favourite cause for complaint among local artists, Burns sees far more to crow about than to complain.
"One of my favourite things is how diverse it is," she asserts. "There are a lot of different kinds of music coming out of Vancouver right now; there's a lot of really awesome punk music, a lot of really awesome pop music, a lot of cool electronic music, and it's all interconnected. Generally the community we have here is very supportive of each other and they respect each other. We know we're small and we work with it. There's a lot of really great stuff coming out and it feels really exciting to be here right now. Every night of the week there's something going on, every time I go out I see somebody amazing. And I value that."
With the excellent Mellow Drama out now and with more and more live shows on the horizon, Louise Burns now gets to take her turn adding to the excitement.
Louise Burns is playing her album release show at the Waldorf, April 5.