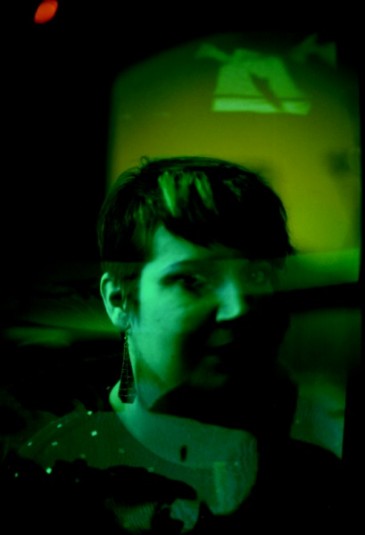 Undock
You seldom come across an artist with as much creative vision as Larissa Loyva, who records under the moniker Kellarissa. With a sound similar to Bjork or Fever Ray's more lucid tracks, Loyva's incredible vocal range and impressive ability to harmonize with herself via a series of loops has presented listeners with a end product that shifts between ambient serenity and orchestral chaos. Discorder caught up with Loyva over e-mail to discuss her latest album, Moon of Neptune, as well as her gig backing up fellow Vancouverites Destroyer.
Loyva started playing music locally ten years ago with her first group, indie-pop band P:ano, who released two albums , Brigadoon and Ghost Pirates Without Heads, on Mint Records. Having been involved in countless Mint projects since then, including the retro indie-pop outfit the Choir Practice, it is only fitting that Loyva stuck with the label when she started up her solo project, Kellarissa. Though haunting synths prime her musical canvas, Kellarissa also uses her well-controlled voice to perform songs that are both descriptive and lyrical. Combined with the occasional use of minimalistic beats, the music that she creates is impossible to pigeonhole. Coming off her critically acclaimed Mint Records debut Flamingo, Loyva's sophomore release is a personal collection of prominently synthesized music filled with mystical musings on outer space, pyramids and her Finnish heritage. Despite some of the odd subject matter, the collection sits close to Loyva's heart.
"I feel like this album is a pretty personal one," she says. "Most of these songs are for me. But about half of them are songs that I don't play live —for logistical reasons—that really came to life in the studio."
Loyva points to "Undock" as one of the tracks that came into its own in the studio environment. Atop a foreboding keyboard melody, Kellarissa tells the story of a space station's detachment. However, when singing "Are we alone? Complete detachment," it raises the question: is this song solely about a space station, or is it an introspective account of personal feelings?
Beyond its heartfelt compositions, perhaps Moon of Neptune's personal feel can be attributed to the environment in which it was recorded. Tracked at local studio Otic Sound with longtime friend and Magneticring soundsmith Josh Stevenson, the pair's working relationship was beyond ideal for Loyva.
"I've known Josh for about a decade and have a great respect for his musical and technical abilities," she explains. "When it came time to record this album, he was my first choice. I was his first project at Otic. I think we worked together really well to make the most of these songs while maintaining their integrity and staying true to my vision for them."
Loyva admits that it didn't take long to record Moons of Neptune, but she and Stevenson spent a considerable amount of time on effects treatments and editing afterwards. From the eerily catchy, four-on-the-floor New Wave number "Old Money" to the orchestral harmonies of "Blood + Sand," the result is an album that is both intelligent in design and true to Loyva's heart.
When she isn't working or playing music, Loyva spends her time seeing friends and supporting their bands, not to mention taking advantage of the occasional sunny Vancouver day.
"I love biking around when the weather isn't crappy," she laughs. "The two months of summer I can spend at the beach make it worth it. The restaurants are really good, and the local music scene never fails to impress me. I have been embraced by my peers, and I feel proud to support them in their endeavors too."
One such show of support comes via Loyva's current role performing keyboards and back up vocals in Dan Bejar's current soft-rocking Destroyer configuration. Like Stevenson, Bejar is another longtime colleague and acquaintance.
"Dan often buys Parmegiano Reggiano for dinner at les amis du FROMAGE, where I work," she says, explaining her connection to the Destroyer leader, adding that she used to perform in the Choir Practice with Bejar's partner Sydney Vermont, and that the pair's outfit, Hello, Blue Roses also opened up for Kellarissa's record. "One day Dan asked if I'd be interested in touring with the band for their new record, Kaputt."
Being recognized as a talented musician is a compliment in itself, but when the recognition comes from Mr. Dan Bejar, the compliment becomes more than subjective, it becomes a fact.
Larissa Loyva's foothold as an independent artist is evident in her praiseworthy efforts from all of her musical endeavors—and with the busy year that she is having, it looks like Kellarissa is going in one direction: upwards.